Samsung Gear S, LG G Watch R, or Moto 360: which one would you get?
23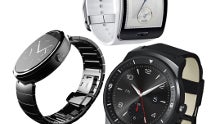 LG did again beat Samsung to the punch with an announcement, unveiling its unique
G Watch R
wearable, while Samsung kicked the
Gear S
out of the gate just a tad later. The G Watch R is one of the most intriguing smartwatches so far, with a round flexible OLED display, while the Gear S lets you make phone calls with it now. Let's not forget we'll also have to take the
Moto 360
into account this holiday season, that's why we wanted to ask you which of these three fine smartwatch poster kids tickles your fancy the most.
As a reminder, the G Watch R sports a 1.3" Plastic OLED (P-OLED) display with 320 x 320 pixels. LG says that this display provides "stunning image clarity" in any situation - including under bright sunlight. the wearable is IP67-certified, thus being dust- and water-resistant. It'll offer several fitness apps, while also allowing users to monitor their heart rate thanks to a built-in PPG (photoplethysmography) sensor. Other features include a 1.2 GHz Snapdragon processor, 512 MB of RAM, 4 GB of internal memory, and a 410 mAh battery. A stainless steel frame, and an interchangeable calf skin leather strap complete the stylish picture.
The Samsung Gear S has a 2" flexible AMOLED screen that offers resolution of 360 x 480, and a dual-core 1GHz processor is on board. It's not Android Wear that is powering the device, however, but Tizen. The Gear S has IP67 certification, so it can handle being submerged in up to 3 feet of water for as long as 30 minutes. The timepiece comes with 512MB of RAM, and with a 300mAh Li-ion cell, you can get as much as 2 days out of the battery before needing a recharge. It allows you to take and make phone calls from your wrist, or receive calls forwarded from your phone. Enhanced S voice functionality means that users can voice commands in order to get things done. Turn-by-turn pedestrian navigation is powered by Nokia's HERE maps. The Gear S comes with three connectivity options, 3G, Wi-Fi and Bluetooth. The 3G connectivity means that you don't have to be tied to your smartphone for the Gear S to send you notifications and messages. The Gear S is also a good companion for those who track their health and are concerned with staying in shape, as it sports a heart rate sensor in its turn, GPS capability and S Health features, too.

Last but not least is the stylish Moto 360, another Android Wearable, is a stainless steel timepiece with IP67 waterproof certification, meaning that you can dunk it in a three feet pool of water for at least half an hour without any ensuing damage. On top of that, the timepiece features a heart rate sensor, too, as is pretty evident from the writing on the back. Moreover, the Moto 360 inductive charging system, ready to top off your phone's battery - hopefully the device will be longer-lasting than the current crop of Android Wear watches from LG or Samsung. A few more built-in sensors, like a light meter and a pedometer, round up Motorola's excellent offering.
Of course, it would all depend on the pricing, but which one of the trio would you pick as your smartwatch wearable of choice if you had to? Take your pick, and sound off in the comments below.
Recommended Stories