Samsung Gear Fit 2 gets a huge update: heart-rate zones, improved workout tracking and more
2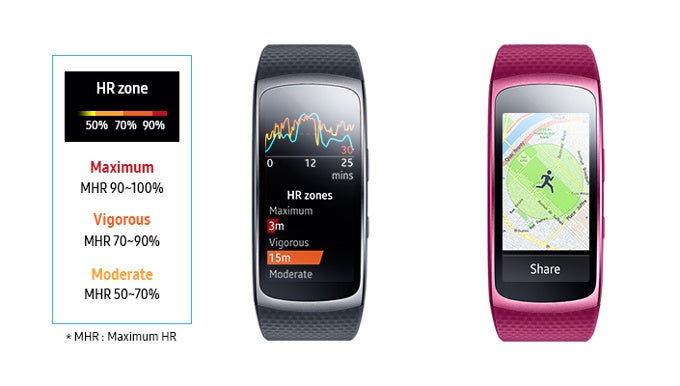 Samsung is bringing a massive update to its Gear Fit 2 fitness tracking wristband, introducing new features like heart-rate zone stats, improved automatic activity detection, as well as the option to customize the information you see on the screen while you workout.
The first and most notable new feature is heart-rate zones that will be easily visible and color coded. After the update, you will be able to easily see how much of your workout you've spent with moderate intensity and how much you've spent with high intensity.
Auto detection of workouts has also been improved and whenever a user workouts for more than 10 minutes, you get the counter and the stats, and when the workout is over, if it's a run you'd see a map of your run. You also get pace zones for runners and this has a very practical consequence: you can select and tune your run for your goals. For example, you can run to burn fat or you can run to increase your cardiovascular endurance.
You will now also be able to customize what's on your screen during a workout. You can select things like calories burned, heart rate, exercise duration and more to be displayed prominently during your workout.
Next up, you have inactivity notifications, so if you spend 50 minutes or more sitting, you will get nudged to stand up and move. Additionally, you will also get sleep record notifications, if you are one to wear your tracker at night.
Last but not least, you will be able to send an SOS alert with your location by a simple triple-click on the Home key.
The Samsung Gear Fit 2 currently sells for $150 at Amazon and Best Buy. In our
review
, we found that the Gear Fit 2 would usually last a full 2 days and even a bit more: better than most smartwatches, but worse than many dedicated fitness trackers. We love its automatic workout recognition feature that makes it different, we love the display, and with these new features, it comes closer in terms of stats to other dedicated fitness trackers.