Samsung Galaxy View tablet seen from every angle in new leaked images
9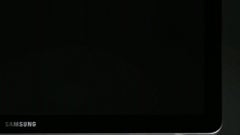 It's been known for a while that Samsung has plans for a gargantuan tablet featuring an 18.4-inch display.
First teased
early in September, the slate is considerably larger than even the pro-level tablets like the
Microsoft Surface Pro 4
and Apple's new
iPad Pro
. Unlike those aforementioned, the Galaxy View's appeal is to be found in the novelty of its massive display as opposed to the under-hood features, with GFXBench having pointed to
a mid-range assortment of specs
. Still, the sheer size of the Galaxy View is such that it's hard to ignore, and
SamMobile
has shared a few new images of the device for tech fans to mull over.
Despite being powered by mediocre hardware, the design does look rather sleek in these images. Since we're probably looking at Samsung-commissioned press shots, though, this shouldn't come as much of a surprise. In line with some of the company's premier slabs, the Galaxy View offers a polished finish that we suspect to be mostly polycarbonate, although the outer trim does appear metallic. Notably, there's no hardware home button, which makes sense given that the Galaxy View won't be held like a traditional tablet or smartphone.
The dock takes a unique form, converting the device into a briefcase of sorts to make it easier to carry around. Indeed, the Galaxy View is larger than many briefcases, and ease of portability will likely be pivotal in determining whether it sells or it doesn't.
Samsung has continued to surprise us with its weird and wonderful new mobile products over the years, often in defiance of what other manufacturers are doing. They all laughed when the original Galaxy Note arrived because it was so much larger than the rest of the field; perhaps lightning will strike twice here?
It'll be intriguing to note the response to the Galaxy View once it arrives to market. There's no word yet on when it will retail, but with Sammy having primed these very pretty promo images, it's our guess that the next
big
thing is just around the corner.
Recommended Stories