Samsung Galaxy Tab S 8.4 hands-on
25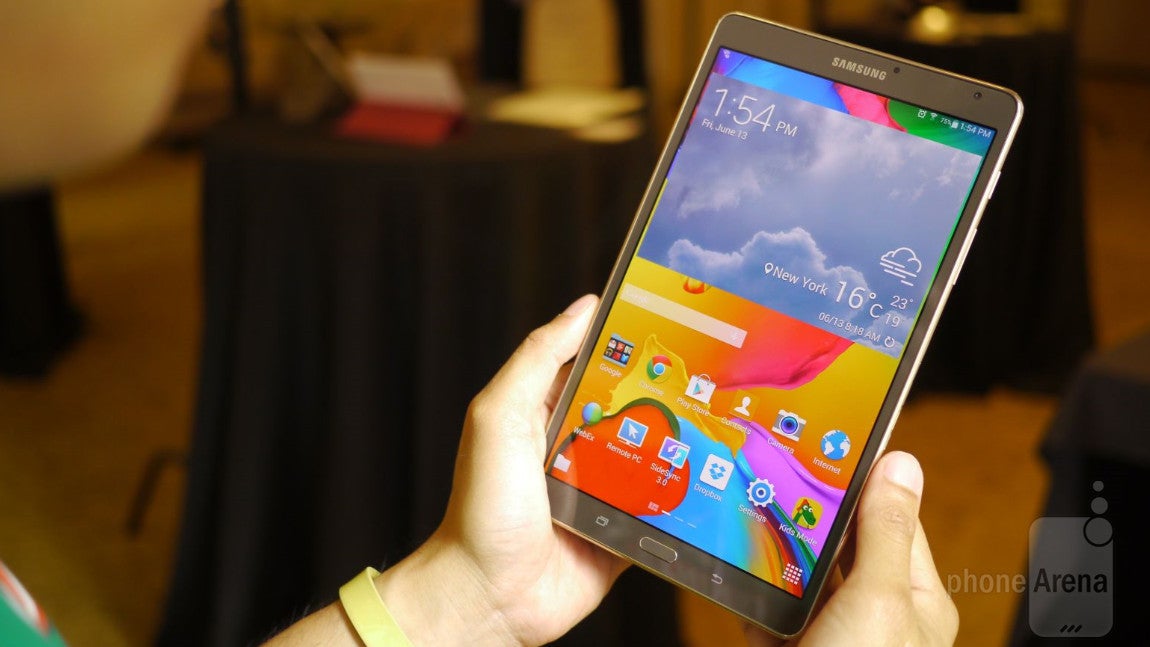 It's funny how the landscape is being dominated in the tablet market by certain companies more so than others. We obviously have the iPads from Apple's camp, and then there's everyone else in the Android tablet space. In particular, the Android tablet scene is mostly occupied by the wealth of devices from Samsung's stable. At one point, the original Galaxy Tab family was regarded as the company's premier tablet line, but it has since become more of the entry-level offering – supplanted by Sammy's Note series.
In another turn of events, Samsung is shaking things up by introducing yet another line of tablets – the Galaxy Tab S family. Directly expected to compete in the compact segment, the Samsung Galaxy Tab S 8.4 is shaping up to be one beauty of a tablet that's bringing back the Super AMOLED display. Needless to say, it's quite a rare thing to find in the tablet space, so it's wonderful that it's coming back.
Design
There's no denying it folks, the Galaxy Tab S 8.4 shares the same design language of the Sammy's flagship smartphone – the Galaxy S5. One could argue that it's essentially an 8.4-inch version of the popular tablet, but there are subtle differences. First and foremost, it's not water-resistant, so don't think that you can finally take a dip in the pool with it. Secondly, although its body uses almost the same plastic materials as the S5, it's technically different – as well as the dimpled pattern in the rear. Instead of being circular in shape, it's actually squarish.
Overall, the main thing that really astounds us about the design is how incredibly thin it is. As Samsung states, it's just as thick as 5 credit cards! Naturally, its size lends itself in being very easy to handle with one hand, especially with its light weight feel. Better yet, its physical home button even features a finger print sensor – just like the Galaxy S5's implementation. Being sold as a premium tablet, the one element it's lacking is the premium choice of materials. In contrast to other tablets, this one might have the skinny body, but it's not necessarily as attractive or constructed.
Display
Hello Super AMOLED, we've missed you! Sporting a gorgeous looking 8.4-inch 1600 x 2560 Super AMOLED display, it radiates and shines immensely to capture wandering eyes in a crowded, low lit room. Typical of the technology, the display produces vibrant and saturated colors that don't disappoint. And of course, its wide viewing angles enables the display to retain its crispness and clarity in all lighting conditions – especially when hard lighting would usually wash it out.
With the high resolution of its display, we have little problems trying to make out details in the web browser. Now, those familiar with Sammy's line of tablets will know that the resolution isn't new, seeing that we've seen it previously in the Galaxy Tab Pro 8.4. Therefore, it matches its cousin with its pixel density count of 359 ppi. Ultimately, though, the standout feature here is simply the iridescent Super AMOLED display that shines brightly.
Interface
For those who are familiar with Sammy's latest Galaxy devices will be at home with the Galaxy Tab S 8.4's customized Android experience. Using the latest version of the TouchWiz UI, running on top of Android 4.4.2 KitKat, its layout has been optimized, of course, to accommodate the confines and spaciousness of a larger screen. In a way though, it's meant to be used in portrait due to its design. All of the normal features are found here, but Sammy has included a few new goodies with the experience.
Out of the bunch, there's a cool sync mode called SideSync 3.0, where it can pair with a Samsung Galaxy S5 smartphone, which can then access all of the phone's functions through the tablet interface (think a virtual Galaxy S5). Therefore, we can make phone calls, text messages, and even play games on the virtual Galaxy S5. We didn't get a chance to try it for ourselves with our hands-on unit, but it seemed pretty responsive from the demo we saw.
Playing around more with the software, it's clearly obvious who it's trying to target. Unlike the Galaxy Pro series, the Galaxy Tab S is more apt to attract mainstream users – whereas with the former, it's meant to suit productivity conscious users. Visually, though, TouchWiz is in need of a revamped design.
Processor and memory
Under the hood, the Samsung Galaxy Tab S 8.4 is powered by Samsung's Exynos 5 Octa 5420 processor coupled with 3GB of RAM. Having this configuration, we didn't see any performance hitches with the tablet in our short time. Generally speaking, it manages to maintain a responsive performance – so you can expect that heavy gaming won't be a problem.
Sure to please multimedia heavy users, the tablet is stuffed with an ample 32GB of internal storage – further supplemented by the availability of a microSD card slot.
Camera
In comparison to smartphones, the Galaxy Tab S 8.4's 8-megapixel camera isn't regarded as a serious thing, but nevertheless, it's fast snapping and features the usual arsenal of shooting modes to appease most people. Sorry folks, video recording is maxed out at 1080p!
Expectations
Things are definitely heating up in the tablet space. The Samsung Galaxy Tab S 8.4 is going to be a strong competitor to the iPad mini 2, seeing that it matches up nicely with its size, price point, and overall package. Expected to become available sometime in July for $400 in two colors, it's not necessarily a cheap thing. Design alone, it doesn't scream premium, but rather, it's the specs, streamlined chassis, and gorgeous Super AMOLED display that contributes to its overall appeal. Who know how it'll fair in the long run, but it's undoubtedly an attractive offering – especially for those who already own a Galaxy S5, since it interacts with it in a unique, intimate way.