Samsung Galaxy Tab 7.0 Plus goes on pre-order
5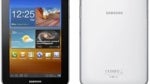 The Samsung Galaxy Tab 7.0 Plus has shown up on Amazon for pre-order. Unfortunately, there is still no exact release date given for the tab, and the pricing puts it in a weird range.
The rumor has been that the Galaxy Tab 7.0 Plus would be coming to the US, and not the
Tab 7.7
, and the Tab 7.0 Plus is certainly aiming for a more budget-conscious consumer. The Galaxy Tab 7.0 Plus has been listed on Amazon at $399 for the 16 GB model, and $499 for the 32 GB model. That's about where we would expect the prices to hit, especially given that Samsung is looking to turn a profit on this hardware, unlike Amazon with its $199
Kindle Fire
, which will be a loss-leader to get people into Amazon's various content stores.
The Tab 7.0 Plus is similar to its Galaxy Tab brothers, but with slightly bumped down specs. This Tab will have an LCD display and slightly lower resolution than the Super AMOLED PLUS found on the 7.7, and the TFT screens on the 8.9 and 10.1. The Tab 7.0 Plus will also be sporting a 1.2 GHz Exynos, and will not be as slim as its brothers. It clocks in at 9.96mm thick, and actually weighs 345 g, which is just 10 g lighter than the 7.7.
Still, not a bad price for a proper Honeycomb 3.2 tablet. Anyone interested?