Samsung Galaxy Tab 2 tablets to launch in late April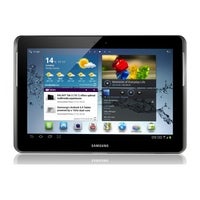 When the
Samsung Galaxy Tab 2 (10.1)
and its smaller, 7-inch counterpart were unveiled, we were promised to see them on the shelves by the end of March. Well, at least in the U.K., that is. Obviously, that didn't happen, so those of you that were hoping to grab one are probably wondering what is going on.
Today,
Samsung confirmed that the launch of the tablets will be delayed
. Both the
Samsung Galaxy Tab 2 (7.0)
and Galaxy Tab 2 (10.1) will be released in the U.K. towards the end of April, with other markets expected to follow suit soon after.
Details as to what exactly is causing the delay were not given, but a company spokesperson said that Samsung and Google still need some time to make the Android 4.0 Ice Cream Sandwich platform run smoothly on both devices. However, you can rest assured that the slates will launch with ICS out of the box.
For more information about the Samsung Galaxy Tab 2 tablets, just follow the links below for our previews.