Samsung Galaxy Tab 10.1 TouchWiz UX update paused for some bug-squashing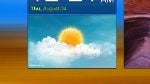 The
Samsung Galaxy Tab 10.1
shipped with as plain of an UI as Android Honeycomb intended in the US, and the
TouchWiz UX update
began rolling shortly after launch.
Now it seems that Samsung has put the update on hold for the time being, saying it needs to ensure a positive customer experience, which is corporatese for "we need to pull it in and squash some bugs". People at XDA-Devs have been complaining about
graphics issues after the update
, so that might be it.
The company didn't announce that officially, but it answered a question on Twitter that the Touchwiz UX update for the Galaxy Tab 10.1 has been paused for now to "assess progress". While you wait for the semi-mandatory update to reach your tablet, have a look at our hands-on video of Samsung's Honeycomb overlay below.
via
AndroidPolice