Samsung Galaxy S9 vs OnePlus 5T: first look
1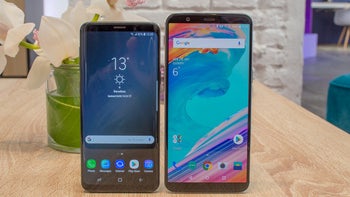 This is one of those comparisons that can be easily summarized within a tweet's length. Simply put, the Samsung Galaxy S9 is miles ahead of the OnePlus 5T – both in terms of visual appearance and technical capabilities. Why would then anyone choose the latter over Samsung's flagship? Well, the main reason would be pricing. Both of these are high-end smartphones, but the S9 could end up costing you several hundred dollars more. Would spending the extra money be a wise decision?
Design and display
Last year brought us a new trend: phones began adopting taller, more immersive displays surrounded by minimal bezels. Both the Galaxy S9 and the OnePlus 5T follow this approach, but Samsung's new flagship does so on a different level. The curved sides and rounded corners of the screen gracefully complement the phone's shape and form, while the OnePlus 5T is more conservative with its execution. Bonus points go to Samsung for adding water resistance to its handset, as well as a clickable on-screen home button.
On the other hand, the OnePlus 5T does offer many of the amenities the Galaxy S9 has, including an always-on display, a fingerprint scanner, Face Unlock functionality, and a headphone jack. In addition, the 5T's physical switch for toggling between loud and silent modes is nice having.
Software and features
It would be tricky for these two devices to be any different at a software level. Samsung is known for packing its Android phones with features of all sorts, and the trend continues now with the Samsung Galaxy S9. The user interface theme is consistent and good-looking, while extras like Bixby's visual translation, the support for Samsung's DEX desktop station, and the new AR Emoji are more than welcome.
In contrast, the OnePlus 5T sticks to a simpler, less flashy Android interface. It does have its perks, however: a Locker for password-protected files similar to Samsung's Secure Folder, customizable buttons and status bar, custom navigation gestures, and a built-in dark theme option. And honestly, we wouldn't be surprised if the OnePlus 5T ends up being faster in day-to-day use due to its lighter interface, though we'll have to confirm this once we get our Galaxy S9 review unit in the coming weeks.
Processor and memory
Being a 2017 high-end device, the OnePlus 5T is powered by the Snapdragon 835. This isn't a slow chip by any means, but the Galaxy S9 has the newer Snapdragon 845 (or an equally powerful Exynos chip), which is both more powerful and more power efficient. The difference may not be as noticeable with day-to-day use, but with more power-intensive tasks, the S9 could have the upper hand.
One thing to point out is that the Galaxy S9 has a microSD card slot for those who still rely on it. The OnePlus 5T trades expandable storage for a second SIM card slot, but that's hardly an issue when up to 128GB can be had on board.
Camera and multimedia
Are two cameras better than one? Not necessarily. The OnePlus 5T has a dual-cam setup on its back – where one is a regular shooter while the other is optimized for low light and activates automatically. This setup, however, was not superior to last year's Galaxy S8 and its excellent camera. Photos out of the OnePlus 5T aren't bad by any means, but we strongly believe that the new camera on the Galaxy S9 – with its industry-leading variable aperture and tricks like super slow-motion – would perform better in most situations.
The Galaxy S9 isn't only shaping up to be better at recording media, but it is also superior when it comes to consuming it. Samsung's flagship comes with stereo speakers and HDR video support out of the box, not to mention that you get a set of pretty decent wired earphones in the set, while with the OnePlus 5T, you have to buy these separately.
Expectations
We've outlined just some of the differences setting the Galaxy S9 and OnePlus 5T apart, but we think they're enough to prove that Samsung's new top-of-the-line phone would be the better pick... if money is no object. It is the prettier phone; it is packed with a promising camera and potent hardware; it is loaded with software features that make it fun and functional.
On the other hand, the OnePlus 5T stands out with its excellent bang-for-the-buck ratio. For just $560 – several hundred less than the S9 – you get a fast, well-rounded Android phone that's going to serve you well, especially if you prefer function over form.