Samsung Galaxy S9 vs Apple iPhone X: first look
76
Samsung's flagship, the Galaxy S9, has finally been unveiled and announced, jumpstarting this year's Mobile World Congress trade show with a huge bang! No doubt a force to be reckoned with, the Galaxy S9 brings to the table additional refinements to a phone that many already viewed as nearly flawless. Then again, it's competing with a smartphone that's reshaping Apple's legacy – the iPhone X. We spent a little time checking the two out together, side-by-side, during Mobile World Congress 2018, so it's going to be interesting to see how they stack up against one another!
Design
There's no surprise in how these two behemoths are designed, as they both employ that fashionable glass meets metal construction – while continuing the trends we saw become prevalent last year. They include that all-screen, minimal bezel look, glass facades, and metal frames, which makes them premium in just about every facet.
Side-by-side, the Galaxy S9 is a smidgen taller, but there's more of a cohesive look and uniformity with its design. Staring at the front of the Galaxy S9 is evident enough, seeing that there isn't any sort of distracting "notch" on there. However, the iPhone X's construction feels a bit more concrete, thanks in part to its surgical-grade stainless steel frame. Adding to that, there's a bit more substance behind the iPhone X's construction, which makes it feel like the sturdier of the two. In contrast, the Galaxy S9 still looks more polished on the surface, but it remains as fragile as before.
Beyond that, they share quite a few commonalities with their designs. Take for example, they feature dual speakers, the power and volume buttons are situated in the same locations, and they both have a level of water resistance with their constructions. We really have to give Sammy credit, however, for continuing to offer a headphone jack with its phones. Considering how real-estate has become a precious commodity for most phones nowadays, it's satisfying to see the S9 not giving up on it!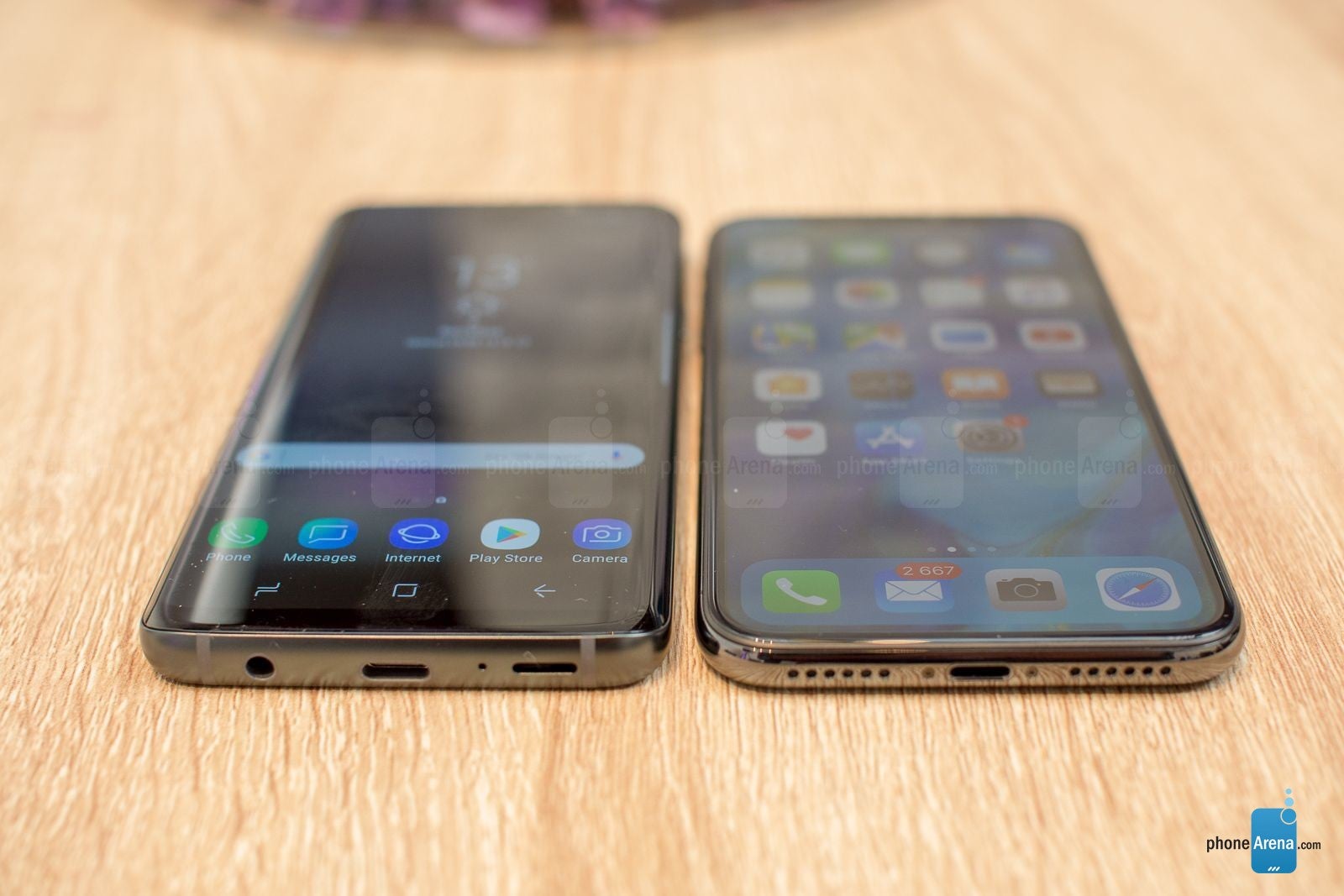 Display
From a specs standpoint, there's still more to like about the S9's display, even though there isn't a dramatic change from its predecessor. It's a 5.8-inch 1440 x 2960 Super AMOLED display, which offers a higher pixel density count than the iPhone X's 5.8-inch 1125 x 2436 Super Retina display. Honestly, though, it's almost indistinguishable to tell apart the difference, as they both offer exceptional detail. And since they both employ OLED technology, we find similar results with their viewing angles and saturated color tones.
Of course, there's the matter of the iPhone X's notch next to the earpiece, which some will find as a distraction. There's none of that to be worried about with the Galaxy S9, not surprisingly, seeing that the display uniformly fills the handset's façade. It's worth mentioning that its sloping dual curved edges do help to add some refinement and class to the handset's overall design.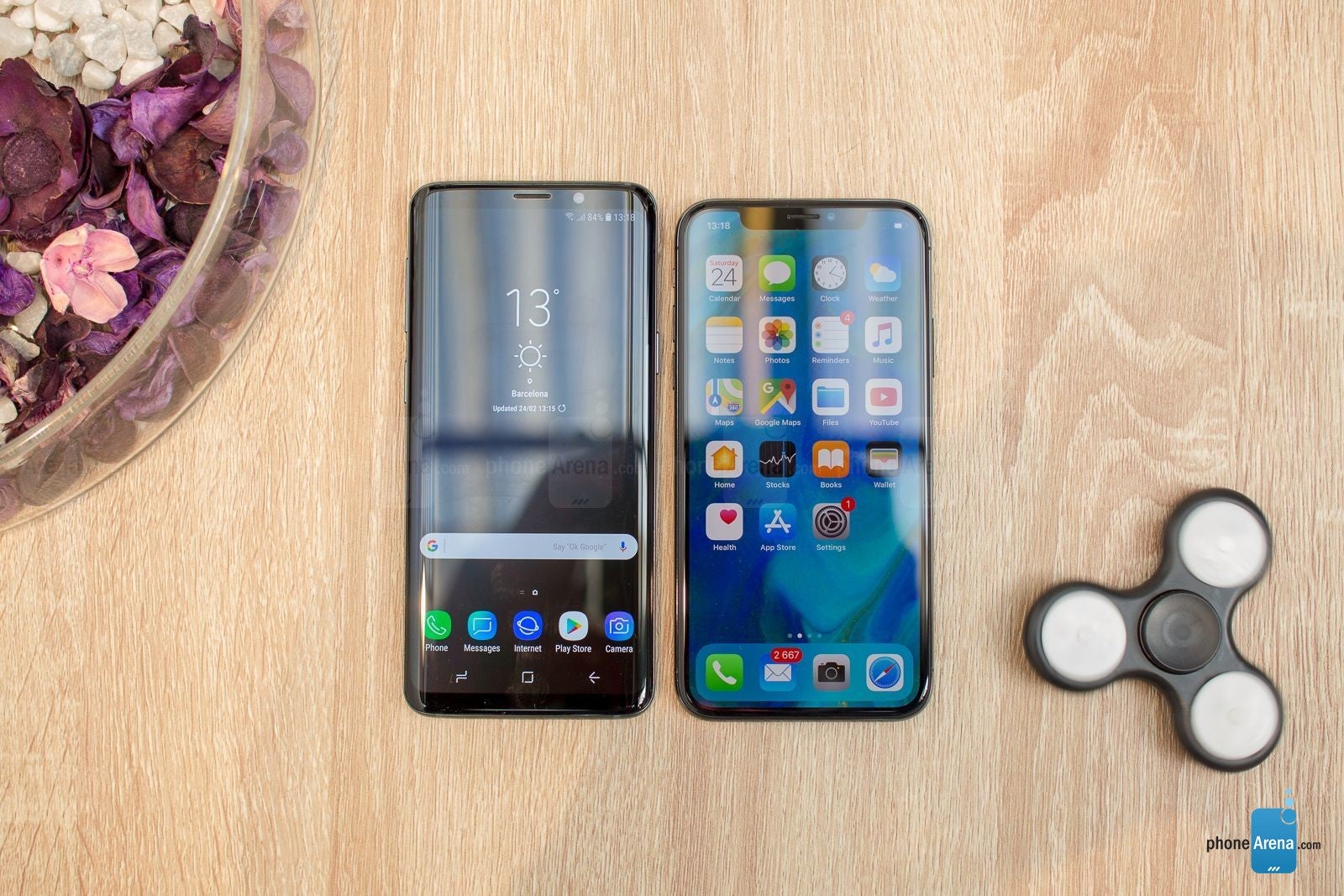 User Interface
Superficially, they approach their respective interfaces with the same minimalistic and straightforward strategies. Navigating around is a pretty simple process, but as we dive deeper into what their experiences have to offer, it becomes apparently evident that Samsung is offering more functionality out of the box.
The iPhone X introduced us to fun and playfulness that Animoji's have to offer with its TrueDepth camera, so it's no surprise that the Galaxy S9 goes after something similar with its new AR Emoji. The difference, though, is that the S9 leverages its front-facing camera to take a picture of you, which it then generates a 3D avatar that looks almost like you. It's very similar to Apple's Animoji feature, but Samsung's interpretation produces stickers that you can use almost anywhere – like messages and Facebook. However, we found that it's not as polished when it comes to tracking facial expressions.
While there's definitely room improvement with Samsung's AR Emoji, we will hand it to the Koran giant for continuing to offer extended functionality in the form of an enhanced Bixby vision, like Live Translation. Additionally, enhancements have been made to Samsung's DeX with a new pad that offers higher video output at 2560 x 1440, a connection to the phone's audio jack, and allowing the phone to act as a touchpad.
Camera
Moving onto their cameras, this is where things get a bit interesting. On one hand, the iPhone X is notable for its ability to capture stunning portrait shots with its dual 12MP cameras. With the Galaxy S9, though, it's only sporting a single 12MP camera – so it's technically not out to emulate the portrait shots of its rivals. Rather, the S9 focuses its attention on low-light performance with its varying aperture, which can be either f/1.5 or f/2.4. This pairing results in what's alleged to capture 28% more light than the S8, and with 30% less noise.
Needless to say, we're eager to see it in action with real-world situations. While the Apple iPhone X is known to be a strong performer with its camera, we're itching to see how the S9 can set the bar even higher when it comes to low-light. When it comes to their front-facing cameras, the S9 sizes up with an 8MP one – while the iPhone X isn't too far behind with its 7MP snapper. We already know what the iPhone X is capable of producing, especially with portrait mode enabled, so we're hoping to see equally compelling results with Sammy's offering.
Over on the video side, you get the usual 4K recording on both, but the S9 goes the extra mile in the slow-motion department. While 240 FPS at 1080p isn't too shabby with the iPhone X, the Galaxy S9 leaps to 960 FPS territory at 720p for even slower footage.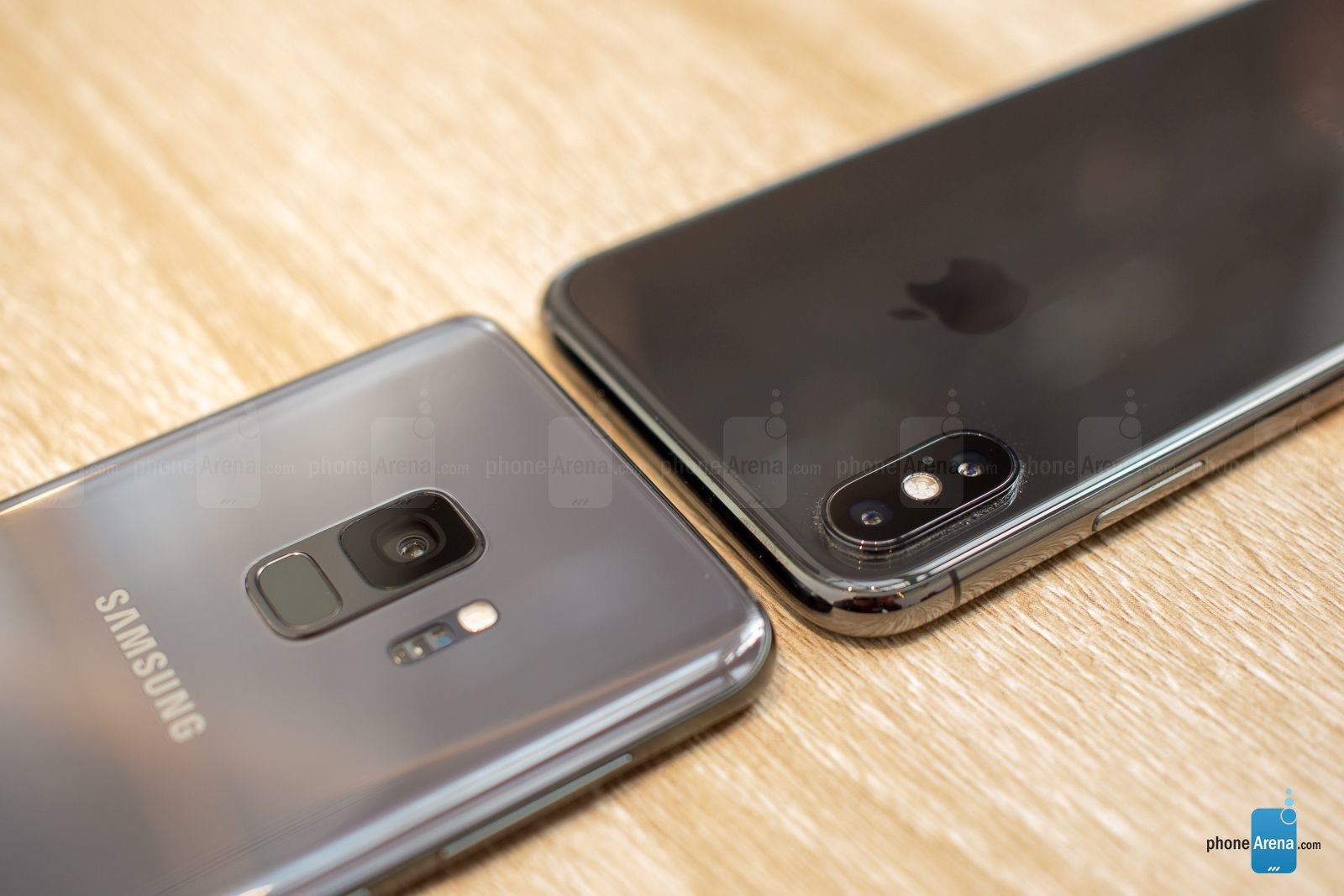 Battery
Samsung didn't change the battery capacity in the S9, so it's still rocking the same 3000 mAh cell. While that's technically larger than the iPhone X's 2716 mAh battery, it's obviously unknown whether it'll really outperform its rival. Still, the two offer their respective fast-charging technologies, as well as wireless charging – conveniences we'd expect to find in influential smartphones.
Expectations
The Samsung Galaxy S8 last year was a great phone, but the S9 is better – only by a little bit. Refinements are obviously abundant in every aspect of the S9, but the Apple iPhone X is no slouch either, having established itself as a big sales driver, despite the heft cost attached to it. Even though Samsung has been mum about the S9's impending price point, we're not really expecting it to be in the same ballpark as the iPhone X, considering that the Note 8 already holds the top spot in Sammy's lineup for being the most expensive at launch!
Knowing that, the S9 will no doubt be a solid challenger, but considering how it's more of a typical, iterative update than anything else, we'll be watching closely to see how it'll reel people in. Coming in at a lower price point than the iPhone X will be beneficial, which is what we anticipate, so at least there will be some value behind the S9's package. We'll know soon enough, as carriers are expected to unveil pricing for the phone very soon!