Samsung Galaxy S8 vs LG G6: Ultra-widescreen showdown
46

Introduction
Do you remember when you saw your first widescreen television? The boxy 4:3 screen was once so ubiquitous, but then it was like you blinked and – bam – widescreen sets were everywhere. And while wide 16:9 (or, rather, 9:16, in the dimensions most of us hold our phones) aspect screens have similarly become the de facto shape for smartphones, those days already seem numbered, with the first Android manufacturers introducing flagship devices with wider (or again, taller) screens than ever before. LG got that ball rolling last month at MWC
with the launch of the G6
, and now Samsung's hot on its heels with
the wildly anticipated Galaxy S8
. But while these two phones may share the distinction of being the first with such crazy-wide screens, they're still two very different handsets. Let's take a closer look at what makes them tick.
Design and Display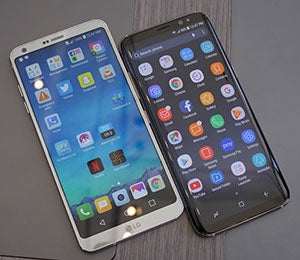 While with typical smartphones it's easy to talk about their design independently of their screens, LG and Samsung are venturing into new territory here, where the huge, expansive size of these displays ends up inextricably entwined with the rest of the hardware's design. That's because these super-wide screens demand a ton of phone-face real estate.
Of the two, LG takes what feels like a much more conventional approach: the 5.7-inch, 1440 x 2880 resolution screen fills up the vast majority of the handset's body, leaving only a slim row for sensors, the camera, and earpiece up top, and a tasteful LG logo below. Side bezels remain, but the screen itself is so darn impressive that they're easy to overlook.
Samsung, meanwhile, gets a bit more creative with the GS8's layout, combining the idea of a ultra-widescreen 5.8-inch 1440 x 2960 screen with its curved-edge display fabrication. So while there are still side bezels, the way the screen curves out onto the edges of the handset goes a long way towards making it appear significantly larger than LG's – and certainly more than the actual 0.1-inch difference.
Both screens also take the unusual step of rounding off their corners (and sacrificing a handful of pixels in the process). With the G6, LG talked about going this route in order to improve screen durability, and while we haven't received a formal statement from Samsung, comments from reps suggest that this is a much more artistic choice, helping to create the appearance of a smoothly contoured design.
In the end, Samsung edges slightly past LG with a phone that feels like one big screen. That's a big feat, because we were hugely impressed with the look of the G6, but the GS8 is something else altogether.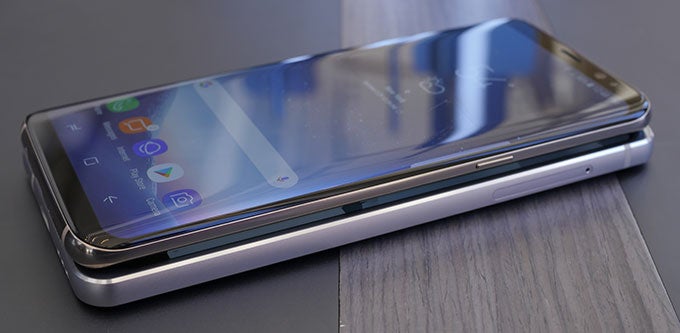 Hardware: processor, memory options, and camera
These are two flagship smartphones, make no mistake, so we're obviously going to be looking at some serious hardware. And while they very much fall in the same category, when we start comparing specs component by component, a better-equipped model quickly emerges.
The first indication there comes by way of the processors driving these phones. LG goes with the Snapdragon 821 for the G6, and while that's one of the company's most powerful chips, it's also one we've been seeing in phones since last fall, and is based on a 14nm fabrication process. If you're not a hardware junky, just remember that lower number there tend to coincide with more modern, faster, and power-efficient chips.
Samsung could have used a 14nm chip for the Galaxy S8, but instead decided to go next-level with 10nm processors: which appear to be either the Snapdragon 835 for US handsets or the company's own Exynos 8895 internationally.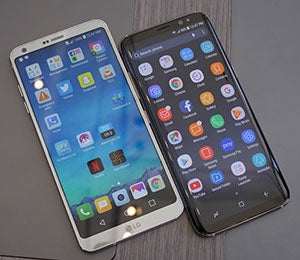 We've yet to get to run any benchmarks on either of those 10nm chips, both in terms of performance and battery life, but there's definitely cause to be excited for what they promise to offer.
Both phones offer 4GB of RAM, but while the G6 comes with 32GB of storage, the GS8 bumps that up to 64GB – another win for Samsung.
Now, the camera question is a little trickier. While so far the Galaxy S8 has looked like the pretty obviously beefier flagship, cameras are a much more subjective area than other hardware components. It's easy to say that LG gives users more options – simply because you can choose between two main cameras, each with a 13MP resolution, and each offering unique lenses: wide-angle or a tighter view. Samsung, meanwhile, only has a single 12MP camera, and it's not even some bold new component – it's essentially the same thing we saw on the GS7 last year.
But then again, the GS7 had one of the best cameras of 2016, and with the image-processing speed-ups and new capture modes landing with the GS8, we're likely looking at a good thing being made even better. And while it may be less flexible, does that really matter if it lets you effortlessly take really high-quality photos? We're going to want to spend some more time comparing the output of both these systems before making any final judgments.
Finally, with front-facers, Samsung once again seems to pull ever so slightly ahead, if only due to the Galaxy S8's selfie cam picking up an auto-focus mode – a front-facer rarity.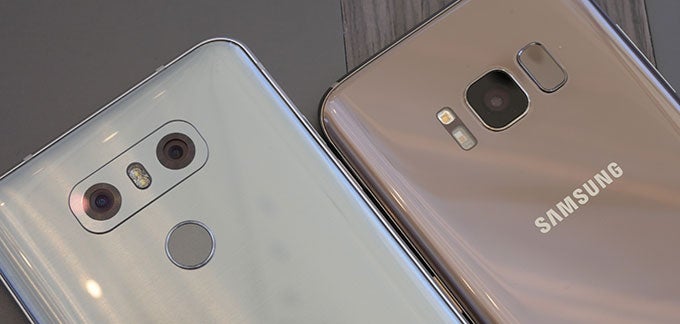 Battery capacity and charging
In terms of raw battery capacity, LG finds itself in a good place with the G6, arming the phone with a 3,300mAh battery. Samsung's slightly behind, giving the GS8 the same kind of 3,000mAh battery we saw last year on the Galaxy S7.
Our initial battery tests with the G6 weren't exactly awe-inspiring, but that was with early hardware, and we just picked up a final commercial unit that we're going to re-run all those tests on. And while we're concerned with how GS8 battery life might be affected by this big new screen, those 10nm processors are also supposed to be very power-efficient, possibly stemming some of that loss. For now, it's difficult to point to a clear winner.
Both phones have the luxury of supporting wireless charging, but for the G6, that feature is a US exclusive. The Galaxy S8, faces no such geographical restrictions for its wireless charging.
Expectations
Samsung's got a lot going for it with the Galaxy S8. It's got the flashier design, the edge when it comes to most of the hardware specs we care about, and there's no discounting the might of its advertising campaigns. That said, the slightly more traditional look of the G6 will definitely appeal to a certain segment of shoppers.
LG's also got the benefit of pricing on its side, and while you arguably get more phone when choosing the GS8, if price is very much an object, the G6 can easily feel like the better value.
Still, both companies are doing a lot right with both these handsets, and we imagine the race between the GS8 and G6 will be a lot closer than it was last year with the GS7 and G5.