Samsung Galaxy S8 burn-in issue is limited to a single phone so far
64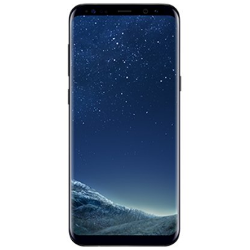 A few days ago, we told you that to avoid burn-in on the Super AMOLED screens used on the
Samsung Galaxy S8
and
Samsung Galaxy S8+
, Samsung has
the virtual home button move around a very small distance
. This allows the pixels that were being used to turn off while lighting up a fresh group. This is done to supposedly prevent any burn-in issue. Or does it? On a South Korean social media website, a Samsung
Galaxy S8
owner uploaded a photo that allegedly showed that his screen was affected by burn-in on the lower part of the glass near the virtual home button. Samsung responded by saying that it has an algorithm in place on the phones in order to prevent this from occurring. Besides the one particular case, the company says that it has not received any other complaints about this issue.
"An algorithm to prevent burn-ins is already equipped. Whether the consumer's claim turns out to be true or not remains to be seen. At the moment, we are not receiving reports of other cases."-Samsung spokesman
What makes this particularly problematic for Samsung and consumers, is that there aren't many options available to repair a screen with a burned-in image. Actually, there are two. You can replace the screen, or replace the phone. Considering that Samsung took a big hit with the recalled
Samsung Galaxy Note 7
, executives at the company must have their fingers crossed very tightly.
This isn't the first problem that Galaxy S8/
Galaxy S8+
users have experienced. So far there was the issue with the screens that came out of the box with a red-tint.
Samsung corrected that problem
with a software update. Others have had connectivity problems with the Wi-Fi on their unit. Another update will be coming to the rescue.
To reiterate, it would appear that the burn-in issue has been isolated to just one handset. One faulty device should allow Samsung brass to breathe a sigh of relief. But they can't get too complacent. After all, the Galaxy Note 7 fiasco also started with a single unit.
source:
KoreaHerald
via
BGR