Samsung Galaxy S8, S8+, and Note 8 might get the OneUI after all
11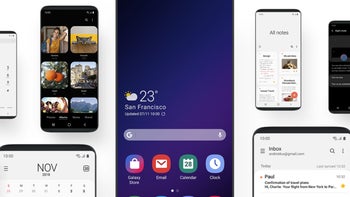 According to Samsung leakster @IceUniverse, OneUI will indeed be hitting the Galaxy S8 and Note 8 series. The leakster has reportedly received this piece of info from a Samsung official, which makes it sound credible.
The message is accurate, from a senior Samsung official

— Ice universe (@UniverseIce) November 9, 2018

And why wouldn't the Galaxy S8, S8+, and Note 8 not get the new UI?

After all, its purpose is to make Samsung's contemporary devices more user-friendly and much easier to operate even with a single hand. Given that there are very little design differences between the Galaxy S8/S8+ and Galaxy S9/S9+, as well as the Note 8 and Note 9, it would make a lot of sense for Samsung to improve the experience on its older devices as well.

Additionally, OneUI will be based on Android Pie, which is an eligible software update for the Galaxy S8 series and Note 8. It sounds very logical for Samsung to want all of its devices with tall aspect ratio to sport the same interface and clean up some of the UX disparity that could arise should OneUI be exclusive.
As usual, as we know more, so will you.

Recommended Stories