Samsung Galaxy S6 edge+ is official: the super-sized Galaxy S6 edge
10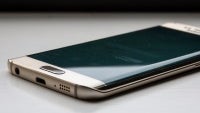 At a special event today, August 13, Samsung announced the new Samsung Galaxy S6 edge+. Best described as a "super-sized" Galaxy S6 edge, the S6 edge+ differs with a bigger, 5.7-inch display (a 0.6 inch increase), larger 3000mAh battery (a 400mAh increase), and bigger overall size - 6.08 x 2.98 x 0.26in (154.4 x 75.8 x 6.9mm) for the S6 edge+ compared to the 5.59 x 2.76 x 0.28in (142.1 x 70.1 x 7 mm) of the regular S6 edge.
Hardware-wise, we're once again looking at an Exynos 7420 SoC, driving the mains alongside 4GB of LPDDR 4 RAM. Memory capacity choices are the usual as well - there are 32GB and 64GB storage variants available. Moreover, the Galaxy S6 edge+ uses the dual edges as a shortcut from any screen to users' top contacts and apps. 'Apps edge' allows users to access their favorite apps by just swiping the edge display, while 'People edge' helps users quickly find their favorite contacts and send messages, or give a call directly from any screen.
The Galaxy S6 edge+ also features full HD Live Broadcast, which lets users instantly stream video straight from the phone to any individual, group of contacts, or even the public through YouTube Live. Anyone who receives the YouTube link from a Galaxy S6 edge+ or Note5 user is able to enjoy live broadcast from his or her smartphone, tablet, PC or Smart TV.
The Galaxy S6 edge+ also benefits from Samsung's camera functions, such as including Quick launch, Auto Real-time High Dynamic Range (HDR), Optical Image Stabilization (OIS), and brand-new filters. The device also features Ultra High Quality Audio (UHQA) to upscale audio streams and files for richer, high-quality sound. UHQA is supported over Bluetooth on Samsung's next generation wireless audio accessories.
SideSync 4.0 support is included as well, offering both wireless and wired PC-smartphone integration for easy connection across devices. Thanks to auto-detection and an ultra-quick setup, users can instantly connect their Samsung device to their PC or tablet to respond to text messages, answer phone calls or access and share files and data.
The Galaxy S6 edge+ will be available in the United States on August 21, with pre-orders beginning today, August 13, at 3pm EDT. The phablet will be sold in two colors, and it will be priced a fair bit more expensively than its predecessor. The unlocked base 32GB model will cost about $800 in the USA, and as much as 800 euro in European countries. Comparably, the regular 32GB Galaxy S6 edge retails for about $660 or 600 EUR unlocked.