Samsung Galaxy S6 edge gets thrown on the floor but survives this violent drop test
99+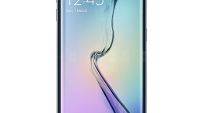 Samsung built its new flagship phone from scratch after the
Samsung Galaxy S5
was deemed a disappointment by phone buyers. The
Samsung Galaxy S6 edge
has a metal frame sandwiched by two pieces of Gorilla Glass 4, one in the front and one in the back. While
giving the Samsung Galaxy S6 edge a new cool design
, it does mean that the phone could be in pretty bad shape if it is dropped. How much protection can Gorilla Glass 4 provide? Perhaps a new video gives us the answer.
A low-resolution clip has been uploaded to YouTube showing a woman apparently taking out her frustrations on a Samsung Galaxy S6 edge. Perhaps she is upset with the news that Zayn Malik has left One Direction. Or maybe she's pissed that her local McDonald's stopped serving the McRib. Whatever the reason, she throws the handset to the ground with a speed that makes us recall Bob Gibson in his prime.
Despite the rather hard throw, a quick test shows that the Galaxy S6 edge has survived. It is hard to tell from the video, but it appears that there is no damage to the phone whatsoever. As we get closer to the launch of the device on April 10th, we probably will see more elaborate drop tests and water tests. Remember, because of the new build the
Samsung Galaxy S6
lost the IP67 certification that it had last year, meaning that the Galaxy S5 could survive being submerged in up to 3.3 feet of water and emerge unscathed. That is not the case with the new models.
Have butterfingers and worry that if you buy the Galaxy S6 edge it will end up shattered on the floor? Perhaps watching the embedded video below will help you get over this thinking.
Thanks for the tip!
source:
YouTube
Recommended Stories