Samsung Galaxy S6 and S6 edge screen and battery replacements will be expensive
31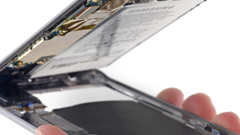 If you have (or plan to get) a
Samsung Galaxy S6
or
Galaxy S6 edge
, you should already know that both handsets come with non-user replaceable batteries. Since the new Galaxies have
low repairability scores
, it is strongly advised that you always take them to an authorized repair center in case something needs to be fixed. Speaking of that, according to PG Mag, Samsung today revealed that a Galaxy S6 or s6 edge
battery replacement
will cost you $45 plus shipping, if you need this to be done after the 1 year of warranty offered by the company (during which Samsung replaces the battery for free, though it looks like shipping is not included).
$45 is higher than the price asked for a Galaxy S5 battery replacement ($29.99), but lower than what you'd have to pay for a new Apple iPhone 6 battery ($79).
Way more expensive than replacing a Galaxy S6 battery will be replacing its screen. Reportedly, Samsung will charge $199 for putting a brand new screen inside your S6 (once again, this is only after the 1-year period of free warranty). It seems that replacing the display of the S6 edge will also cost $199, despite the fact that we're talking about a dual-curve display here.
PC Mag says that Samsung can replace a Galaxy S6 and S6 edge screen or battery quite fast, shipping the handsets back to their owners in one business day in the US (things may be different in other markets).
source:
PC Mag
via
Sam Mobile