Samsung Galaxy S6 & S6 edge suffering from touchscreen issues?
71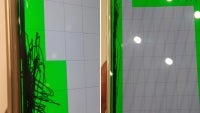 Korean publication Asia Today identified possible issues with the Samsung Galaxy S6 and S6 edge's touchscreen controller. At MWC, the reporters ran the TSP Grid Mode Test, which overlays a grid on the smartphone's screen and puts a mark anywhere the user touches it to register touchscreen input. Using this method, the test allows for each section of the touchscreen to be verified as functioning correctly. It is accessible on most Samsung smartphones and tablets by entering *#7353# inside the dialer app.
The test saw the Galaxy S6 & s6 edge unable to register touchscreen input at all inside the region nearest to the screen bezel. The problem is more noticeable on the Galaxy S6, where the sense-less strip is a bit bigger. It shall be interesting to see whether the issue will be present in retail devices and how it may impact touchscreen performance. For all we know, it could be a deliberate measure from Samsung to prevent accidental touches and swipes near the bezel from interfering with the user experience.
This could, theoretically, become problematic for applications and games requiring utmost touchscreen precision in all regions.
Hopefully, that won't be the case, or Samsung will fix it in a software update or future Galaxy S6 / Edge revisions.
The smartphones will start shipping on April 10.
UPDATE:
This video
proves the theory of Samsung deliberately disabling touch sensitivity on the screen edges to prevent accidental swipes and touches. Thanks for the tip, Kaloyan!