Samsung Galaxy S5 vs Nexus 5: first look
22
The Samsung Galaxy S5, has just arrived, but - unlike before - this year, Samsung's new 'big thing' will be met with fierce competition from all places. First and foremost, from a device that's been the underdog earlier, a phone with much lower sales than the Samsung flagship, but still offering an unprecedented value for the money. We're talking about the Google Nexus 5, of course.
Luckily, we have the Nexus 5 with us at MWC, so we can give you some first-hand impressions of how it compares against the Galaxy S5. Read on to find out.
Design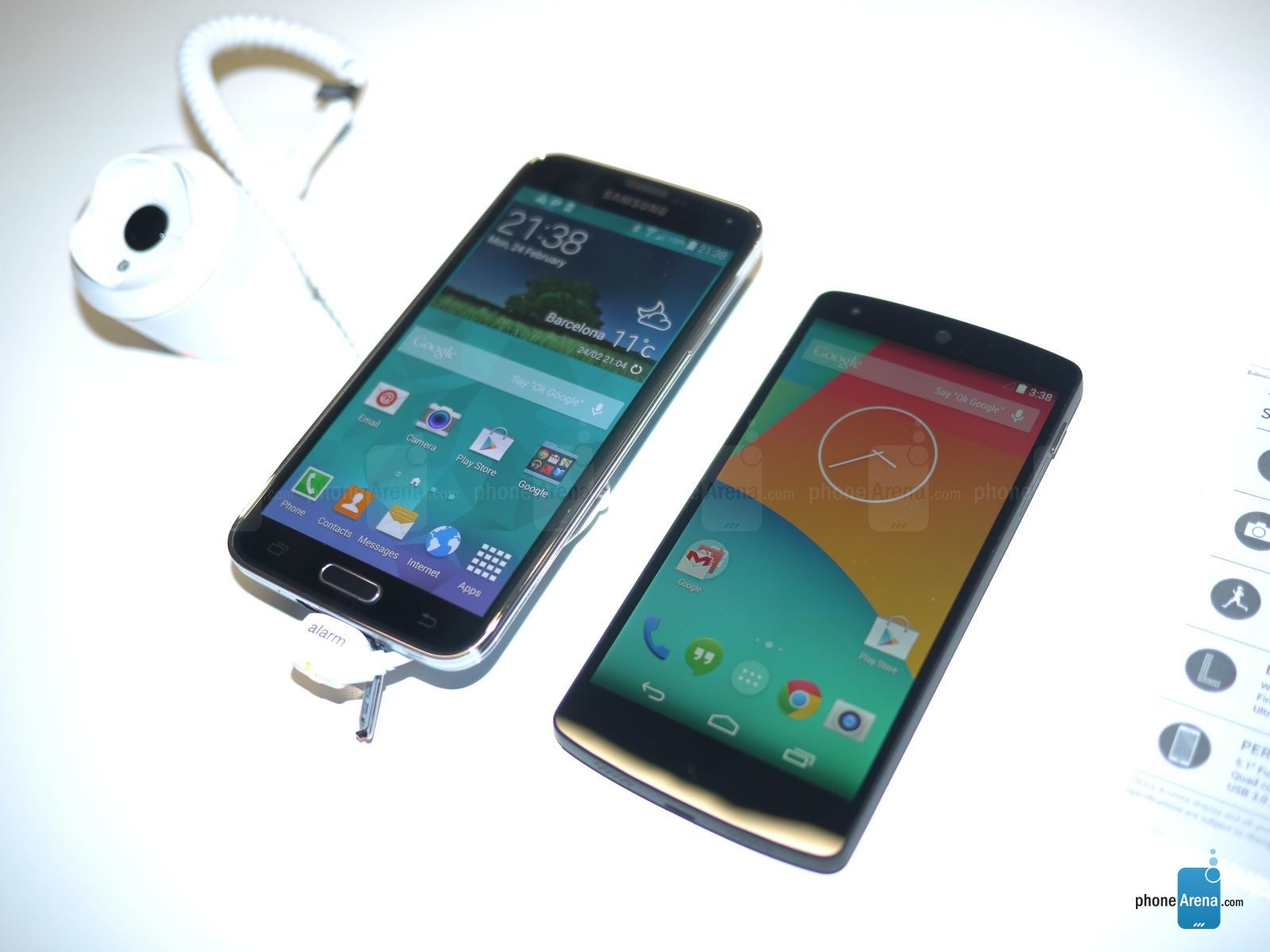 The Samsung Galaxy S5 surprised us, but not with a metal case as some expected - instead it shipped with a perforated dimply back with a soft touch feel. While it's not cutting any fashion and style edges, we actually like it for what it is - simple and practical, plus it allows the Galaxy S5 to keep the removable back cover with easily replaceable battery and microSD card.
The Nexus 5 also features a soft touch back, but one which is much more rubbery in feel and in contrast to the Galaxy S5 it is not user removable.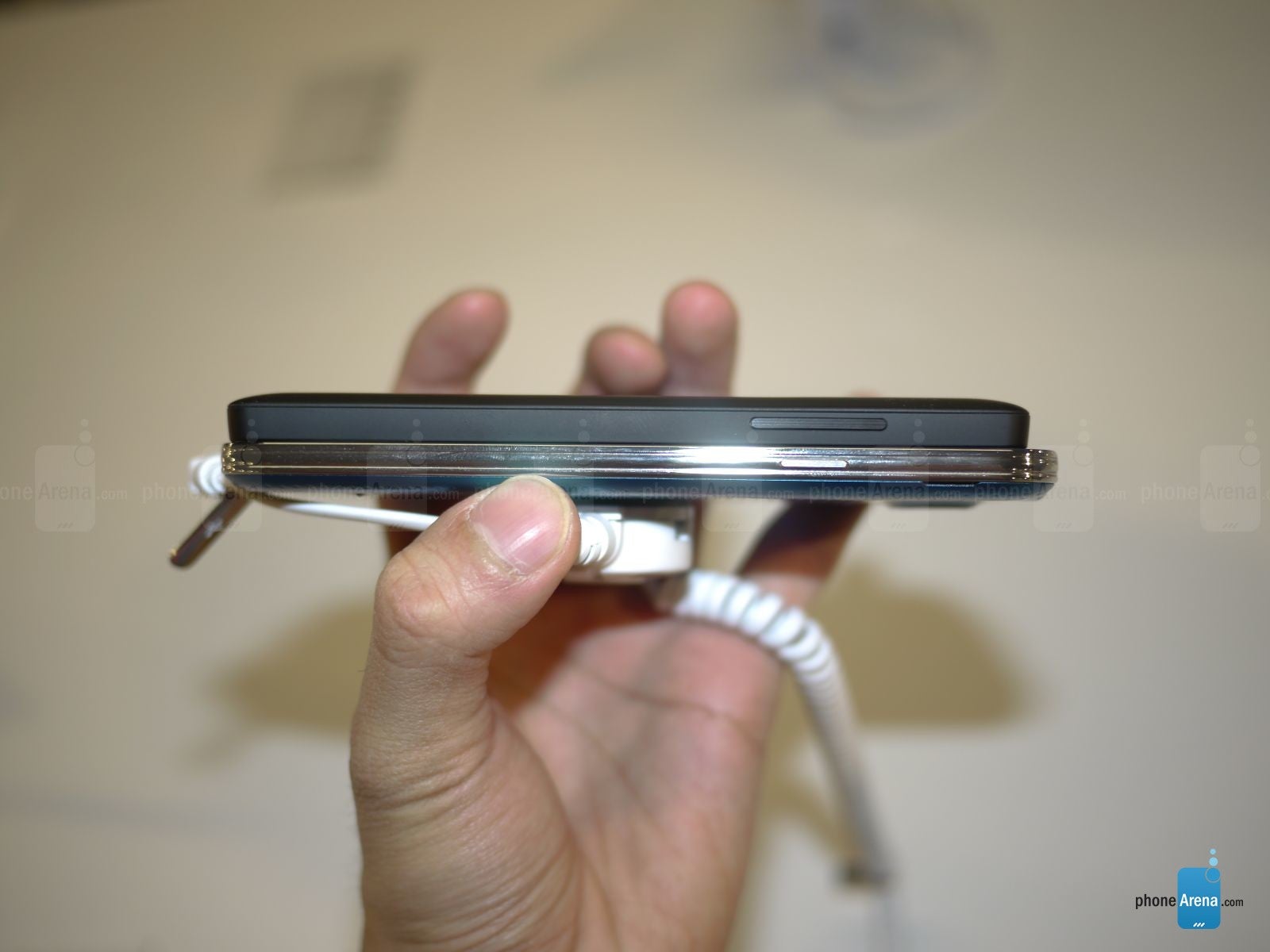 Both designs don't seem too pretentious, but we would not say that we are disappointed with either one. Neatly, Samsung has made the Galaxy S5 ruggedized with supports for the IP67 rating, which means that it can be immersed in water for up to an hour, and it's dust protected as well.
Interestingly, Google has expanded the Nexus 5 to include three different color versions now - a red, black and white one. Samsung has also gone the way of color, but it has four color options - a blue (our favorite), a gold, a black and a white one.
The Galaxy S5 introduces one brand new design component to smartphones and that's a heart rate sensor on the back, right below the camera. It's also got a swipe fingerprint reader in the home button. The Nexus 5 lacks both these features.
Display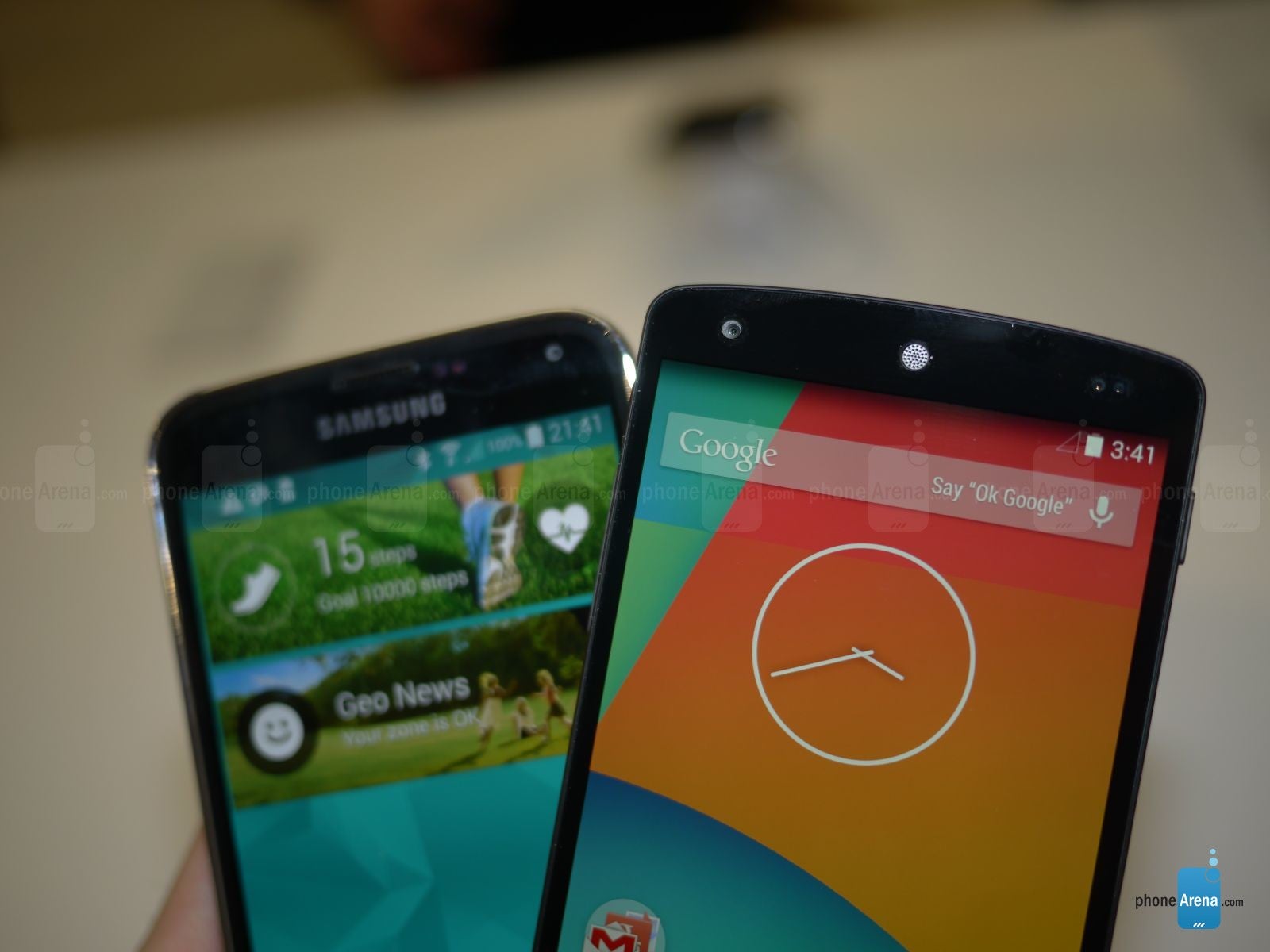 In terms of display, the Nexus 5 was a huge step up in display quality with a large, 5-inch 1080p display that is also very well calibrated, with accurate (just very slightly washed out) colors. The Galaxy S5 features almost equally sized 5.1-inch display with the same 1080 x 1920-pixel resolution.
Where the two differ are in the actual technology used. While the Nexus 5 employs the more traditional LCD technology, the S5 ships with a Super AMOLED screen. At that, Samsung claims some huge improvements and the screen on the S5 indeed seems to deliver. It's a bright and vivid screen that goes up to the luminant and outdoor-friendly 500 nits.
Interface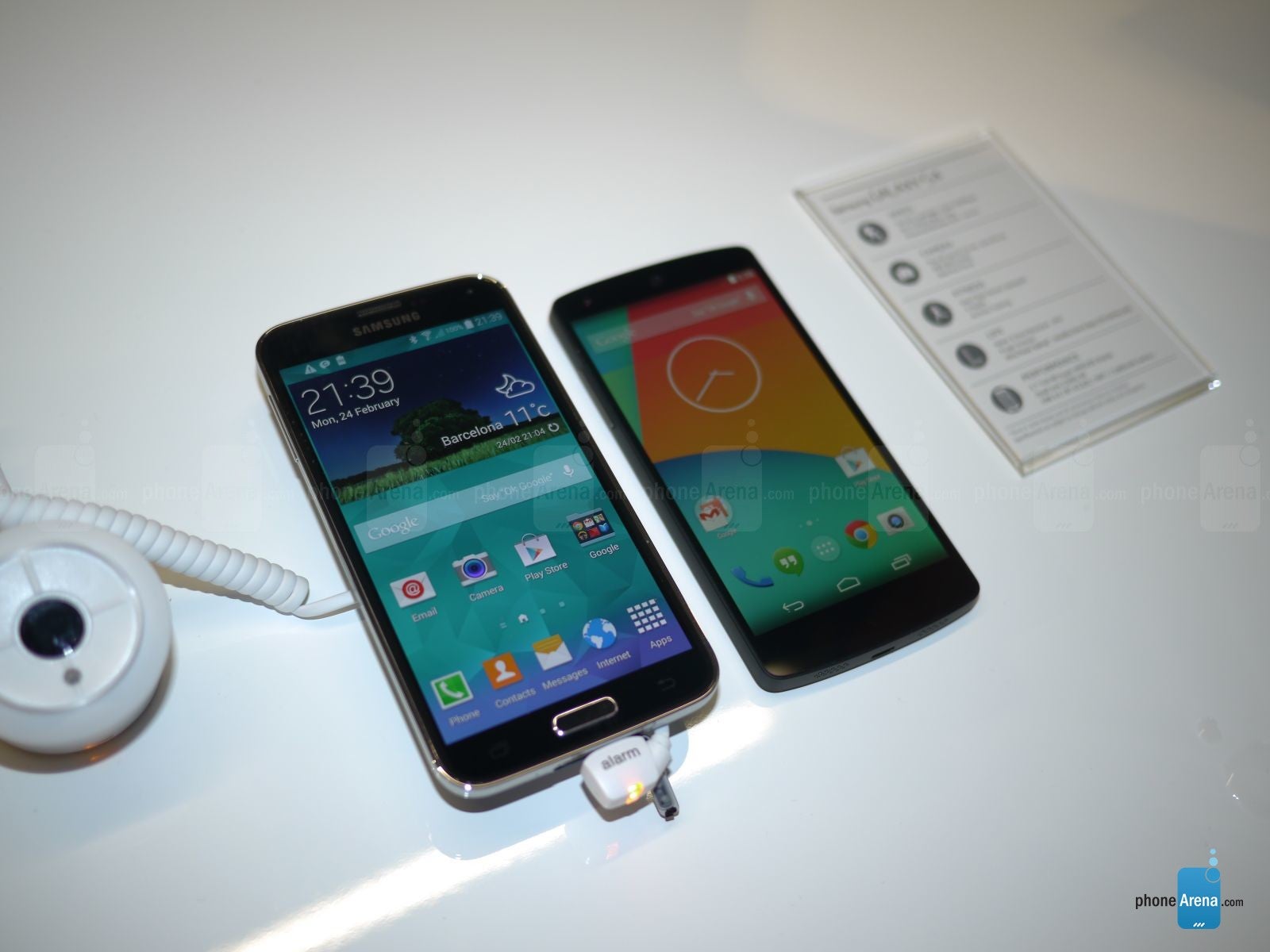 Speaking of interface, the time has finally come to see a Nexus and non-Nexus device both ship with the latest version of Android. Props to Google and Samsung! The Galaxy S5 runs on the same Android 4.4 KitKat as the Nexus 5, but while the LG-made Nexus runs it in its pure, stock form, the Galaxy S5 comes with a new TouchWiz custom user interface.
Samsung has gone for simpler, flatter, more modern icons, and it has tried to simplify it all with icons in the settings in lieu of long lists. It also has paid specific attention to its S Health app, which is now front and center as you can use the built-in heart rate sensor to measure whether you're working out hard enough or not.
Processor and memory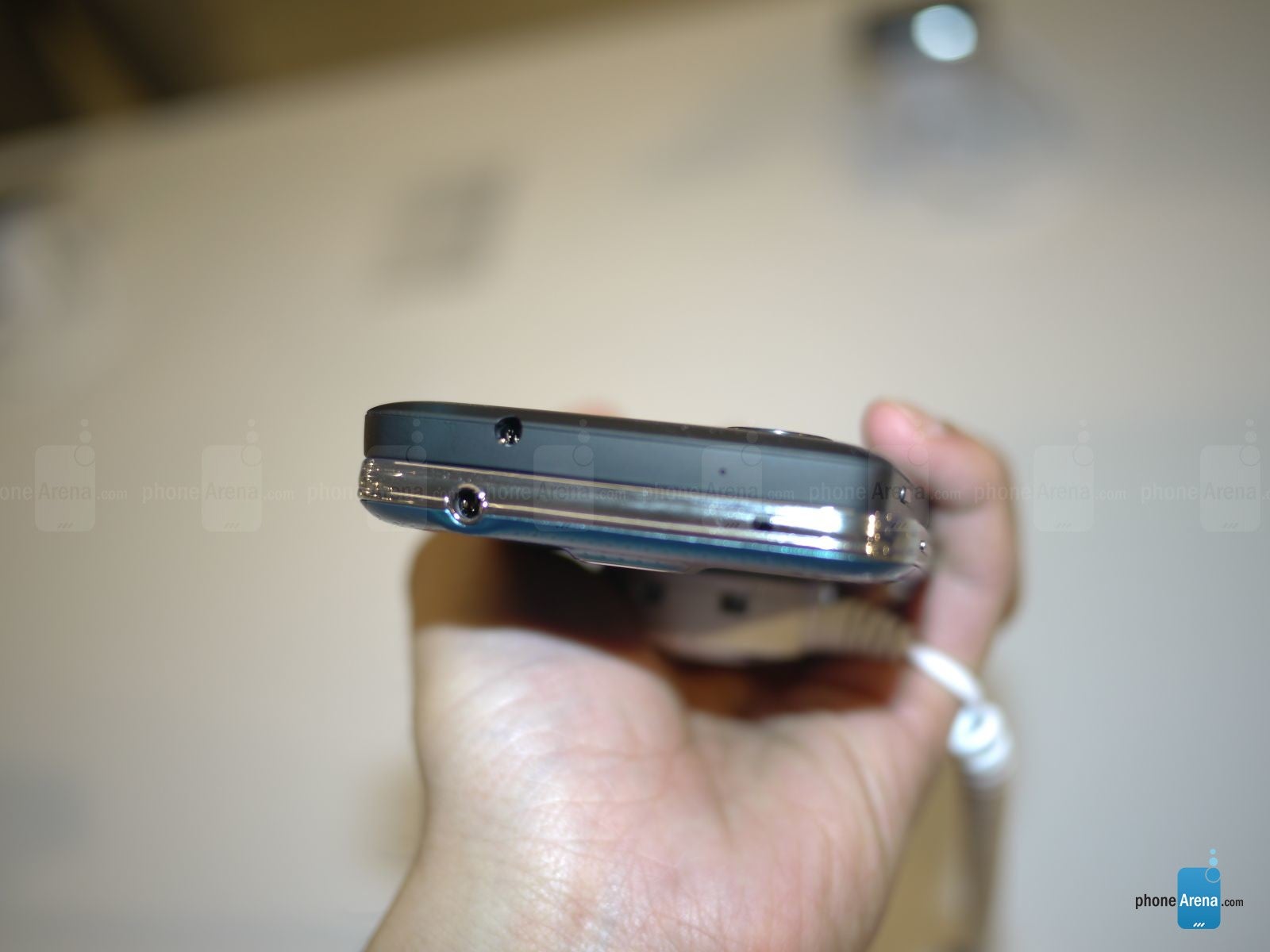 The Galaxy S5 is one of a few launch vehicles for the brand new Snapdragon 801 system chip. It's a quad-core chip just like the one in the Nexus 5, but while the number of cores is the same, they are clocked at slightly different speeds. The Galaxy S5 is, of course, slightly faster in both the CPU where it reaches 2.5GHz (2.3GHz on the Nexus 5) and in the GPU where the clock speed goes up to 578MHz.
In our experience with the two, both feel perfectly snappy and don't skip a beat. The Galaxy S5 moves smoothly through the menus and while it's hard to say just yet, it seems to be just a bit smoother than last year's S4. The difference in processing power should become obvious in high-demanding game, and it will make the S5 a bit more future-proof.
The Galaxy S5 comes with 16GB of internal storage for the basic model, but you can expand it via microSD cards of up to 64 gigs. The Nexus 5 ships also with 16GB of built-in storage, but it's got no microSD card slot support, so you cannot expand the storage.
Camera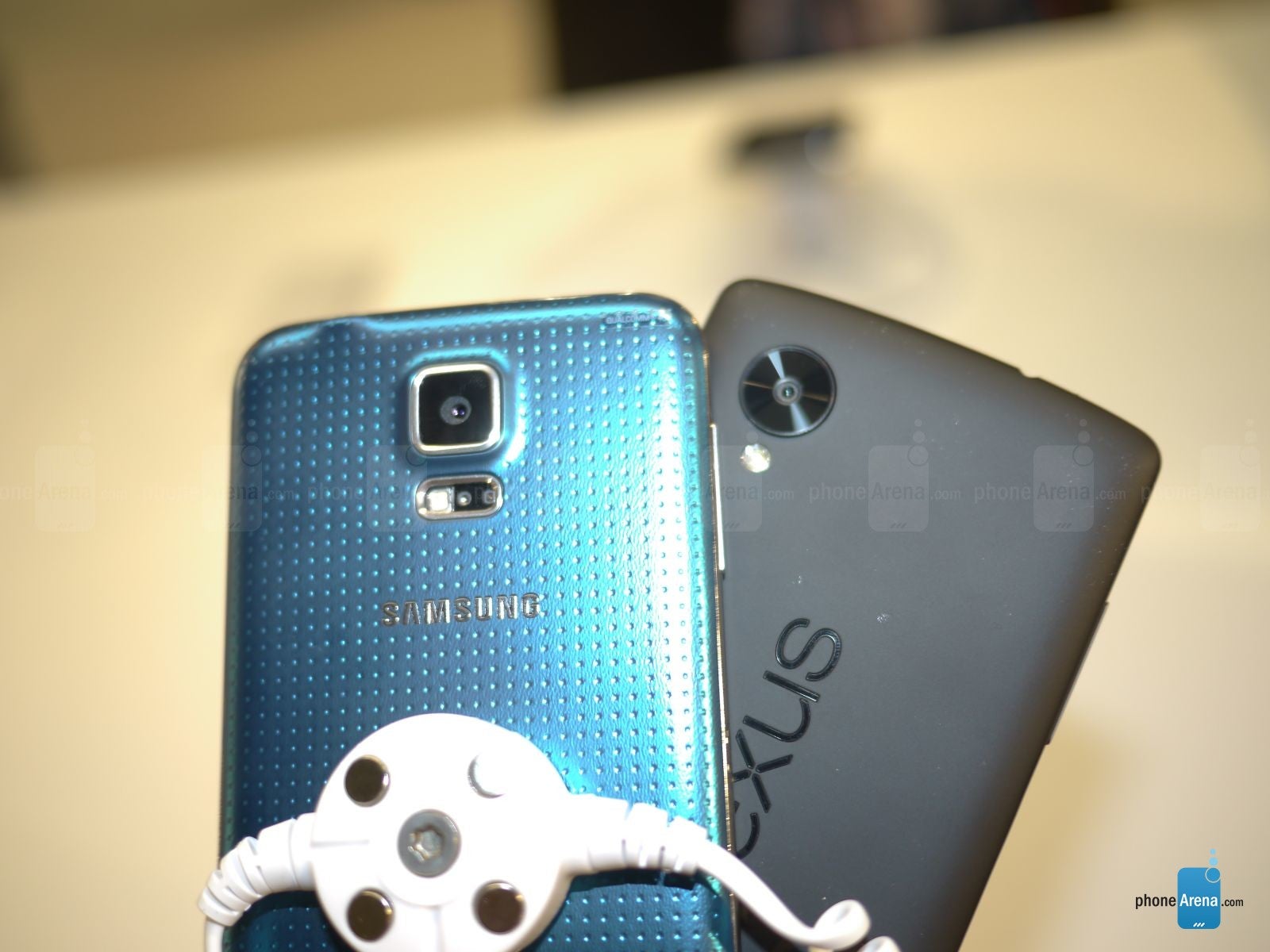 The new 16-megapixel ISOCELL camera is one of the big highlights of Samsung's new flagship. It uses a 1/2.5" sensor, around 15% to 20% larger than the average sensor in top-level devices, and it also packs a new auto-focus system that is extremely fast, and Samsung claims is actually the fastest of any smartphone.
The Nexus 5 in comparison comes with an 8-megapixel camera with a smaller sensor, and on paper it seems humbler, but we would not rush with the conclusions just yet - we were actually pleasantly surprised with Nexus 5's snapper.
The Galaxy S5 also brings a new, improved camera interface that supports new shooting modes and adds HDR in video. The S5 also records 4K video at 30fps, something that the Nexus 5 is not capable of.
Expectations
All in all, it's clear that Samsung has one-upped the Nexus 5 in almost every aspect except for one - price. Google's handset is sold at razor thin margins ($350 off contract), while the S5 should retail for no less than $600 off contract and $199 with a 2-year agreement. We're clearly talking about two very different price tiers.
Yet, ignoring money for a second, the Galaxy S5 seems to make significant process in the nascent field of personal smartphone-assisted fitness, in performance and in the camera. The fact that it's ruggedized and that it comes with an improved AMOLED display are also hugely appreciated. With both running on the latest Android, software is finally less of an issue, so in a fantasy world where price does not matter, we'd clearly go with the S5. What about you?