Samsung Galaxy S5 pre-orders start on March 28 in the UK
11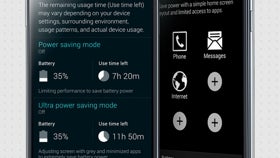 Samsung today announced that its brand new Galaxy S5 smartphone will be available to pre-order in the UK starting March 28 via "selected retailers, Samsung's e-store and the Stratford Westfield Experience Store." Pricing details have not been revealed. Samsung also re-confirmed that the handset will be launched globally on April 11 - which means that British customers have two weeks ahead to pre-order it.
At the moment, there's no info on when Galaxy S5 pre-orders will officially start in other markets. But it's probably safe to assume that this will happen pretty soon.
Announced at MWC 2014 last month, the Galaxy S5 introduced two features that until now haven't been available on a Samsung smartphone: Fingerprint Scanner and a heart rate monitor. It also improves on some of the specs of last year's Galaxy S4, coming with a quad-core Snapdragon 801 processor and a 16MP rear camera. The new handset sports a 5.1-inch display with 1080 x 1920 pixels, and runs Android 4.4.2 KitKat. You should check out
our Samsung Galaxy S5 hands-on
for more details.
SAMSUNG GALAXY S5 AVAILABLE TO PREORDER IN THE UK FROM 28 MARCH
Fifth generation Galaxy device available from selected retailers, Samsung e-store and Stratford Westfield Experience Store
12 March, 2014, London, UK – Samsung Electronics has today announced that customers in the UK can pre-order the new Galaxy S5 from selected retailers, Samsung's e-store and the Stratford Westfield Experience Store from Friday 28th March.
The Galaxy S5 has an advanced camera, the fastest network connectivity, dedicated fitness tools and enhanced device protection features. With a 16 megapixel camera, the device also has the world's fastest autofocus speed and advanced High Dynamic Range (HDR).
The Galaxy S5 has the most advanced LTE experience and Wi-Fi performance available today, so you can enjoy blazing fast data speeds. Plus, for an even faster connection, the Galaxy S5 also features Download Booster, a Wi-Fi technology designed to boost data speed by bonding Wi-Fi and LTE simultaneously.
The new Galaxy S5 also offers tools to help you stay fit and well, including a comprehensive personal fitness tracker, a pedometer, diet and exercise records, and a new, built-in heart rate monitor. In addition, the IP67 dust and water resistant device has a Finger Scanner, providing a secure, biometric screen locking feature and a seamless mobile payment experience.
"We wanted to give our customers in the UK the chance to get their hands on the next generation of our Galaxy S smartphone as soon as possible by giving them the option to pre-order," said Simon Stanford, Vice President of IT & Mobile division, Samsung Electronics UK & Ireland. "With the Galaxy S5, we've very much focused on the features that our customers want and will use the most on a day to day basis, and look forward to hearing what they think when they get their new device."
The Galaxy S5 will be available globally through Samsung's retail channels, e-commerce and carriers on April 11. To pre-order, visit: http://store.samsung.com/uk