Samsung Galaxy S5: 8 tips and tricks, part 2
6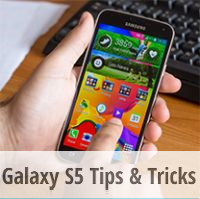 Last week
, we presented you with our first batch of Samsung Galaxy S5 video how-to's, and we promised we'll be back with more. So here we are, with an extra eight tips and tricks.
In this episode, we're again going through content that we consider to be generally suited for the novices out there, but there are a few more advanced tricks that you'll find within. In other words, even if you feel as if you know the GS5 in and out, perhaps we still have something to teach you. That shouldn't surprise you, considering how complex of a device the Galaxy S5 is, and, more specifically, its TouchWiz Android software. Indeed, we've gone at lengths about TouchWiz in our
Living with the Samsung Galaxy S5
series, and if you're just trying to get a glimpse of what the company's latest is capable of before buying into it, then these two resources ought to prove a good starting point.