Samsung Galaxy S4 easy to repair says iFixit, after a teardown leaves the flagship naked
36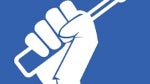 With a score of 8 out of a possible 10 from iFixit, a teardown of the
Samsung Galaxy S4
reveals the phone to be
easily repairable
. Unlike most high-end smartphones these days, the new Samsung flagship model offers (you might want to be sitting down for this one) a removable battery. Yeah, we know it's hard to believe, but it is true. The teardown also reveals the genius behind AirView and Air Gesture. With IR sensors placed on both sides of the earphone jack, light reflecting from your hand is compared by each sensor allowing the sideways motion of your hand to be tracked without your finger touching the screen. Air View allows you to hover over the screen with your finger to see previews of emails, information from contacts and your calendar along with thumbnails from a video. Air Gesture lets you control the movement of the screen using gestures without touching the glass.
Behind the screen is the Synaptics S5000B touchscreen controller which is so sensitive that a user wearing gloves can still control the screen. The parts in the phone are exactly as expected for the U.S version of the device which means that the octa-core Samsung Exynos 5 processor is replaced by the quad-core 1.9GHz Qualcomm Snapdragon APQ8064T processor, which was hidden underneath a large Samsung chip on the motherboard. Interestingly, the Qualcomm WTR1605L Seven-Band 4G LTE chip is inside the device. This is the same chip found inside the
Google Nexus 4
that gave owners of the device
the hope that there was hidden LTE support on the unit
. The Qualcomm MDM9215M 4G GSM/UMTS/LTE is the modem used on the phone.
Last week, Samsung said it would stop using tin solder sourced from dangerous mines in Indonesia, but the new supply of the solder has probably not had enough time to make it through to models already produced and boxed.
source:
iFixit