In one country, the Samsung Galaxy S10+ grabs the majority of pre-orders
19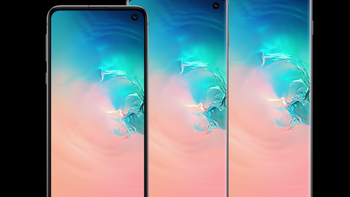 Samsung is continuing to take paid reservations for the
Galaxy S10e
,
Galaxy S10
and
Galaxy S10+
up through March 7th. The next day, the phones will officially launch.
According to Digitimes
, in Taiwan 60% of the pre-orders received by Samsung are for the Galaxy S10+. The Galaxy S10 makes up 30% of the pre-orders received thus far in the country, with the Galaxy S10e receiving the remaining 10%.
Samsung is making life miserable for Chinese handset manufacturers trying to sell their phones in Taiwan. Not only are the new models off to a good start with pre-orders 30% higher than the amount generated by the
Galaxy S9
and
Galaxy S9+
last year, Samsung's mid-range devices are also doing well in Taiwan. Models like the
Samsung Galaxy A7
,
Galaxy A9
(with the quad-camera setup in back) and the Galaxy J-series phones are making up 50% of Samsung's total handset sales in the country.
Market sources in Taiwan add that Chinese brands like Huawei, Oppo and Xiaomi are are also likely to lose market share in the market thanks to Sony's mid-range Xperia 10 models and its low-end Xperia L3 unit. Sony has basically started from scratch this year, and the
Xperia 10
and
Xperia 10 Plus
will both feature displays carrying a 21:9 aspect ratio. This will improve the experience of watching streaming video on the phones. The
Xperia L3
display features an 18:9 aspect ratio.
While pricing for Samsung's new phones in Taiwan ranges from NT$24,900 ($805 USD) to as high as NT$52,900 ($1710 USD), the Xperia 10 and Xperia L3 are expected to be priced at NT$9,900 ($320 USD) and NT$5,990 ($194 USD) respectively. Thus, the new models from Samsung and Sony are taking business away from Huawei and Oppo at the high end, and Xiaomi at the low end of the market.