Samsung Galaxy S10 Plus: 10 Must-know Tips & Tricks
2
These little tips and tricks will help you make the most of your new Galaxy phone and while we have initially tried them on the Galaxy S10 Plus, they work equally well for all three models: the S10, the S10 Plus and the S10e.
#1: Custom Wallpapers!
Hide the punch hole cameras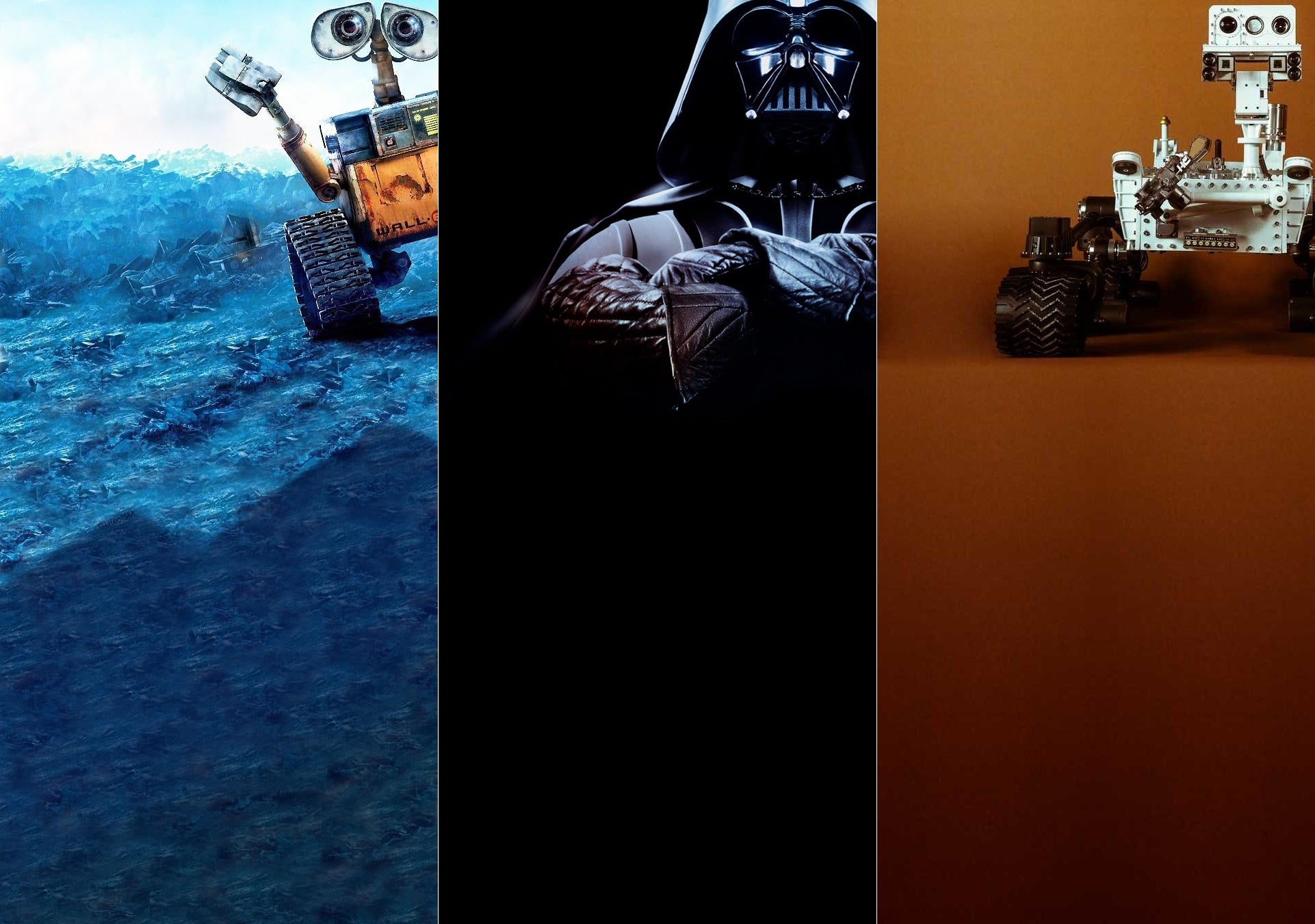 Let's get straight into it with probably the coolest trick that you can pull of with this phone. This has to do with the new hole punch design for the front cameras. What do you think about it? Personally, I like that it helps get rid of the bezel and even though it's still noticeable, I think Samsung has done a great job at keeping the size to fit just the cameras and not waste any more screen space, but what better way to embrace the new design than with a custom wallpaper built around the punch hole cameras? Hide the punch hole and get a better-looking home screen. To change the wallpaper simply long press on the home screen and select wallpaper, then view all, and go and pick one from your library.
Download custom wallpapers for Galaxy S10 here
But if you don't like the hole punch design even with these wallpaper tricks, you can actually hide it in a different way. If you go to Display Settings and select Full Screen Apps you can choose the hide front camera option. This will put a big thick artificial black bar at the top of the phone. It's definitely not the most elegant look, but it comes in handy especially when you watch videos that fit the whole screen. That's probably the one case when the punch hole is actually quite annoying, and this setting can fix that.
#2: Change Icon Size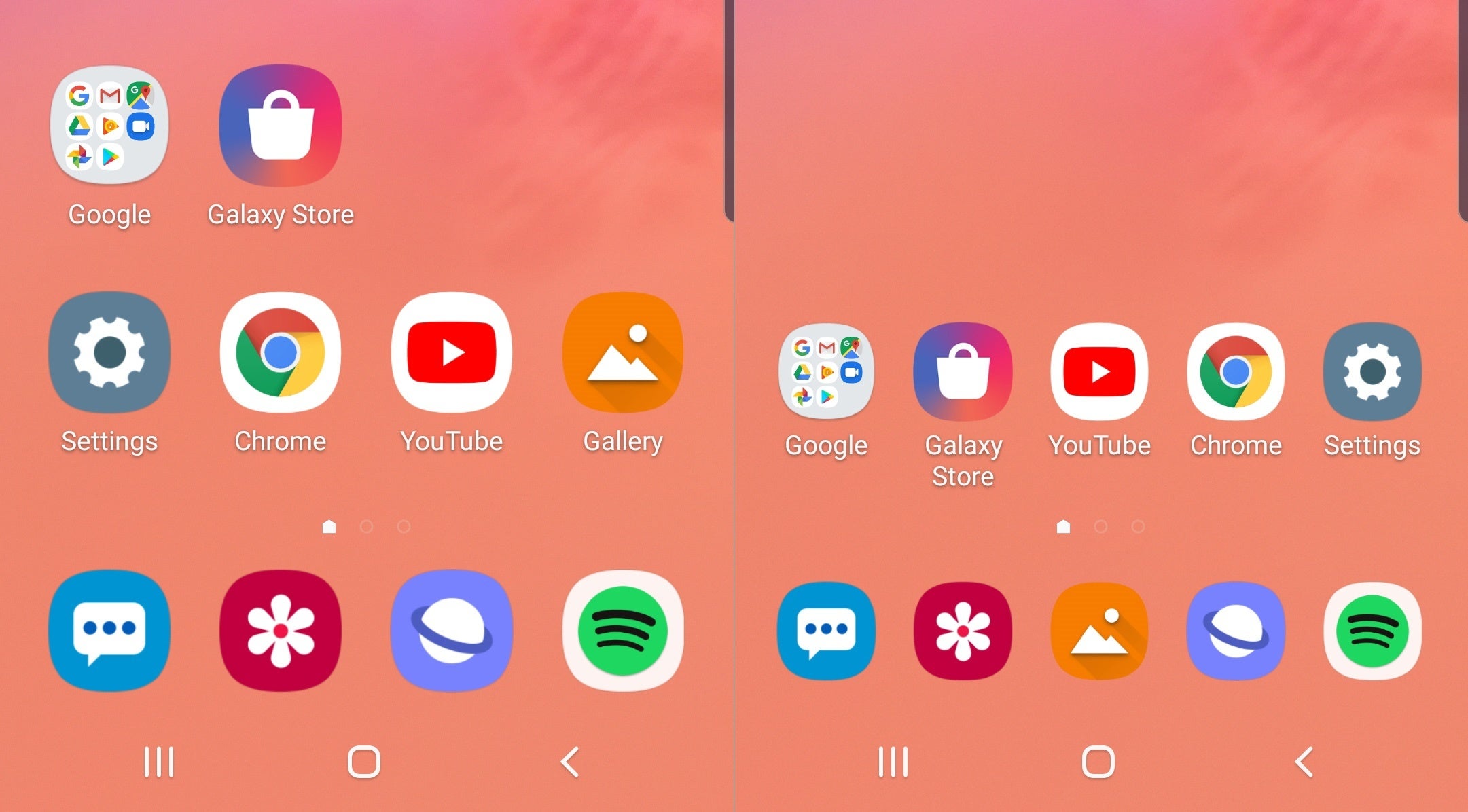 Before and After
Now, the first thing that I actually did when I first used the Galaxy S10 is change the icon size. Samsung goes with a default icon size that is just gigantic and does not look all that good, but thankfully it's really easy to change that to a more reasonable icon size in seconds. To do that, long press on the home screen and select settings, and here you can pick between different icon sizes, and I personally use the smallest size to fit the most on the screen and I still find the icon size big enough for easy use.
#3: Easy notifications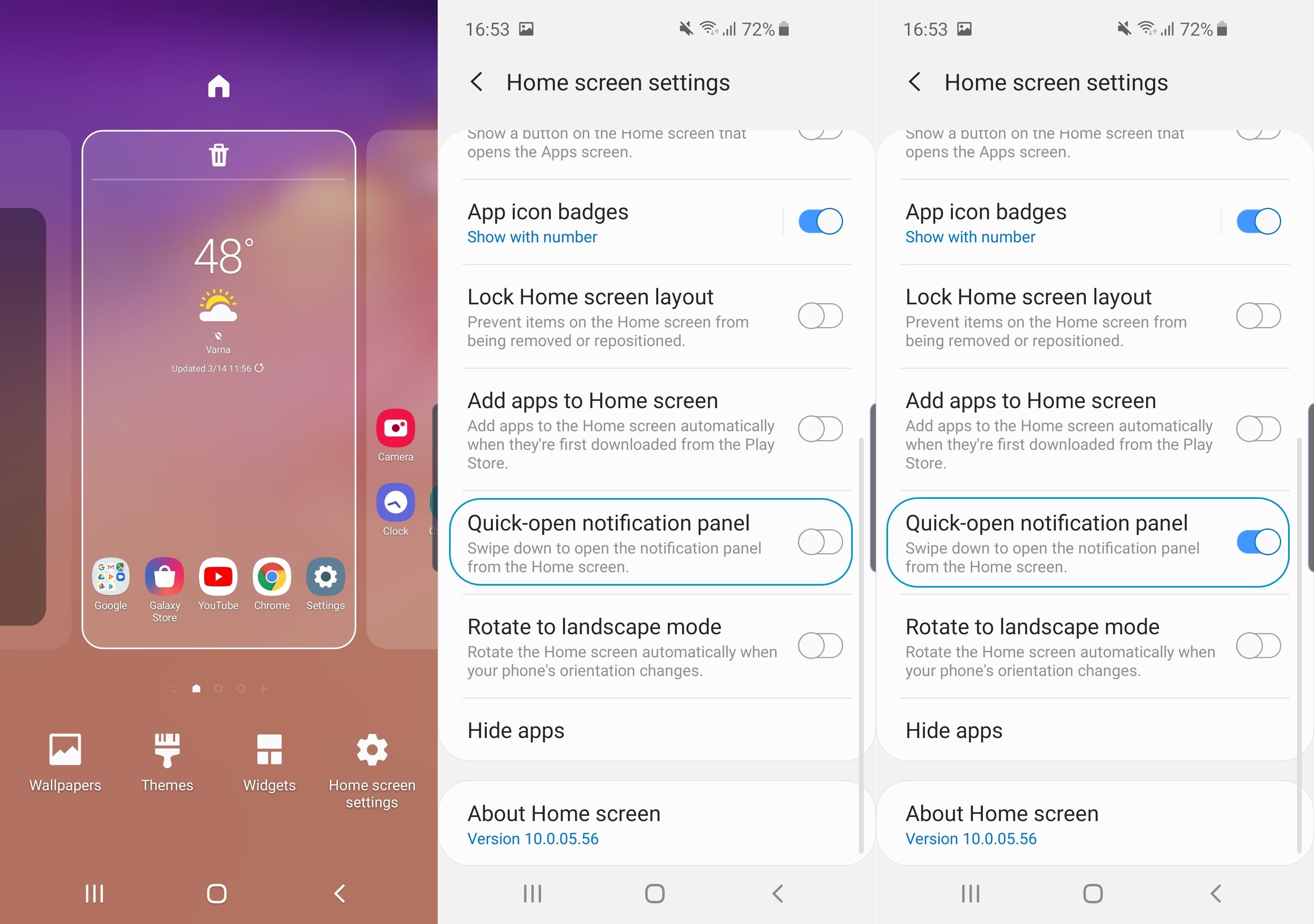 The other thing that I did the moment I started using the S10 Plus is to change the swipe down to open my notification shade rather than the app drawer, and that's also super easy to do. Go into home screen settings and enable the quick-open notification panel option, and voila. Now, the swipe down will show you your notifications while a swipe up will still go to the app drawer.
#4: Try the Gesture Nav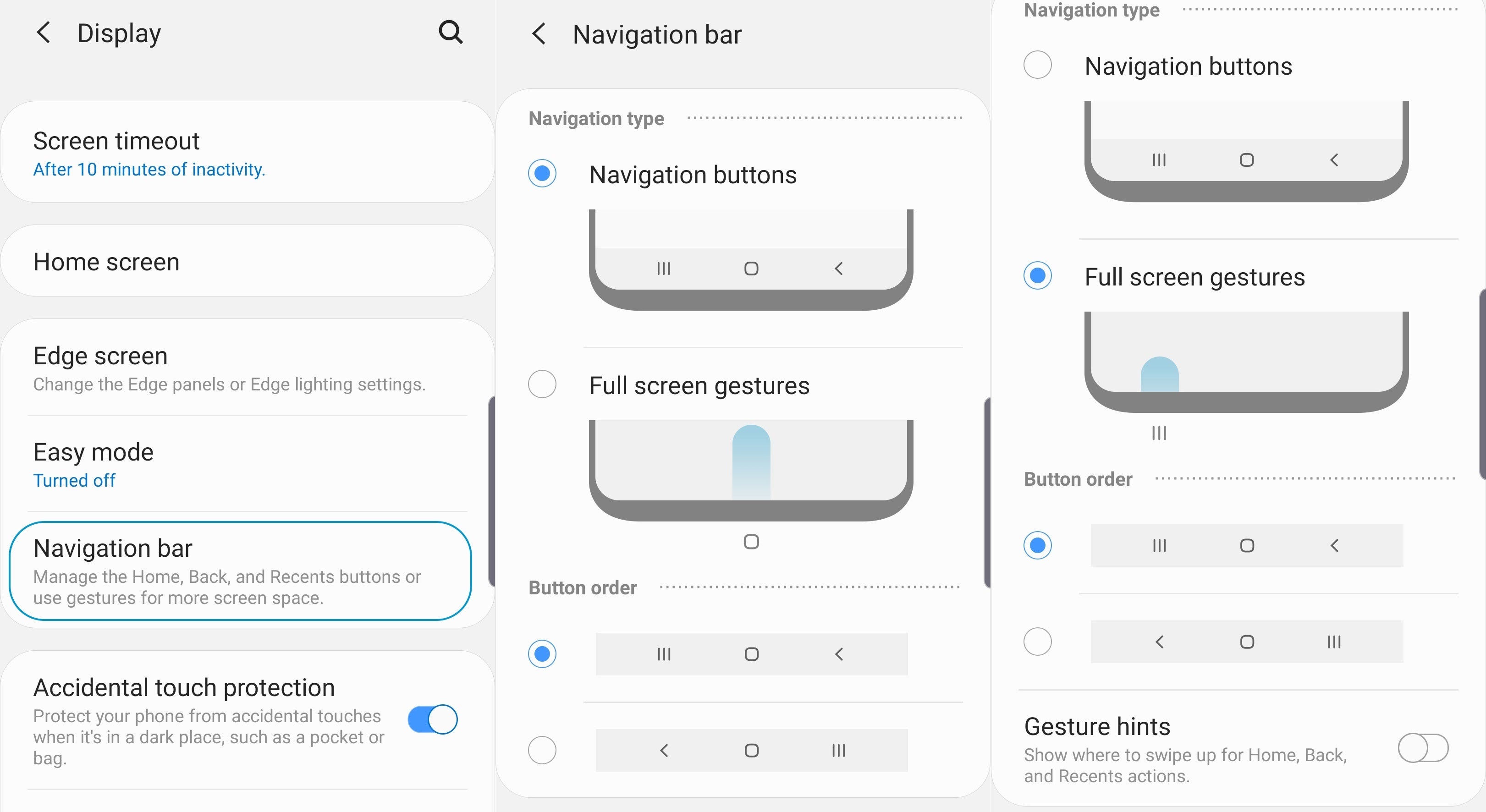 Next up, I recommend you try using the new gesture navigation in One UI on the S10! By default, the Galaxy still comes with the familiar three on-screen buttons for Android navigation, but you can now switch to using gestures by going into settings, then click on display and then on naviagation bar and here you can select the new gesture interface. You get a quick walkthrough that shows you how to use the gestures. They are a bit cluttered as all of them start with a swipe from the bottom of the phone, but we like them better than buttons anyway and they are a neat way to free up some space on your screen. Remember that you can also swap the button order, and I personally have the back button on the right for convenience.
You can also have gesture hints at the bottom of the screen and those might be useful in the beginning, but they ruin the look for me so I prefer to keep this option off.
#5: Night Mode
It looks good at night, and saves battery too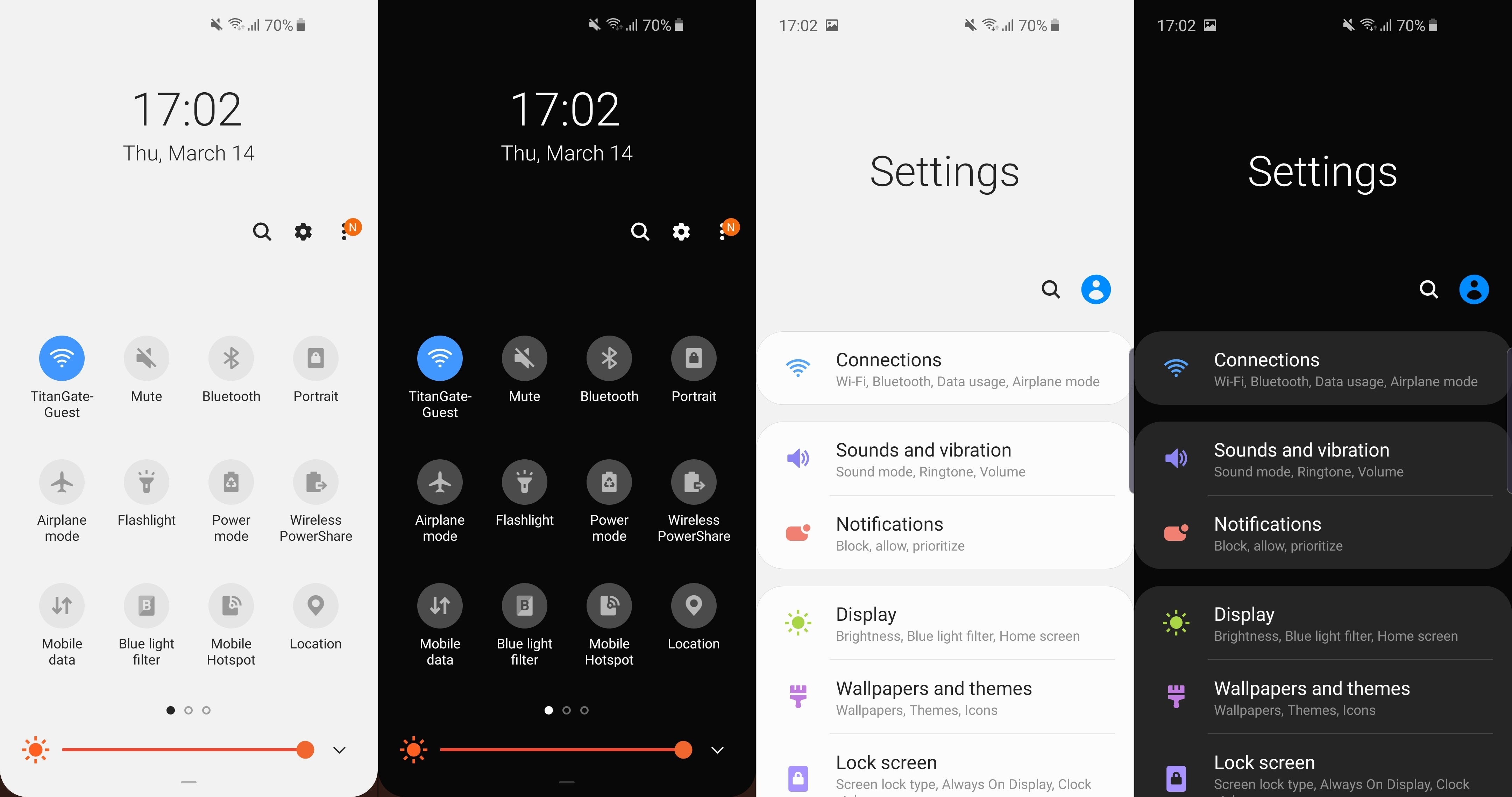 Next up, the new One UI on the S10 Plus brings a feature that we know many people have requested: night mode. And enabling night mode is probably the single best thing that you can do to extend your battery life, so here is how to do it. Go into settings, then click display and then switch the toggle for Night Mode. This will change the background in settings, the notification shade and a few other places to black and it's much easier on the eyes at night. However, night mode is not that useful during the day so you have the option to turn it on as scheduled at a certain time and the switch happens seamlessly when the screen is off.


#6: Spice up your screen colors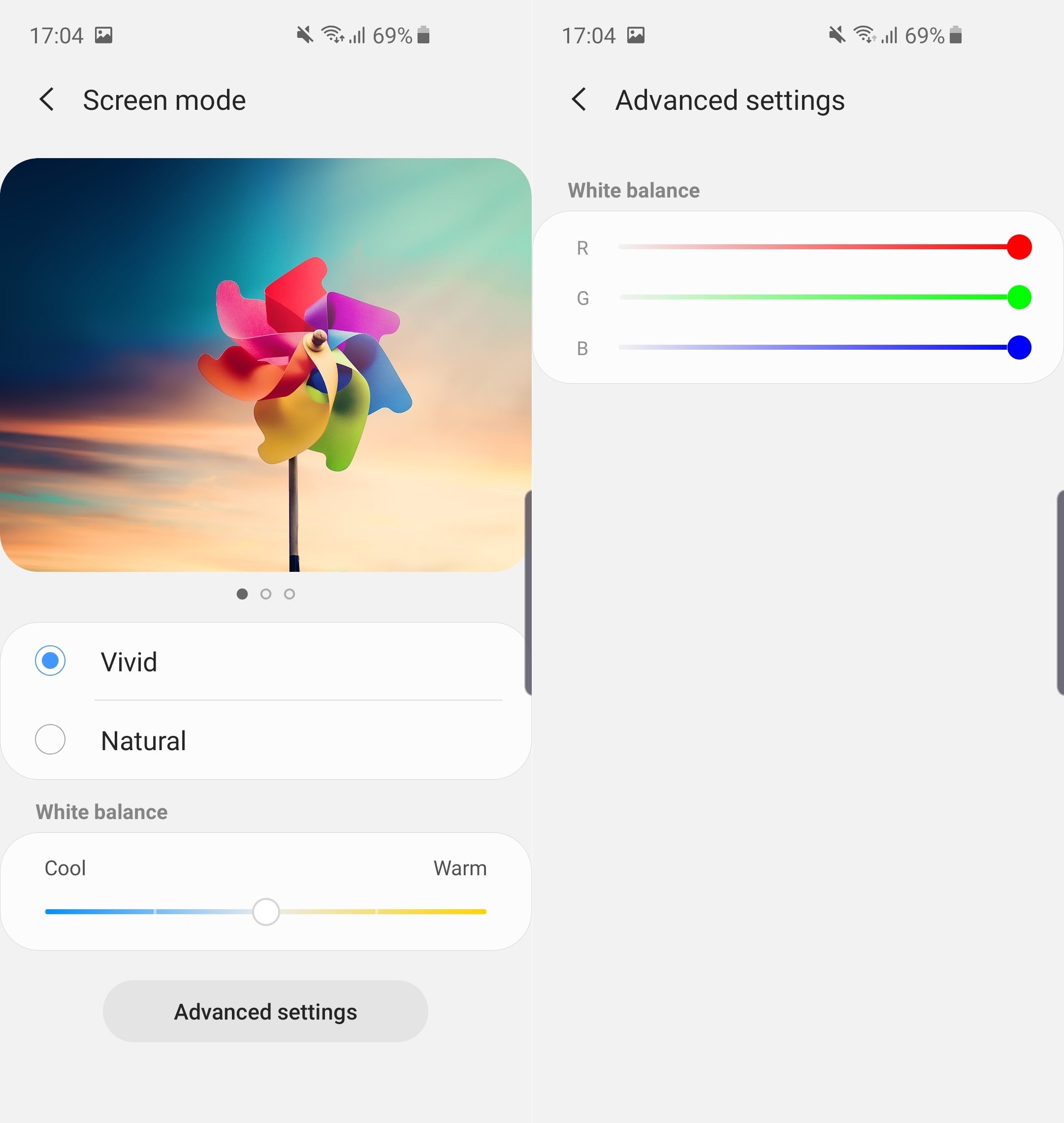 Right here in the display settings, you can also change the colors on the S10+. In screen mode you now have only two much simpler display options: the default natural one and a vivid one. Both of them look great and I tend to prefer the slightly toned down natural mode, but if you want the fully saturated, vivid and beautiful colors, here you can switch to the vivid mode.
#7: Remap Bixby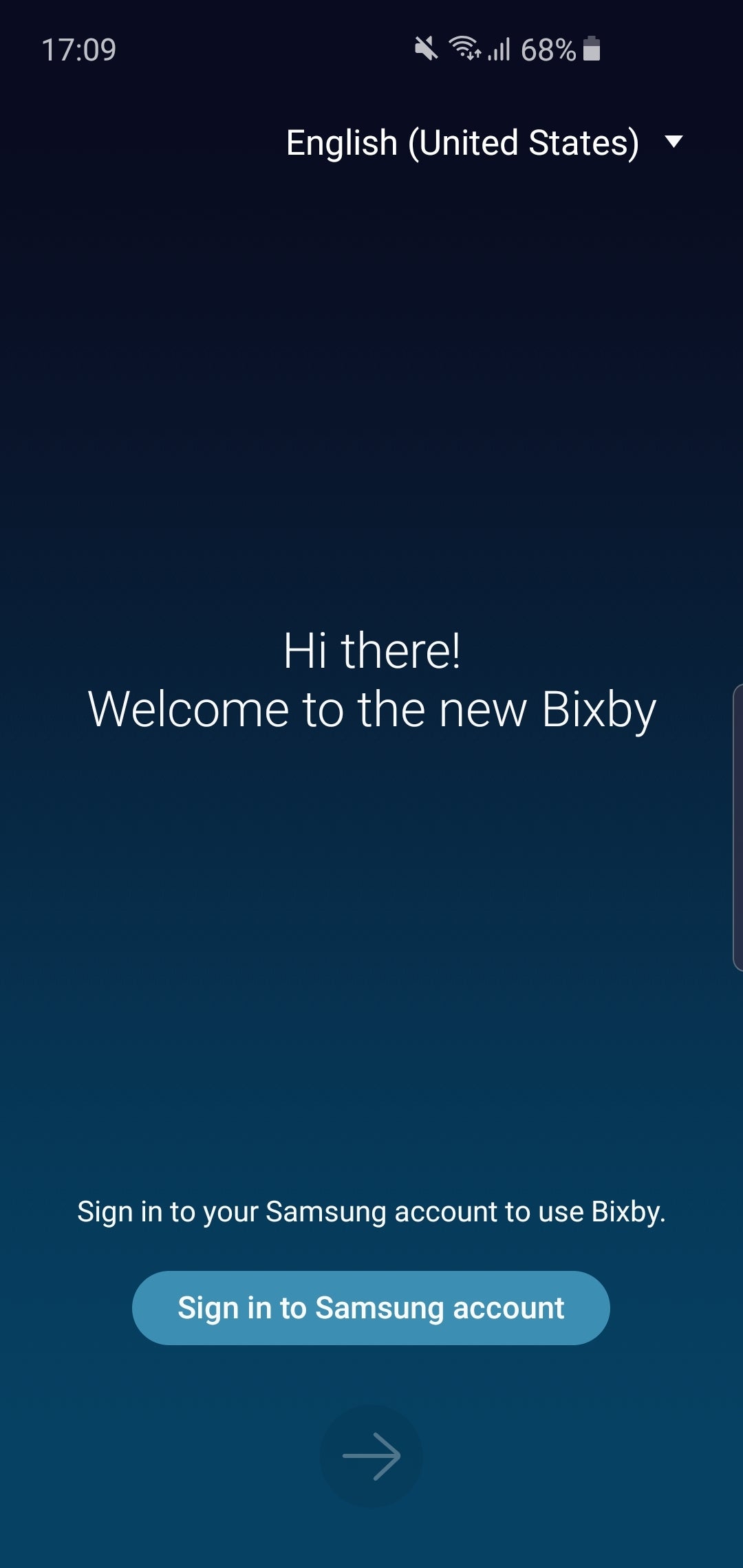 Next, you can now customize the Bixby button, remap it, and basically you kind of have the flexibility that everyone requested around Bixby.
And here is how to remap the button: go to the Setting, scroll to Advanced Features, and tap on Bixby Key. Here you can select for example to only start Bixby with a double press, so it does not start every time you accidentally click the Bixby button. And then you have the option to use the single click for something else: you can select any app you want, for example I use Spotify a lot, so I am setting this to quickly open the Spotify app. And then when I go to the home screen, I click the Bixby button and as you can see Spotify opens right away, which is really useful.
You also have the Bixby Home panel to the left of your homescreen and I personally don't find it very useful, so to remove it simply pinch the homescreen, swipe to Bixby Home and disable the toggle at the top right corner, and you will no longer see it. Keep in mind that this does not disable the Bixby button, only the Bixby Home panel.
#8: Edge Panels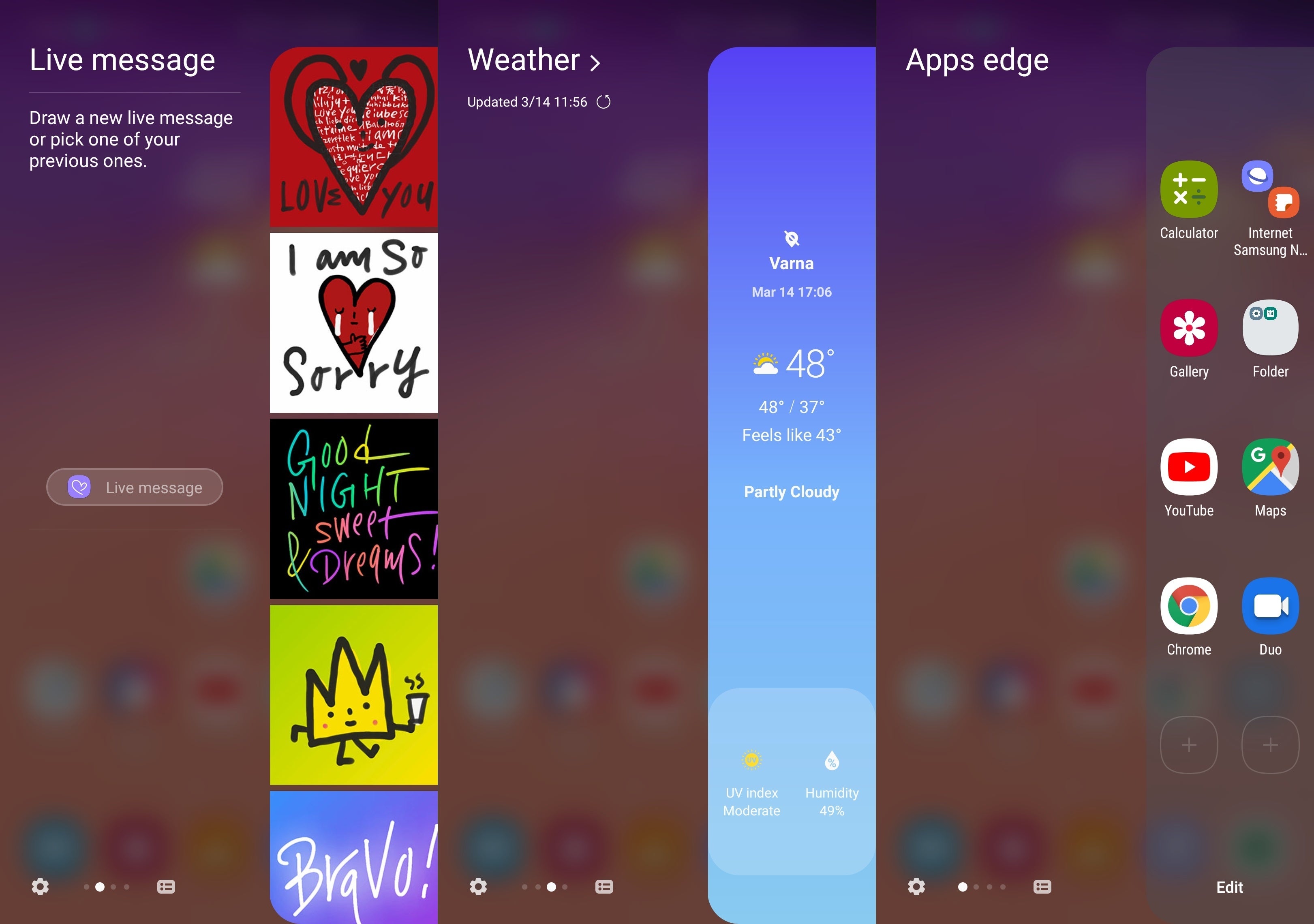 You also have Edge panels which can also be pretty useful. You can customize this to show different apps and things like sports scores or stocks. Now me personally I don't use the Edge panels simply because I accidentally trigger it quite often when I am just trying to swipe left or right on my home screen, but if you are more precise with your gestures, it can certainly be very useful. So the way you enable this is go to Display Settings, click on Edge screen and switch it on, or customize it to your liking. There is one more option here that I actually use and that is the edge lighting effect which lights up the edges of the screen with color when you get a new notification or a call. You can customize this in a variety of ways with colors and you can set it up to only work with select apps, and since I keep my phone on silent mode quite often, it's a nice visual cue that helps me not miss notifications.


#9: Camera Tricks
How to get better photos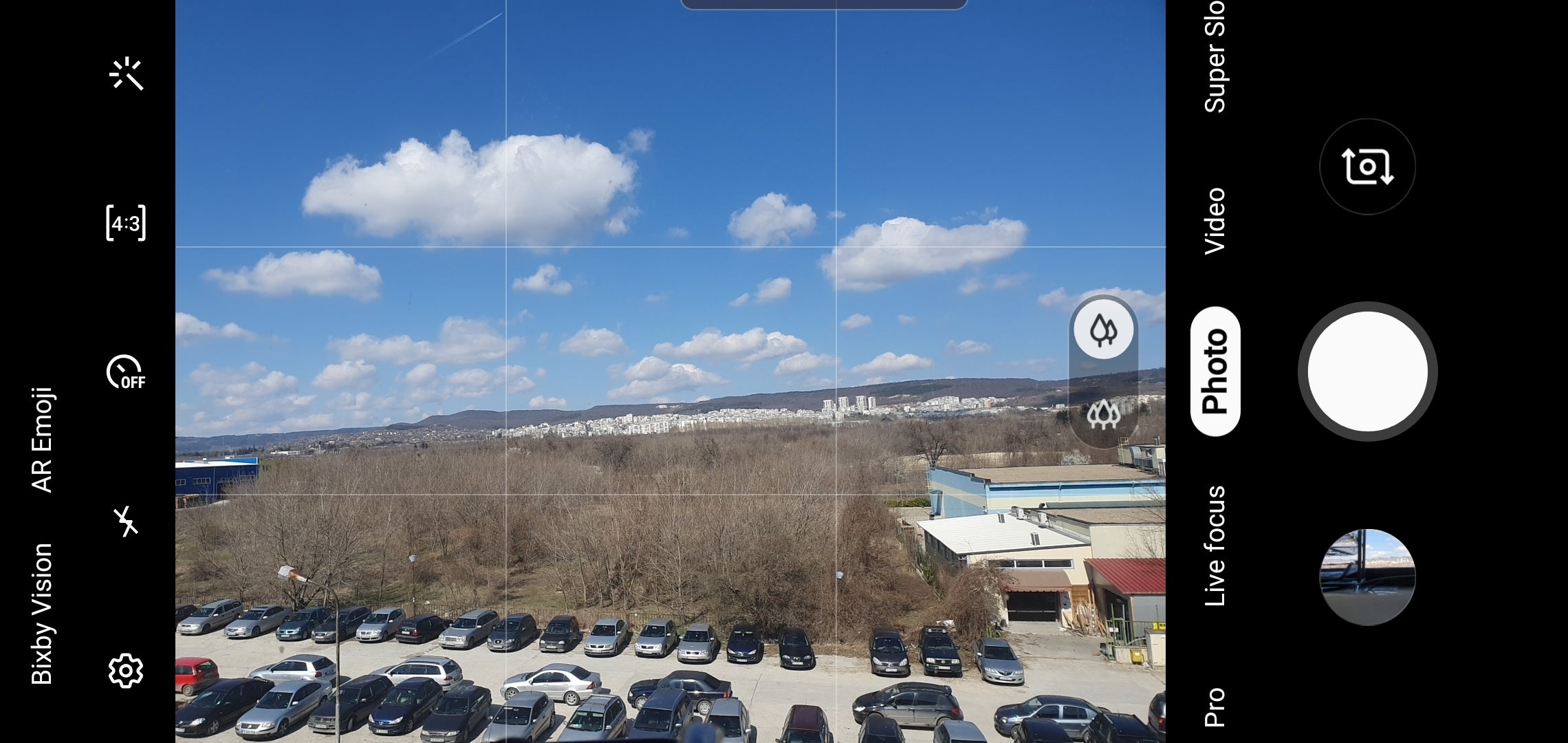 Okay, let's jump to the camera and there is about a million things that we can discuss here, but the first thing that I like to do in the camera is click the settings icon in the top left corner and scroll down until you find the Grid lines option. It's disabled by default and I always enable it to help me get a better composition. I also like to shoot RAW, especially for those special shots and landscapes. To do that scroll a bit further up to the Save options and here you can enable the RAW copies switch. One other nice option here is the HEIF or high efficiency format for images which can reduce the size of photos a lot, but keep in mind that some sites do not support this yet. Last but not least here, you have the ultra wide lens correction. You can enable this option to get less barrel distortion when you shoot with the ultra wide camera, and especially if you shoot from up close, this is very useful. Take a look at the same photo taken with and without the wide lens correction, the corrected image look much better, much straighter, but also notice that it is very slightly cropped.
And if you are not that keen on the pro photography options, but still like to share a ton of images on Instagram, you might be happier to use the brand new Instagram option that's built in both the camera and the gallery apps. Now when you take a photo like this here super professional selfie you get a little Instagram button in the bottom right and when you press it you can instantly share the image to your feed or to your story, which is really cool. And if you want to follow us on Instagram where we share a ton of cool photos, you can find us @phonearena.
#10: Video tricks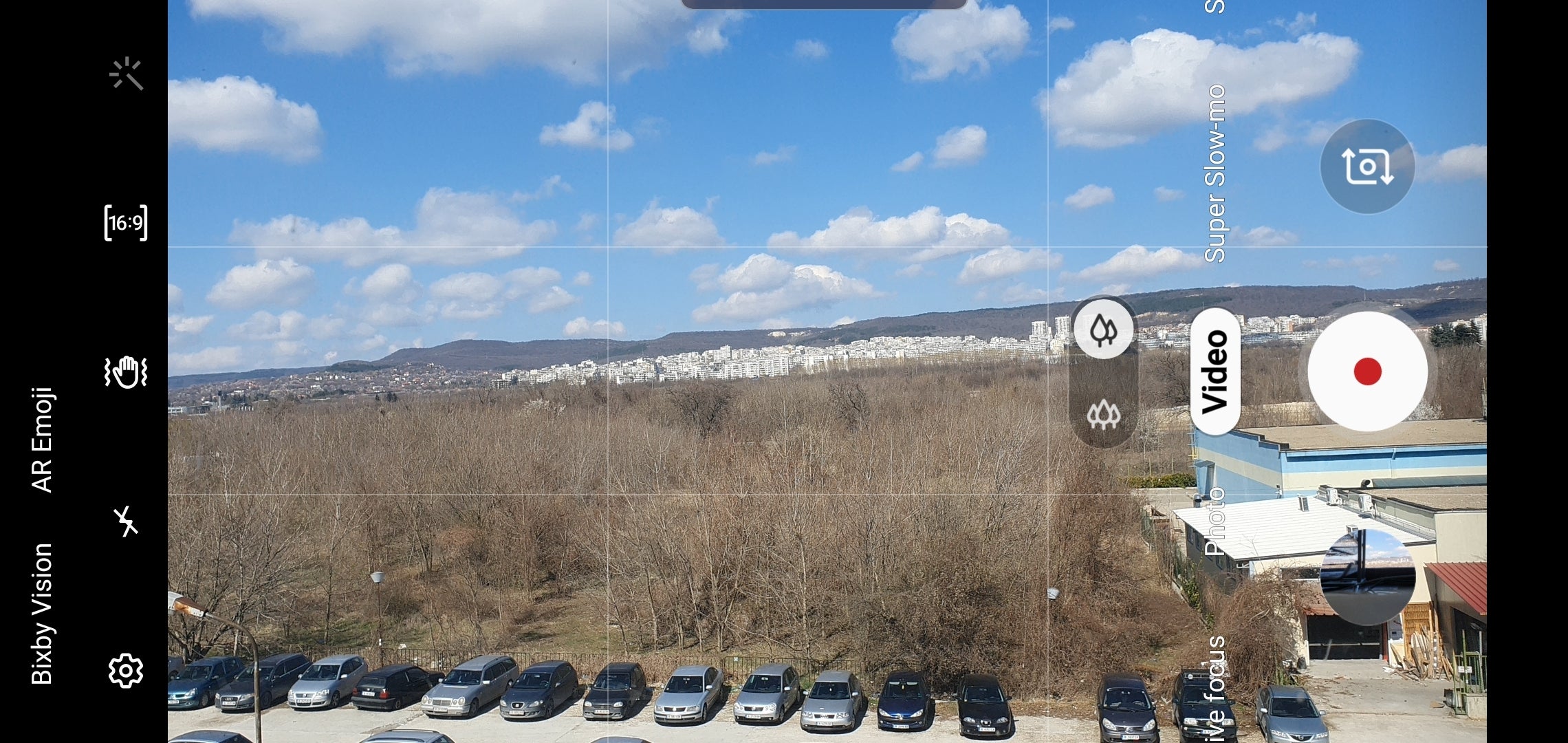 For video, the coolest new feature on the S10+ is something called Super Steady and it is this wavy hand icon at the top on the camera app. This gives you really a superior image stabilization, but it will only work in 1080p, so you have to choose whether you want a super steady video or the higher resolution. Another cool new feature on the S10 is HDR10+ recording and you enable it by going in the camera settings. This will give your videos a wider dynamic range and since the screen on the S10 is also HDR10+ compatible, you can notice the difference right away as you watch the videos and it generally make them look noticeably better. Keep in mind, though, that you cannot use the ultrawide and telephoto cameras with HDR10+, and we had trouble playing back the files on a computer so it might be better to keep it off for most shots and only enable it for select few, at least for now. Also, if you shoot a lot of 4K video, it's a good idea to turn on the H265 codec which can reduce the sizes of those videos by half.