Samsung Galaxy S III variant for Korea may be the world's first quad-core LTE smartphone
21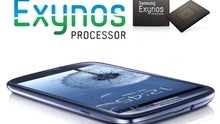 If you live somewhere in Europe and want to get a
Samsung Galaxy S III
, the model that you will be offered at a carrier's retail store will have a quad-core Exynos processor, but no LTE. Of course, you don't really need that connectivity feature since it has yet to be widely adopted by carriers across the continent. On the other hand, LTE-enabled Galaxy S III models are available on the U.S. market, yet they come with a dual-core Snapdragon S4 chip instead of Samsung's quad-core silicon.
It looks like it will be up to the Korean Galaxy S III variant to combine the best of both worlds. We say that because several independent sources report of a
quad-core LTE Samsung Galaxy S III model
that is to be released in its homeland next month. In fact, that device is expected to become the world's very first quad-core LTE smartphone, and if that is not impressive enough, 2GB of RAM will be present under its hood for seamless multitasking.
This hardware configuration, however, comes at a cost. You see, the reason why U.S. Samsung Galaxy S III versions have a dual-core Snapdragon S4 inside them is because the chip comes with an integrated LTE radio. The result is improved power efficiency, and therefore, increased battery life. But the aforementioned Korean Galaxy S III version will come with two separate chips: a quad-core Exynos processor and an LTE radio, which will put an extra strain on the device's battery. Besides, the extra silicon is a possible explanation as to why the unit will be thicker by about half a millimeter.
But at the end of the day, is it really worth sacrificing battery life by cramming all that power-hungry hardware inside a smartphone? The quad-core Exynos processor is not necessarily faster than the dual-core S4, so in reality, there might not be that much of a difference when it comes to real-life performance. But you know, a cutting-edge specs sheet is what gets smartphone aficionados excited, which is why this quad-core LTE Galaxy S III is definitely going to get lots of attention at home.