Samsung Galaxy S III to be modder friendly with Download Mode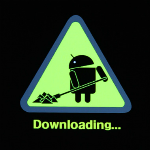 One of the big questions that is asked whenever a new Android device is about to be released is just how friendly that device will be to potential mods, hacks, and developer customizations. A new video makes it look like the upcoming Samsung Galaxy S III may be quite friendly indeed. The video from the recent
Samsung Unpacked
event which revealed the Galaxy S III to the public shows the device being put into Download Mode. The video is in German, but you can clearly see the device booting into Download Mode.
This is especially good news for those of you who love to mess around with your devices by rooting, hacking, installing custom ROMs or kernels or anything like that. The device will still have the standard Recovery Mode, which would be used after rooting to flash any custom ROMs, kernels, etc., but Download Mode acts as a sort of safety net during this process. Download Mode is for getting back to stock, and is most helpful when you've screwed up and partially bricked your device, because even a soft-bricked device can still access Download Mode in order to reset back to the stock firmware.
Now, of course, we just need Samsung to release the source code for the device so developers can get cracking on all the custom ROMs and kernels that we'll want.