Samsung Galaxy S III to arrive with a home button, after all the internal debates, and a five-row UI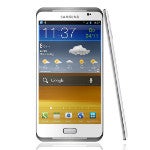 The Korean Digital Daily paper that often leaks insider info about its home turf electronics companies, today comes with something more about the internal struggles in Samsung regarding the
Galaxy S III
design.
The team wanted an entirely buttonless front, like on the Galaxy Nexus, and the whole design work revolved around it, almost until the final product was sent to the factories. A heated debate happened in the last minute, though, splitting the designers into two teams - one in favor of on-screen buttons only, something that can come standard with Android Ice Cream Sandwich, and the other asking for at least a physical home button, so the Galaxy S design line heritage is not lost completely.
In the end, a compromise seems to have been made, the bezel and button area beneath the screen shrunk, but the phone has been sent to the assembly lines with a rectangular home key instead of a completely buttonless design. Whether or not this is the case, we will see as early as next month, when the phone will be announced, says the source.
Another very interesting bit is Samsung's reported decision to grace the Galaxy S III with a
5-row UI layout
, like on the
Galaxy Note
phablet, instead of the usual four-row TouchWiz we had so far on the first two Galaxy S phones. The screen size, which is reported to be anywhere between 4.6-4.8" would certainly warrant a good five-row experience, especially if the 720p Super AMOLED is with a normal RGB matrix for the first time, as rumored.
Last but not least, Samsung has allegedly been able to keep an Apple-style secrecy around the device, driving the whole tech blogosphere into a high-gear rumor mode, because it has supplied the carriers with a generic box that shows the screen and has openings to all the ports for access, but the true design remains hidden even from the testers, so nobody really knows how the thing will look like, a month and change before the supposed announcement.