Samsung Galaxy S III for Verizon is reportedly going to eventually get global roaming support
13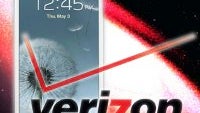 Nearly everyone is anticipating the
arrival of the Samsung Galaxy S III here in the US
, but Verizon customers might want to know something of interest that surrounds
the version that the carrier will be blessed with
.
As we know, Big Red's version of the Galaxy S III will be surfing on its extensive CDMA network domestically – with 4G LTE in tow to satisfy those demanding web surfers out there. However, it's now being confirmed that the Samsung Galaxy S III for Verizon Wireless will
eventually gain global roaming support
, though, it'll be absent during its initial launch with the carrier.
In fact, Verizon mentions that a
future software update
will be made available that will unlock the 2G and 3G roaming capabilities of the handset when it's abroad in other countries. Needless to say, that's yet another wonderful thing to know, as we're sure there are some customers who frequently travel outside of the US. Rather than having a separate handset on hand for the occasion, these Verizon owners can rely on the Samsung Galaxy S III for all their needs.
Indeed, it's great news for those who are planning to pick up the handset when it's launched, but there is no exact timing on the availability of this software update.
source:
Phonescoop