Samsung Galaxy S II the next to land a nightly CyanogenMod 10 Android Jelly Bean build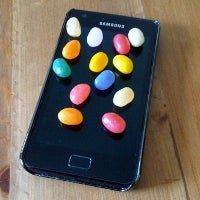 After we saw
the first CyanogenMod 10 demoed the other day on an LG Optimus 4X HD
, it's now the
Samsung Galaxy S II
turn. Developer Codeworkx, of CyanogenMod fame, managed to get a very early CM10 build on Samsung's 2011 finest, with the obligatory number of bugs and issues, mainly with the audio, that are characteristic for nightly CM builds.
In fact, the developer reminds us once again what flashing nightlies does to you and your handset:
#include /*

* Your warranty is now void.

* I am not responsible for bricked devices, dead SD cards,

* thermonuclear war, or you getting fired because the alarm app failed. Please

* do some research if you have any concerns about features included in this ROM

* before flashing it! YOU are choosing to make these modifications, and if

* you point the finger at me for messing up your device, I will laugh at you.

* Submitting bug reports on nightly builds is the leading cause of male impotence.

*/
Funny stuff, but the developer has actually gone through the trouble to package the nascent CM10 build for the Galaxy S II as a flashable image file, so all you need is CWM to flash two files and reboot, with a few minor warnings. Not that these early Jelly Bean builds are without issues, but the sheer fact that they are popping up for so many handsets so soon after Google released the source code, gives us hope that the situation with JB will be better than with the ICS update.