CyanogenMod teases the first Android Jelly Bean CM10 running on the LG Optimus 4X HD (video)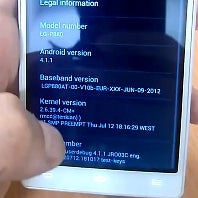 The
LG Optimus 4X HD
just came a lot more front and center for the attention of Android aficionados worldwide, as none other but
Ricardo Cerquiera, one of CyanogenMod developers' leading figures, showed a working CM10 ROM running on it.
CyanogenMod 10 brings customized Android Jelly Bean
to your device, in a way that only the CM crew is capable of - streamlined and optimized as heck, so LG is definitely getting a boost here. Its new flagship is excellent in terms of compact design, screen and internals, but the manufacturer usually plays second fiddle to Samsung and HTC's flagships.
Thus seeing Android Jelly Bean running on LG's Optimus 4X HD flagship first, before any other top handset but
Google's own Galaxy Nexus
, is pretty telling for the attention it will be getting from modders from now on.