Samsung Galaxy S II gets an early ICS ROM with TouchWiz
14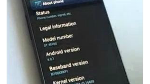 Good news! There is a working (albeit buggy) ROM for non-US Samsung Galaxy S II devices based on Ice Cream Sandwich. Bad news! It's got TouchWiz, which kind of defeats the purpose of Ice Cream Sandwich.
TouchWiz isn't the worst custom UI to be put on Android devices, but it is starting to look a little old and boring. Of course, Matias Duarte and team went to great lengths to make sure that Android 4.0 looks great. It's expected that Samsung is in the process of updating the TouchWiz look with version 5.0 to fit with Ice Cream Sandwich more. Unfortunately, the first custom ROM built on ICS for the Galaxy S II has TouchWiz 4.x slapped on top of the ICS goodness.
The ROM looks to be working fairly well, but is still in the early stages, so it probably isn't going to be a good day-to-day ROM, but it has promise. If you don't mind TouchWiz, or a fairly unstable ROM, you can give it a shot. Provided you have a non-US Galaxy S II that is.
Recommended Stories