Samsung Galaxy S 4G gets exposed in a teardown session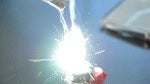 The Samsung Galaxy S 4G is the galacticsuccessor of the Samsung Vibrant, which practically mimics theVibrant in every aspect except for the novelty of HSPA+ 4G radios delivering 21Mbpstransfers, a front-facing camera and a slight redesign. But whatabout the repairability? Suspectful gadget surgeons from iFixitexposed the inner parts of the Samsung Galaxy S 4G a mere day afterits launch on T-Mobile to find out.
Samsung claims it used the light-weight element magnesium instead of the typical aluminum forthe phone's structural framework, but to check this folks over at iFixit had to go the extra mile and light dust from the framework on fire. Thankfully, the chemical reaction resulted in a white flash, which indicates that Sammy indeedwent with magnesium. Good as it is, what we care most about is howeasy it is to repair the S 4G in case you drop it for example. Unfortunately,trouble starts here with the visible gap between the front panel glass andthe outer casing. In addition, the LCD screen is fused to the glasson the front panel, which means a cracked screen will cost you twicemore to fix than if you had the units separated.
On the bright side, the phone has apretty capable 1650mAh battery, which is easily replaceable. In addition, screwsholding the phone together are of the pretty standard #00 Philipskind. Overall, this helped the phone get an average score of 6 out of 10 for repairability,but at the end of the day it is "the fastest smartphone" onT-Mobile so far, so it might be worth the eventual risk, don't youthink?
source: iFixit
Samsung Galaxy S 4G Teardown