Samsung Galaxy S 4G now available on T-Mobile, is the carrier's "fastest smartphone"
14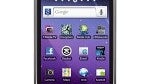 Starting today you can get theSamsung Galaxy S 4G on T-Mobile and enjoy download speeds of up to21Mbps. That is if you get HSPA+ at such blazing fast rates in your area, of course. TheGalaxy S 4G arrives in a timely manner, just as expected,and we're looking forward to getting it for a closer look. But in themeantime, we got a chance to play with it at MWC, so why don't youcheck out our brief hands-on here.
The nation's fourth largest carrieroffers the latest addition to the Galaxy S lineup for $199 ona 2-year agreement. You can get it online or in store, but thehandset should be available also at retailers like RadioShack, Wirefly, Walmart andothers, which might offer a better deal for the handset. Questionhowever remains whether the innovations in the S 4G provide enough ground foran upgrade if you already own a Samsung Vibrant (T-Mobile's reincarnation of the Galaxy S). Basically, the handset only differs by offering faster data, afront-facing camera and support for Wi-Fi calls. To lure youinto a purchase, the phone comes with the iconic movie Inceptionpreloaded. All of that paired with the handset's HD movieplayback capabilities requires some additional power and that's whythe Galaxy S 4G packs a 1650mAh battery, up from 1500mAh on theVibrant. Is this enough for you to get the latest addition in T-Mo's lineup? Let usknow in the comments!
source: T-Mobile