Samsung Galaxy Player to become a phone with 5.8" screen, dubbed Galaxy Fonblet
12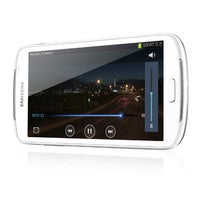 It was bound to happen - Samsung might have decided that it makes sense to take the
5.8" Galaxy Player
, and turn it into a phone. Granted, the resolution of said multimedia device is "just" qHD, and it is on the huge size, but given that folks got quickly used to a handset like the
Note II
with its 5.5" display, heck, why not try it out.
Galaxy GT-I9152
Fonblet
is the codename of this Player reincarnation, and before you dismiss the name as unlikely to happen, remember that Samsung actually filed a trademark for the Fonblet moniker last year, so it has every chance to become reality.
It might be a dual SIM handset, and is slated to arrive in Europe with the specs that are similar to the ones that the Galaxy Player carries, with the addition of the baseband radios, of course.