Samsung Galaxy Note5 vs LG G4: first look
2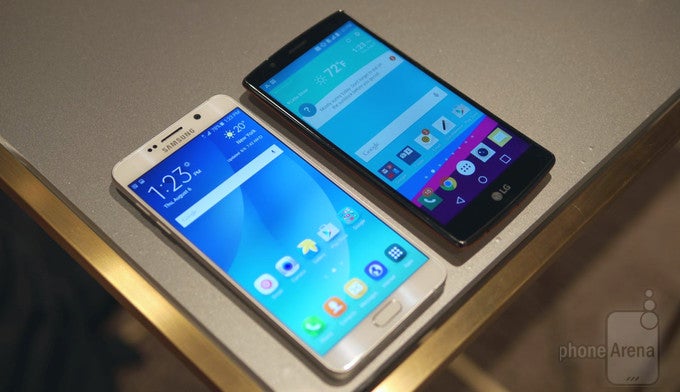 As expected, Samsung unveiled its latest and greatest Note phablet at today's Unpacked press event. The phone in question is the Samsung Galaxy Note5, of course – the metal-and-glass-made Android beast that we've been waiting to see for many weeks. And guess what – we had the chance to take it for a quick spin around the block and see how it stacks up against the competition. One of the competitors we chose to compare against the Note5 was the LG G4.
Design
The Samsung Galaxy Note5 is one of those phones that instantly draw your attention with their appearance. Its front and back sides are made of Gorilla Glass 4, and a solid metal frame is sandwiched between the two. And it is a flashy phone, there's no second opinion about that. As for the LG G4, its maker has taken a different approach when choosing build materials. Metal isn't used, at least not on the outside. In fact, LG has been avoiding metal components for years, pointing out that they interfere with radio signals. As a result, the LG G4 is made mostly out of patterned plastic. Unless you choose one of the leather back options, that is. Yes, the LG G4 can be had with a back made of genuine leather, and that's the option you should go for if you want your G4 to stand out. Does it look better than the Note5's glass-and-metal design? Well, that's up to everyone to decide for themselves, but we wouldn't call it any less stylish.
As far as size is concerned, both the Galaxy Note5 and the LG G4 are bigger than the average smartphone. They're not outrageously big by any means, but they definitely belong to the phablet category, and single-handed use could prove a challenge in many every-day cases.
Buttons on the back of a smartphone are something you don't see every day. Yet that's where the LG G4's power and volume buttons are placed – below the camera, right where the tip of your index finger when you're holding the phone. It is an unorthodox solution, but not one you can't get used to. The buttons are easy to feel and have satisfying feedback. The phone's navigation buttons, however, are virtual, not physical. In contrast, the Samsung Galaxy Note5 sticks to Samsung's traditional approach. The power and volume keys (which work great, by the way) are on the phone's sides. Below the screen we find capacitive buttons for the back function and for our recent apps, while a physical home button is placed in the middle. The Note5's home button features a built-in fingerprint scanner, while the G4 lacks that feature. A point goes to Samsung's phablet!
Another stand-out feature of the Samsung Galaxy Note5 is its S Pen. In a nutshell, it is an active digital stylus that can be used for taking down notes or to draw when inspiration strikes. What makes it different from an ordinary stylus, however, is its ability to detect pressure levels. This allows for strokes to be much more natural as their thickness changes depending on the pressure applied by the user.
You don't get a stylus of any kind with the LG G4. On one hand, that's nowhere near a dealbreaker, in our opinion. But on the other hand, the S Pen still counts as a bonus, and you can get it only from a Galaxy Note handset.
Display
On the front of the Samsung Galaxy Note5 we find a 5.7-inch Super AMOLED display with a resolution of 1440 by 2560 pixels. It is a thing of beauty, producing punchy colors and deep blacks, as is typical for screens of this kind. But the IPS LCD screen of the LG G4 is not one to be underestimated. Although it is slightly smaller at 5.5 inches, it packs the same number of pixels for clear, detailed images.
Interface
As any Android phone of this rank should, the Samsung Galaxy Note5 runs the platform's latest release. We find Android 5.1.1 on Samsung's phablet, heavily disguised under the company's TouchWiz UI. The LG G4 has been treated to its Android 5.1 update already, so it is only a hair behind in this respect. On top of the OS we have LG's custom software experience, which is different from Samsung's in a few ways.
For the Galaxy Note5, Samsung has come up with a handful of new uses for the S Pen. One of them is the option to jot down notes straight on the lock screen – just pop out the stylus and start writing without even unlocking the phone. You should also have more accurate stylus input and less input lag.
S-Pen aside, the Galaxy Note5 comes with the latest TouchWiz variant, which brings along improved responsiveness, support for themes, and various tweaks to provide an even smoother user experience. On top of that, the Note5 brings support for the S Pay payment system. The LG G4 relies on a UI that's known for its simplicity and relative smoothness of operation. Like the Note5, it allows the UI to be thoroughly customized with themes. In addition, both phones can work with two apps side by side.
Processor and memory
Under the hood of the Galaxy Note5 is where a mighty potent silicon ticks. The phone is using the Exynos 7420 SoC, which is the same found inside the Galaxy S6. The chip is an octa-core solution, with four powerful, 2.1GHz Cortex-A57 cores running along four energy-saving, 1.5GHz Cortex-A53 cores. Furthermore, the chip is made using a 14nm manufacturing process, which further improves its energy efficiency.
As for the LG G4, it is lagging behind the Note5 when it comes to raw processing power. It is equipped with a Qualcomm Snapdragon 808 SoC, which is comprised of 6 cores in total – two Cortex-A57 and four Cortex-A53 ones. The phone is no slow by any means, but compared to the Note4, it will get outrun in benchmark tests.
Another hardware advantage for the Samsung Galaxy Note5 is the 4GB RAM chip found inside it. The LG G4 seem to be doing great with "only" 3GB of the stuff, but the Note5's extra gig makes it more future-proof and technically better for multi-tasking.
Storage space on the Samsung Galaxy Note5 is limited to 32 or 64 gigabytes – these are the two versions about to be launched. Since there's no microSD card slot present on the phone, you can't have its storage expanded by throwing a card inside it. On the bright side of things, Samsung has equipped its phablet with super-fast UFS 2.0 storage, which reaches much faster read/write speeds compared to traditional phone storage chips. This, in turn, should be a welcome performance boost. The LG G4 won't be able to match the speeds of the Note5's storage chip, but it will let you expand its storage. LG's flagship works with microSD cards of 128GB, if not more, which can be added to augment the phone's built-in 32 gigs.
Camera
Phones of the Galaxy Note series have always been known for their great cameras. The Samsung Galaxy Note5 is unlikely to be an exception as it appears to be using the highly-acclaimed camera found on the Samsung Galaxy S6. As far as specs go, you get a 16MP image sensor with F/1.9 optics and optical image stabilization. All that's paired with a powerful camera application with an easy-to-use auto mode, a feature-rich manual mode, and a variety of additional shooting modes.
But the LG G4 is firmly standing its ground with a potent camera setup. Specs-wise, you get a 16MP camera, F1/8 optics, and optical image stabilization. On top of that, the G4 features laser-assisted auto-focus and a special IR sensor that aids in setting the white balance accurately. All of this is controlled by a powerful camera app with a beginner-friendly auto mode and a full-featured manual mode.
The front-facing camera on the Samsung Galaxy Note5 is no less promising. With 5MP of resolution and an F/1.9 aperture, it should deliver the goods even in low light. But the LG G4's 8MP front camera shouldn't be underestimated. It is well capable of shooting great selfies, as our testing has shown.
Battery
Inside the Galaxy Note5 we have a 3000mAh battery. Given the power-efficient hardware thrown into the handset, we'd expect it to last sufficiently long between charges, although only in-depth testing will confirm if that's the case. The LG G4's battery also holds 3000mAh of juice, but our benchmarks have shown that the phone's battery life is only average, probably due to the energy demands of the phone's hardware. Oh well, at least the G4's cell is removable and can be swapped when needed. As long as you have a spare, of course.
One trick that the Note5 has up its sleeve is wireless charging. The phone is compatible with pretty much every wireless charging pad around, and even supports rapid wireless charging.
Expectations
All in all, the Samsung Galaxy Note5 is shaping up as a great smartphone and an ideal option for those who demand a top-notch Android phablet. Its design catches the eye, its camera looks very promising, and its hardware should be able to handle anything you throw at it. But the LG G4 could very well be a worthy alternative to Samsung's phablet. It may not have as much raw processing power, it may lack a stylus, and its screen may be a tad smaller, but the leather-back design has its appeal and that 16MP camera on its back does not disappoint. Besides, the G4 offers you a removable battery, a microSD card slot, and a built-in IR blaster. Not to mention that the Note5 could be much more expensive than the G4 when it goes on sale. Which one would you pick?