5 Unique features of the Samsung Galaxy Note 9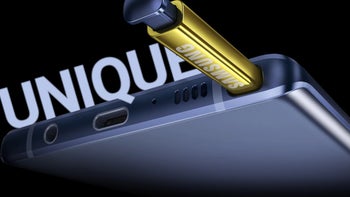 The
Galaxy Note 9
is here and it's a hell of a phone with a big and beautiful, 6.4-inch Super AMOLED screen, a powerful Snapdragon 845 processor and an impressive camera with a sprinkle of AI magic on top.
But what makes the
Galaxy Note 9
unique? What makes it stand out? What makes it different when compared with so many other great phones?
This is what we set out to find and we think we've got it: these are the 5 things that make the Note 9 different than all the rest. Read on!
1. A Bluetooth-powered S Pen
Also, a yellow stylus because #style
The Galaxy Note 9 is the first mainstream gadget with a built-in stylus with wireless control and that is cool. The new S-Pen comes in a variety of funky and traditional colors that match or contrast the colors of the phone and it has Bluetooth Low Energy (BLE) built-in, so it works from up to 30 feet away. You can use it as a presentation clicker, YouTube or music streaming remote control, remote shutter or more.
And then, a quick, 40-second charge gives you 40 minutes worth of battery life. But what is the battery on this featherweight new S Pen and where exactly is it? Turns out, there is no physical battery. Samsung uses a supercapacitor, an element that unlike a typical rechargeable battery, does not degrades quickly over time and can last well over a decade. Supercapacitors can also be charged much more quickly than a battery, as is evident by the new S Pen charging times.
And here is one more cool detail: you can write off-screen memos with the S Pen and they will match the color of the S Pen, so if you have the yellow S Pen, your lockscreen memos will also be drawn in yellow. Cool! Of course, you can easily change this color to a different one if you prefer so.
2. 512GB of storage
Massive amounts of storage
Okay, technically, the Note 9 is not the first phone to have it. The Huawei
Mate RS
has 512 gigs of storage and it was launched much earlier, but as much as we like the facts, we are also realists and that thing costs a mind-boggling $2,400 on Amazon, so it might have just not existed at all. The Samsung Galaxy Note 9, while clearly an expensive phone, costs half the price of the Mate RS and puts 512 gigs in the hands of much more people.
The Note 9 also supports expandable storage via microSD cards, so you can theoretically add a 512 gig microSD card and make it a terabyte phone!
3. A dock-less DeX
A powerful, desktop-like experience with no frills
DeX is quite a unique and interesting invention: it allows you to effortlessly connect your phone to an external monitor and basically have a desktop-like experience. Hence, the name: DeX.
But in the past DeX used to require a stand and you would need to mount and dismount your Galaxy, and carry that DeX station everywhere with you. With the Note 9 it's all much simpler: you have a simple, tiny dongle that connects to HDMI and you can enter DeX mode without the station.
Again, Samsung was not first to the game here, as Huawei has earlier introduced a simple, one-cable solution, but Samsung is unique in offering a very refined, desktop like experience with the option to use your phone as a trackpad and with proper power management to deal with the extra load.
4. Lens Smudge
Note 9 magically detects when your camera lens is smudgy
A unique new feature on the Galaxy Note 9, "Lens Smudge" is able to smartly detect when your rear camera lens is smudgy and tells you about it.
But when can your lens get smudgy? Quite often, actually! An accidental tap on the camera instead of the fingerprint reader, and you've left an oily stain on the camera lens that will result in blurry pictures. We have seen so many people continue taking blurry pictures and wondering why their photos are not all that sharp, and not even suspecting they simply need to wipe clean the camera lens! Great job, Samsung!
And yes, Samsung has had a notification that reminds users to clean the lens in the camera app on previous phones, but this time around, it seems to actually be able to detect when you have a blurry lens.
5. Water-carbon *freaking* cooling system
With, yes, real water inside!
Pardon our excitement, but the Galaxy Note 9 has actual water inside it! Okay, it's not a nitrogen cooled PC with RGB lights coming out of it (that would be pretty cool), but the Note 9 has a real water-carbon cooling system that diffuses heat for efficient cooling, while you play something like...
Fortnite on your Galaxy
! The Smart Performance Adjuster on the phone then automatically adjusts gaming performance for a smooth gaming experience.
We will wait for the teardowns to see whether the liquid inside the Note 9 really is water (and how it manages to stay there and not evaporate), but this system is really cool and makes the Note 9 stand out amongst the competition.


What about the...?
4,000mAh battery? Headphone jack? microSD card slot? Super fast network speeds?
Those are some really great features that users will appreciate in the daily grind, but they are not exactly unique. Well, maybe they are starting to become: the Note 9 has one of the largest batteries of any flagship, and less and less phones these days have a headphone jack, but we still would not consider those unique features. Good to have? Absolutely yes, for many users.
One not so unique feature...
Money makes the world go round
The one not-so-unique feature of the Note 9 is its... $1,000+ price! You get our drift, don't you? Samsung is not copying Apple that much these days, but when it comes to pricing, we really wish it hadn't followed the path towards raising prices. But that is the price to pay for the latest, most cutting
edge
piece of mobile technology.
Are you willing to make the jump?
Are you getting the new Note 9?