You can now sign up to download Fortnite Beta for Android, here are all compatible phones
22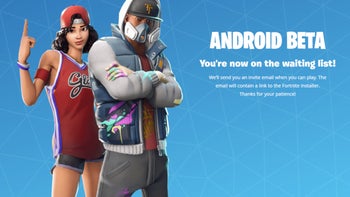 Fortnite for Android is here... kind of.
You can now sign up for the Android beta of the game over at the official website of Epic Games, the company behind the popular battle royale game.
Good news is that the game has long been in development and this official beta will allow the developers to iron out all remaining bugs and soon launch the game to a vast number of Android devices.
What about that rumored exclusivity to Samsung's Galaxy Note? Well, Epic Games only says that Samsung devices will be the first to get an invitation for the beta and that other devices will start getting an invitation in "the next few days", and that's about all we know about the exclusivity. So, no need to worry: it seems that it will not take long for Fortnite to arrive on a lot of Android phones.
First, let us give you the link you are looking for:
And yes, Fortnite for Android will not be available on the official Google Play Store, but you will instead sideload it on your phone.
Not available on the Google Play Store
Here is Epic Games official comment on why it chose to launch Fortnite in such a rather unusual way:
"The great thing about the internet and the digital revolution is that this is possible, now that physical storefronts and middlemen distributors are no longer required," Epic Games' Tim Sweeney said in an interview for Variety earlier. "Second, we're motivated by economic efficiency. The 30% store tax is a high cost in a world where game developers' 70% must cover all the cost of developing, operating, and supporting their games. There's a rationale for this on console where there's enormous investment in hardware, often sold below cost, and marketing campaigns in broad partnership with publishers. But on open platforms, 30% is disproportionate to the cost of the services these stores perform, such as payment processing, download bandwidth, and customer service. We're intimately familiar with these costs from our experience operating 'Fortnite' as a direct-to-customer service on PC and Mac."
Next, let us tell you about all the Android phones that will support Fortnite. Epic Games says that a whopping 250 million Android devices in total will support the game. The list below comes from Epic Games' official website for the game, but at the end we see the option to sign up for the beta even if you have another device. Our guess is that you should be able to play the game on other phones too, but Epic won't guarantee that it all runs as buttery smoothly as on the officially supported phones. With this in mind, here are all the
Compatible Android phones for Fortnite
Asus ROG Phone
Asus Zenfone 4 Pro
Asus Zenfone 5Z
Asus Zenfone V
Essential PH-1
Google Pixel / Pixel XL
Google Pixel 2 / Pixel 2 XL
HTC 10
HTC U Ultra
HTC U11 / U11+
HTC U12+
Huawei Honor 10
Huawei Honor Play
Huawei Mate 10 / Pro
Huawei Mate RS
Huawei Nova 3
Huawei P20 / Pro
Huawei V10
Moto Z / Z Droid
Moto Z2 Force
LG G5
LG G6
LG G7 ThinQ
LG V20
LG V30
Nokia 8
OnePlus 5 / 5T
OnePlus 6
Razer Phone
Samsung Galaxy S7 / S7 Edge
Samsung Galaxy S8 / S8+
Samsung Galaxy S9 / S9+
Samsung Galaxy Note 8
Samsung Galaxy Note 9
Samsung Galaxy Tab S3
Samsung Galaxy Tab S4
Sony Xperia XZ
Sony Xperia XZs
Sony Xperia XZ1
Sony Xperia XZ2
Xiaomi Blackshark
Xiaomi Mi 5 / 5s / 5s Plus
Xiaomi Mi 6 / 6 Plus
Xiaomi Mi 8 / 8 Explorer
Xiaomi Mi 8 SE
Xiaomi Mi Mix / Mi Mix 2 / Mi Mix 2s
Xiaomi Mi Note 2
ZTE Axon 7 / 7s
ZTE Axon M
ZTE Nubia Z17 / Z17s
ZTE Nubia Z11
Have you signed up for the beta? And are you itching to play Fortnite on your Android phone?
Recommended Stories