New Samsung Galaxy Note 9 pictures reveal the secrets of the new S Pen
15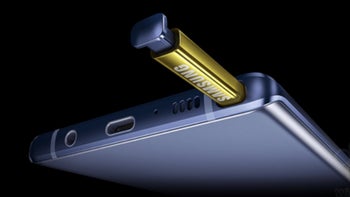 The Samsung Galaxy Note 9 is right around the corner! In fact, it will be unveiled on Thursday, August 9th, but this last minute leak here spoils a lot of the few remaining clouds of mystery surrounding Samsung's next big thing.
These newly leaked marketing pictures reveal the secrets of the new S Pen, probably the most-advertized new feature of the Note 9.
What are they telling us?
First of all, they confirm what the S Pen will look like and that it will be a Bluetooth-powered gadget. They also confirm that it will have new and special functions that will allow you to remotely control your Note 9: you will be able to press the button on the new S Pen and snap a picture, or control presentations, or control apps, or customize it to your liking.
The images also reveal that the S Pen has a finer tip and now supports 4,096 levels of pressure for a very precise control over your drawings or hand-written messages.
The pictures also show a few details about the camera on the Note 9. With the boom of AI in cameras, it's no surprise to see Samsung jump on that train with a feature it calls "Intelligent Camera". The camera on the phone will automatically recognize a scene and it will tweak the colors, white balance and contrast to make it look its best. It will also detect blinks and bursts, so that you can easily select the one right picture.
Finally, we see that the Note 9 will indeed support the new one-cable DeX solution, so that you don't need a special dock to connect your phone to a larger monitor. This is extremely convenient when you want to share pictures on a bigger screen or use your phone as a light desktop replacement.
Right above, we have also included earlier leaked official photos of the Galaxy Note 9 in all the different shades that it will be available in.
Hype is definitely building up, but are you buying into it? Are these innovations enough to convince you to buy the new Note 9?