Gestures on the Note 9: quick clip shows us the Samsung Experience with Android 9 Pie
5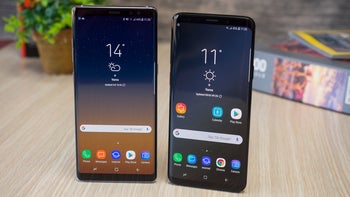 A week ago, we got our first glimpse at how the Samsung Experience with Android 9 Pie looks. The biggest new feature in the new Android is, at least in terms of interface controls, are the new gestures. We wondered whether Samsung would adopt those when it updates its phones to Pie, and it seems
the company has done so
, and has even expanded on them a bit — you can set up your navbar so that it's always hidden, but swiping up from the left, center, or right side of the bottom strip will activate the recents, home, or back functions. Effectively, you'd be able to use the screen's full real estate without ever needing to show the navbar. Nice!
Now, we get our very first (and very short) live-action clip that shows us how the swipe-to-switch-apps gesture works. No surprises there — it acts a lot like the stock Android Pie UI. You swipe the home button to the left and the phone starts cycling through your most recent apps. Alternatively, if you swipe upwards on the home button, you get the full app carousel and can swipe through all your recent apps.
When the virtual navbar shows up towards the end of the clip, we see that it still has three buttons — back, home, and recents. That's unlike Google's UI, which will remove the recents button if you choose to use gestures.
Anyone who feels a bit adventurous and has a Galaxy Note 9 with a Snapdragon 845, instead the Exynos version, the beta for this
Recommended Stories