Samsung Galaxy Note 8.0 comes with S Pen: here is how it works
8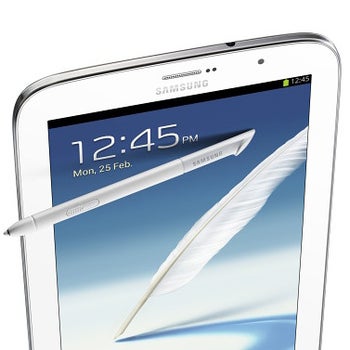 The
Samsung Galaxy Note 8.0
is not just a direct iPad mini competitor, it is also a Note device and that means it supports the S Pen and the apps that come with it.
We took a quick look at the way the S Pen works on the Note 8.0 and were overall impressed with its pressure sensitivity and Samsung's interface tweaks to accommodate the pen functionality into Android.
We fired up the S Note application and you can see our quick demonstration of all the features bundled with it right below. The S Pen itself is the size we've come accustomed to - not too thick or long, but still fairly convenient to use. It has a single physical key that allows you to switch between different modes very conveniently so for example you can switch between drawing and erasing in a single click.
Just as with other Note devices, whenever you take out the S Pen out of its slot, the tablet automatically switches to the relevant apps.
And for all the rest of the little details around the S Pen and S Note on the
Galaxy Note 8
.0 take a look at our video right below.