Samsung Galaxy Note 8 rumored to have 12MP and 13MP cameras on back with OIS and 2X optical zoom
34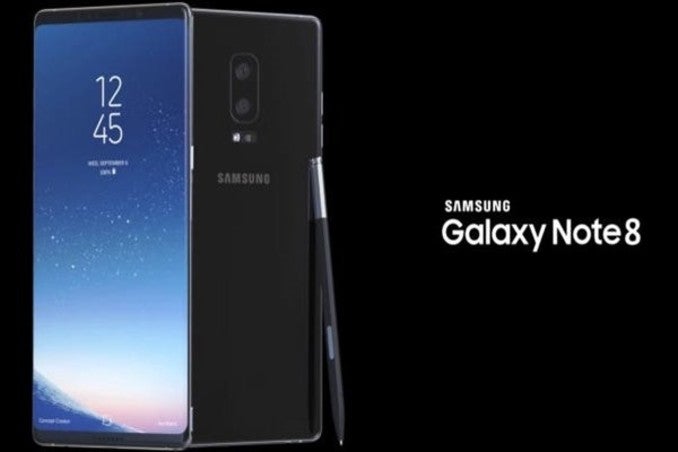 The Samsung Galaxy Note 8 could look like this render when the phablet is unveiled next week
The
Samsung Galaxy Note 8
phablet is expected to feature a dual-camera system in back. A report published Monday out of South Korea gives us some more information about the two camera module expected to be found on the back of the unit. While many have expected Samsung to deploy two 12MP sensors, Monday's report states that an optical 12MP dual-image pixel sensor and a telephoto 13MP sensor will be placed on the back of the phablet. Both will feature OIS and 2X optical zoom.
The Samsung Galaxy Note 8 will be the first handset to come from the manufacturer with a dual-camera setup. Following the release of the phablet, all subsequent flagship and mid-range Samsung smartphones will include a dual-camera setup according to today's report. Of course, this means that Samsung will be spending a little more for phone components. Parts for a dual camera setup cost 1.5 times the amount Samsung spends for a single camera.
With the dual-camera module in place, Samsung users will be able to achieve the desired
bokeh
or blur effect on portraits. This allows a subject in the foreground of a picture to appear fully focused while the background is out of focus, producing the blur. The dual lens technology also allows smartphones to offer optical zoom as opposed to digital zoom. With the latter, the quality of the picture suffers as you zoom in, and images become pixelated and full of "noise."
"While Samsung Electronics had had tendencies in the past to release new products with state-of-the-art specifications as quickly as possible, now it has changed its strategy and decided to release products after raising degree of completion of technologies as much as possible. It seems that Samsung Electronics has come to a conclusion that markets for dual cameras will start to blossom on full-scale."-Anonymous industry representative
We should learn more about the cameras on the Samsung Galaxy Note 8 one week from tomorrow when the high-end phablet is unveiled during Samsung's next Unlocked event.
source:
ETN