Deal: Save $150 on a Samsung Galaxy Note 8 (AT&T and Verizon only)
18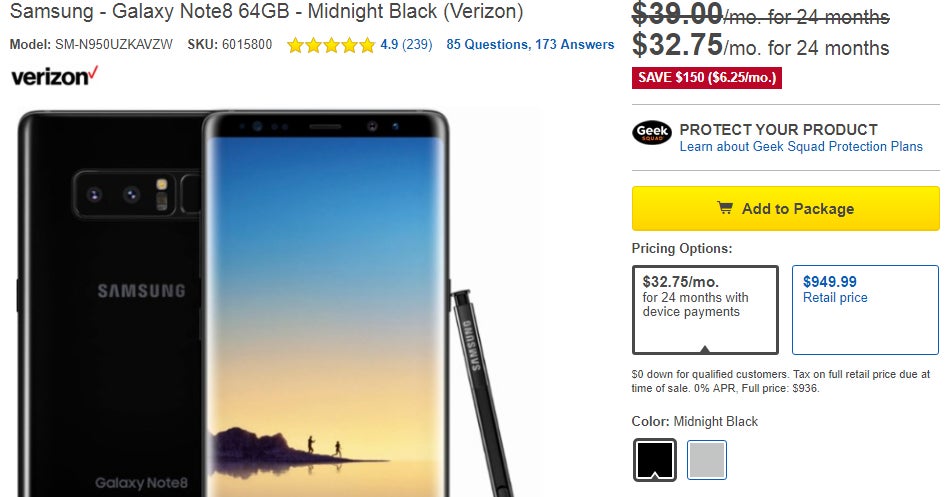 Planning to buy a Samsung Galaxy Note 8 on Verizon orAT&T? If you do, you can now take advantage of a pretty cool deal offeredby Best Buy. If you purchase a Note 8 and activate it with a monthlyinstallment plan (on either Verizon, or AT&T), Best Buy will take $150 offthe total price of the smartphone.
The deal does not work if you want to buy the Galaxy Note 8outright. Thus, savings will only be reflected in reduced monthly payments. AVerizon Note 8 can be yours for $32.75 per month (instead of $39) for 24 months, whilethe AT&T model can be bought for $33.33 per month (instead of $39.59) for24 months. The AT&T variant is also available at $26.66 per month for 30months. Eventually, you'll end up paying a bit under $800 instead of ~$950 fora brand new, shiny Samsung Galaxy Note 8.
Best Buy doesn't say when this promotion ends, but we assumeit won't be available for too long. If you're interested, you should visit theretailer's official website via the source links below.