Samsung Galaxy Note 5 "might" include 4K display; no S Pen for curved model named 'Project Zero 2'
83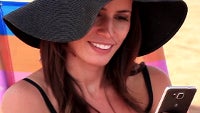 The Samsung Galaxy Note 5 rumor mill has been abuzz this week, with suggestions that the forthcoming phablet
may attempt to beat
Apple's next iPhone to the draw and release ahead of its usual slot. This notion was quickly
put to bed
by Samsung Mobile president J.K. Shin, who has today confirmed that the device will not be hitting the scene any sooner than it ordinarily does. Still, this isn't going to throw the ravenous tech community off the scent of the Galaxy S6 line's more sizable cousin, and the folks at
SamMobile
have scooped some exclusive details pertaining to the device.
According to the report, the Galaxy Note 5 (SM-N920) is being referred to internally as Project Noble, and
"might"
include a 2K or a 4K Super AMOLED flat display. There's an ongoing argument that a 4K resolution on a phablet-sized canvas goes beyond what many would deem overkill, but since the device will be going head-on with the successor to the iPhone 6 Plus, every decision Samsung makes will be critical.
The Galaxy Note 5 will ship with its trademark S Pen, and sport improved Exynos 7422 octa-core processor, but the real story relates to the secondary device featuring a curved display.
Last year's Galaxy Note 4 was chaperoned to market by the Galaxy Note edge, and there have been rumors that a dual-edge variant of the Note 5 will also be arriving in 2015. Initially referred to as 'Project Zen', SamMobile has word that it's now operating under the changed 'Project Zero 2' pseudonym, and has also divulged some intriguing feature-related tidbits.
The edgier Samsung phablet, which will carry the model number SM-G928, will supposedly include a dual-edge curved Super AMOLED display at around the 5.4-inch or 5.5-inch mark. Beneath the surface, the Project Zero 2 device could also pack a hexa-core Snapdragon 808 SoC, 32GB of on-board storage, a 16-megapixel, OIS-packing main camera and a 5-megapixel front-facing shooter.
Interestingly, the report also suggests that the Project Zero 2 phablet will
not
include an S Pen, which, if true, would be a rather surprising move. The hallmark of the Note series, Samsung has continually lauded its stylus as being integral to the rich experience of using a smartphone with such a large display. But since the model number and codename of Project Zen 2 seem to conform to the Galaxy S6 and S6 edge line of products, it's plausible that the eventual product won't even carry the 'Note' moniker, and that Samsung instead has an alternate plan for this device that doesn't subscribe to the Note way of life.
Accessory-wise, the report indicates that there'll be a Clear View case for both of these handsets, along with a Keyboard Cover, which may or may not resemble the detachable keyboards that grace the accessory market for tablets.

Whatever the case, expect to see both of these devices announced at the IFA trade show in Berlin, which kicks off in early September.