Samsung Galaxy Note 4 vs Samsung Galaxy Note Edge: first look
29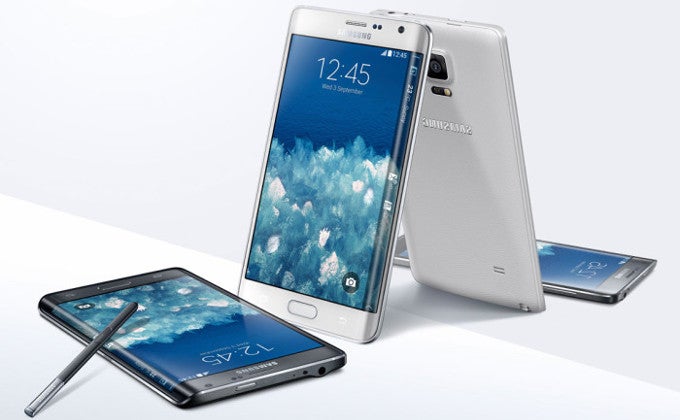 Let's say you're not a techie, but you've heard that a new Note phablet is coming up. You're excited, and expect it to be great -- just like all previous models were, for their own time. But then Samsung comes up and announces not one, but two Note models -- the Note 4 and Note Edge -- the second of which looks like something taken out of a Sci-Fi flick. You're bewildered by just looking at this thing -- it's got a screen that slopes to the side after all! What's even more surprising is that the techie next to you is equally as surprised, despite the occasional rumors of something like this brewing up, and despite knowing that Samsung has been working on advanced display solutions for a while.
Indeed, us too were surprised to see Samsung execs whip out the Note Edge during the company's presentation at IFA 2014. What was even more surprising was to hear that this isn't going to be some niche, limited-edition gadget --
all four
major US carriers have already made it clear that they will be picking up the Edge alongside the Note 4. In other words, the millions of people that will flock to carriers' local brick and mortars will have a tough decision to make: Do I choose the Note 4 or the Note Edge? A tough question, but let's see if we can be of any help.
Design
The two new Note models are obviously cut from the same cloth that is Samsung's refreshed design language for the premium line. Indeed, the two devices are very much alike to each other and share a near identical basic shape when looked from the front -- a rectangle with slightly curved edges to ensure the devices are pleasant to hold. Their backs are the same, too, and both are made out of soft-touch plastic imitation of leather. So are they the same thing? Not really.
Perhaps the biggest differentiator between the two is the highlight feature of the Edge -- its screen that encompasses the near entirety of the front of the device, but also its right side. Beyond that, the two also differ in terms of their dimensions and weight -- the Note 4 measures in at 6.04 x 3.09 x 0.33 inches (153.5 x 78.6 x 8.5 mm) and weighs 6.21 oz. (176 g.), making it slightly taller, but narrower, and even a tiny bit chubbier and heavier. In comparison, the Note Edge's sides and profile come in at 5.96 x 3.24 x 0.33 inches (151.3 x 82.4 x 8.3 mm), and it weighs 6.14 oz. (174 g.).
There are two key-takeaways from the above when talking about the handling experience and overall ergonomics. One, the Note 4 is definitely easier to handle, as it isn't as wide, and two -- the addition of an auxiliary screen on the side of the Note Edge makes it kind of hard to grip, not to mention that occasionally clicking on active elements on it is not so easy to avoid. We can only theorize for now, but we're willing to bet that the Note Edge will also handle accidental drops far worse.
Display
When looking at the massive displays on the two devices, an analogy comes to mind. Dial back a few years, and tell people that, in the future, people will be buying phones with screens over 5.5-inches in droves, and you'll be tagged crazy. But Samsung didn't care, and essentially pioneered the phablet category with the first Note. Looking at the two Quad HD resolution (1440 x 2560) Super AMOLED displays on the Note 4 and Note Edge, we can't help but feel like the company is trying to pull off the same thing again, betting that after a period of inertia, consumers will eventually come around and consider QHD the new standard for flagships.
While we don't necessarily disagree that the above is inevitable, we're having a hard time justifying the jump in pixel count for three main reasons. For starters, spotting the difference in clarity on even a phablet display is, in our experience, a fool's errand -- unless you're planning on using the device an inch from your face. What's more, such an insane amount of pixel density affects the level of performance you can expect from any one processor as it has to work harder, and thus, in the process, also drain more battery.
Anyway, it is what it is. The Note 4 and Note Edge are here to stay, and both of them boast the extra high resolution. So where do they differ? Well, first off, there's a difference in screen size, at least if you consider the main panels -- the Note 4 has a diagonal of 5.7-inches, while the Note Edge's measures in at 5.6-inches. That said, the extra screen real estate on the right side of the Edge (which we guesstimate to be about an inch) actually levels the playing field, and perhaps even gives the Note Edge... well, an edge in terms of total screen real estate.
Speaking of the extra screen on the Edge, Samsung has come up with a number of applications for it. For example, it can house your favorite apps, show you stock and news updates, serve as a ruler, or even display a custom message. Those all sound handy, but it's really too early to tell if this will end up as a gimmick or not.
Interface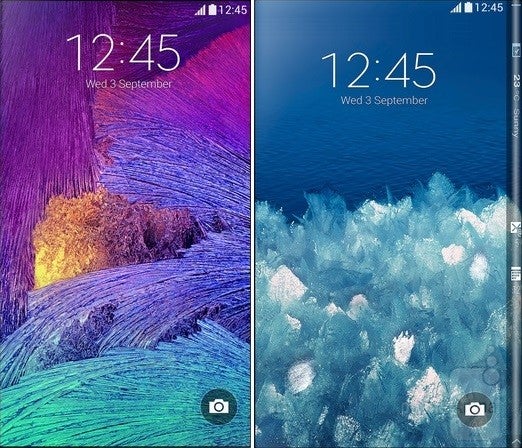 Note 4 (left) vs Note Edge (right)
When it comes to Samsung's custom TouchWiz interface, we usually have something to say, and most of it isn't flattery. That said, we're happy to see the Note series finally make the transition towards the company's latest version of the layout, which is flatter than before, and far more colorful, especially when compared with the aged looks of the UI loaded on their predecessor, the Note 3.
Of course, as you would expect, the Android 4.4.4 KitKat-based interfaces on the Note 4 and Note Edge are as feature-rich as ever, and though we wish Samsung invests some more resources into making it better-organized, we can't argue against the fact that this is the most functional custom skin that you can get out of the box from a major manufacturer.
The version of TouchWiz loaded onto the Note 4 shouldn't be confused with the one available with the Note Edge however, as while very similar, it is its own thing. The homescreens, for example, are kind of different, as Samsung has optimized the Edge's software for use with the side screen. Quite frankly, we tend to like the looks of the Note Edge's UI better, though we obviously need to explore it further.
Processor and memory
Depending on the market, the Note 4 and Note Edge will come in two flavors -- one powered by Qualcomm's Snapdragon 805 chip, while the other will make use of the company's home-grown Exynos 5433 silicon.
Looking at the quad-core Snapdragon 805 first, we're talking about a quad-core chipset with four Krait 450 cores ticking at 2.5GHz, along with an Adreno 420 GPU that is not only faster than the Adreno 330 found on the Snapdragon 801, but also has support for hardware tessellation among other goodies. This will allow game developers, for example, to provide you with "console-grade" graphics, as Qualcomm puts it. What's more, the chip is built with ultra high-resolution screens and content in mind, so that ties in nicely with the QHD screen available on both devices.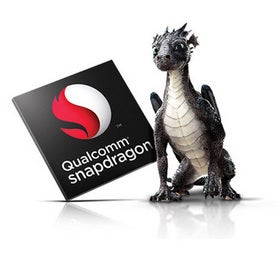 As for the Exynos model, things are a little less clear, as the 5433 hasn't actually been officially announced just yet. From what we know, the octa-core chip will utilize two clusters of four cores arranged in a big.LITTLE configuration -- one with efficient ARM Cortex-A7, and another with powerful ARM Cortex-A15 ones. Depending on the task at hand, the silicon will cycle between the two clusters, but can, if needed, switch on all eight cores at once for maximum performance. As for the GPU, we're looking at a Mali-T760.
In terms of individual performance, we were happy with what little we saw out of the Note 4 and Note Edge, and there was no apparent lag during navigation. That said, we should point out that
our preliminary benchmarks
indicate the Note 4 is the better performer of the two, especially when it comes to handling graphics. Whether that has something to do with the novel screen on the Note Edge, or we're simply talking about non-final software on the demo unit, we cannot know for sure at this point.
Camera
The one way in which the Note 4 and Note Edge are exactly the same is the imaging hardware packed into both. We're looking at a 16-megapixel, 1/2.6'' sensor (supposedly by Sony) with f/2.0 lens and what Samsung is calling Smart OIS.
From what we're told, the above moniker simply refers to the availability of an optical image stabilizing gizmo, which apparently works in concert with DIS (Digital Image Stabilization) software. The reason for this is that, according to Samsung, all the compensation calculations can slow down the speed at which images and video are rendered and saved. In any case, the solution should provide you with less shake during video capture, and also allow the unit to go for longer exposure times when shooting in low light environments. If Samsung is to be trusted, that last part will give you night shots that are up to 40% brighter than without Smart OIS.
Perhaps the only difference between the two devices in this category is the way the camera app's UI is arranged. For example, while the Note 4 has a standard layout, the Note Edge has its controls up on the auxiliary screen on the side. This is actually handy when shooting landscape mode, as your fingers naturally look for support there.
Expectations
In conclusion, it simply is wrong to treat the Note 4 and Note Edge as the same thing. Yes, they're very similar, but also oh so different! Obviously, this is mostly on account of the novel screen on the Edge, but its physical footprint is also different, and so is the software (and, for now, performance). This will give quite a lot of folks some serious food for thought, should carriers really launch the Edge alongside the Note 4 come October.
Of course, if there is one factor that can usually swing a comparison in either direction, that would be price. Unfortunately, Samsung was mum on this front, so all we can say with any amount of certainty is that the Note 4 will likely take up the $299 on contract slot, just like its predecessors did. Talking about the Note Edge, however, obviously involves guessing, though it's probably sensible to expect that it will cost extra -- screens like that don't come for free, and Samsung likely has budget holes to plug in its R&D department already. In other words, depending on the price difference between the two, this can go either way.