Samsung Galaxy Note 4 can charge from "0 to 50 in 30"
19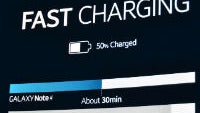 One of Samsung's major focuses with its devices has been in getting them to charge faster, and for good reason: battery life is the single biggest issue that customers have with modern smartphones. The
Samsung Galaxy Note 4
may have an extra large battery to go with its extra large screen, but it will charge extremely fast.
According to Samsung, the device will charge from 0% to 50% in just 30 minutes; so, from "0 to 50 in 30". That is quite impressive given that the Note 4 packs a 3220mAh battery pack. For comparison, the Note 3 needed 55 minutes to reach 50% charge. Samsung didn't get into the specifics of how it was able to get the charging to speed up so much, but we can hazard a guess.
Part of the work is done by the processor itself. With the Snapdragon 800, Qualcomm added fast charging to the chip, which made it... well, faster to charge, obviously. Undoubtedly, Samsung has tweaked its own Exynos processor to do the same. Beyond that, it is all about the charger. With the Note 3 and S5, Samsung upped the amperage of the charger that came in the box to 2 amps, and we may see that increased a bit more with the Note 4.
We'll try to get more info at the hands-on time, but otherwise, we'll be waiting until the Note 4 is released for answers.