Samsung Galaxy Note 4 can be operated with a knife (Fruit Ninja is also a go)
26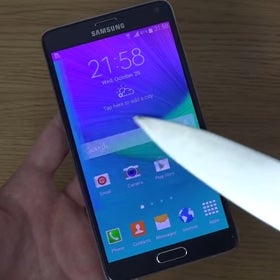 Earlier this month, we showed you that you could easily play Fruit Ninja
using a knife on the Sony Xperia Z3
. Now, there's a new video on YouTube which confirms - in case you were wondering - that you can do the same thing on another new and high-end Android smartphone: the
Samsung Galaxy Note 4
. What's more, the video showcases the high sensitivity of the Note 4's display: basically, you can fully operate the handset with a knife, and even the capacitive buttons work when the blade touches them.
Needless to say, the screen of the new Note isn't damaged in any way after encountering the sharp knife (thanks to a Gorilla Glass sheet that's protecting it). The video that shows it all is embedded below.
Widely available around the world starting this month, the Note 4 has the same screen size of Samsung's older Galaxy Note 3 (5.7 inches), but its resolution has been dramatically increased to 1440 x 2560 pixels. If you want to find out more details about the handset, make sure to check out our
Galaxy Note 4 review
.