Samsung Galaxy Note 3 supports USB 3.0: here's the benefit
59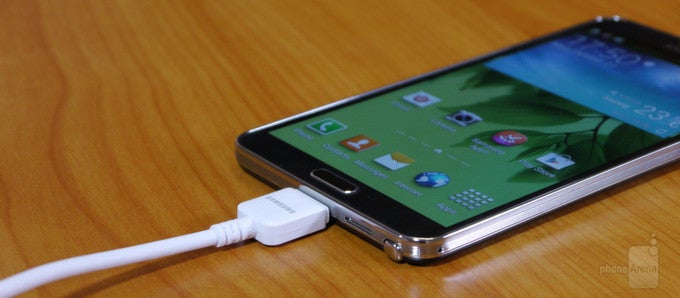 So, how do you move stuff between your phone and your computer, or vice versa? While there's more than one way of transferring content between these devices wirelessly, a significant fraction of users still rely on a cable and the old, trusty USB standard to handle the task. After all, the process is quick, easy, and does not rely on a Wi-Fi or a cellular network in order to work. But with the pace at which technology is evolving, the day when USB 2.0 just won't be fast enough is closer than ever. Thankfully, the speedier USB 3.0 is already a fact and it is now making its way into smartphone territory. Samsung was the first to announce and launch a USB 3.0 capable smartphone, namely the
Samsung Galaxy Note 3
.
What are the benefits?
Speed. It is all about speed. The USB 3.0 standard is, theoretically, about 10 times faster than its predecessor, so moving files back and forth should be much, much less time consuming. Sure enough, we tested the USB 3.0 transfer rates using a Samsung Galaxy Note 3 and the results we got were positive, at least for the most part.
The most significant speed bump is observed when large files are being transferred – movies or videos recorded with the device itself. Copying such files from a PC to a Galaxy Note 3 is about 2.4 times faster when USB 3.0 mode is enabled. When a lot of smaller files are being copied or written, however – files like music or photos, which are usually around a few megabytes in size – then the benefit is not as profound. As a matter of fact, files of under 1MB in size take longer to copy when USB 3.0 mode is being used. Thankfully, most users are not likely to ever find themselves in the latter situation.
Now, you're probably wondering why we could not achieve the aforementioned 10-fold data speed increase. Well, that's because this rate depends on a number of other factors. One of them is the storage medium which data is being read from and written onto – our computer's SSD drive and the smartphone's internal memory, in this case. Obviously, file size has an effect on data speeds as well – the smaller the file, the longer it takes for it to get transferred.
And now, the downsides
Surprisingly, there seem to be a few downsides to having USB 3.0 on the Galaxy Note 3. You see, there's a reason why USB 3.0 is not enabled by default on the Samsung Galaxy Note 3 –
"it may sometimes interfere with calls or data when it is in use"
, as a notification message informed us when we tried to turn the mode on. This, hopefully, will not be an issue observed on future USB 3.0-enabled handsets.
Another thing we're bothered by is the new connector. You see, USB 3.0 can be enabled only when a USB 3.0 cable is in use. Sure, one does come out of the box with the Note 3, but still, we don't like it that we'll have to buy a new cable in case we need a spare, instead of just using a USB 2.0 cable, the kind of which we have a few laying around already. Besides, the thing is downright ugly. Thankfully, the new Micro USB 3.0 port is compatible with Micro USB 2.0 cables, as long as you're fine with USB 2.0 speeds.
Conclusion
While the Samsung Galaxy Note 3 is the first smartphone compatible with the new USB 3.0 standard, it surely won't be the last. And its adoption makes sense now that the top handsets support a number of applications that require the handling and transferring of large files – "studio quality" lossless audio playback and 4K video recording, to name a few examples. Yeah, we know that the speed boost is not exactly groundbreaking, but it is there nonetheless and should be appreciated. As for the USB 2.0 standard, it is still fast enough for the needs of 99% of smartphone users. Therefore, while USB 3.0 might make an appearance on other high-end models in the future, including models by other manufacturers, we doubt that it will land on a mid-ranger anytime soon.
Note: For the speed test above, our Samsung Galaxy Note 3 was connected over a USB 3.0 port to a desktop PC running Windows 7. Files were read from and written onto a 120GB Samsung 840 SSD.