Samsung Galaxy Note 3 preview Q&A: We answer
40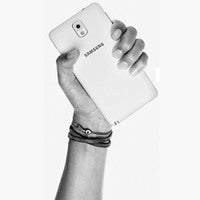 Soon after we posed our
Samsung Galaxy Note 3 preview
, we asked you to post whatever questions you, guys, had about it. And so, the time has come for us to provide you with some answers. We tried to answer as many of your questions as we could.
Don't see yours? Well, it might have been answered in our preview already. Or perhaps we don't have an answer to it at this time. Or it could have been just plain silly (of course the Note 3 would blend). Read on to learn more about the
Samsung Galaxy Note 3
!
SeanPlunk asks
: "Have you been able to confirm the subpixel matrix it's using?"
Under a strong magnifying glass, the pixels appear to be nested as they are on the Galaxy S4. That's the new "Diamond Pixel" arrangement, which is different from PenTile. We know it isn't RGB, but it looks great nonetheless.
abdane asks:
"Lag ? Overheat ?"
The Samsung Galaxy Note 3 is one of the fastest Android phones we've come across recently. We did not experience any lag during our testing, nor any overheating issues.
Knightmare64 asks:
"How is the battery life?"
It is too early to give a definite answer to that question. Prototype units, such as the one we tested, are very likely to give us misleading results if benchmarked, which is why we test the batteries on final units only. But if you insist on knowing, it held up pretty well.
joey_sfb asks
: "User available space from the 32G model"
The actual formatted space you get on the 32GB Note 3 model is a little under 30GB. Out of that, 5.64GB are occupied by system files , which leaves you with a tad over 24GB for files, photos, music, movies, and apps. Expect about 56GB of user-available space on the 64GB Galaxy Note 3.
yankeesten
asks: "I read somewhere, that the G2 feels snappier than the Note III, have you noticed the same? Also, do you feel any benefit from the extra gig of RAM? Thanks"
Key word here is "feel". The transition animations on the LG G2 are brief and fast, which is why we assume it might give you that impression if you compare the two side by side. In reality, we'd say that both are pretty much equally fast and responsive. As for your second question, the extra gig of RAM is definitely in use by the Samsung Galaxy Note 3. We noticed that the OS would occupy up to 85% of its RAM, and probably more in some instances, which is a good thing, especially for a device optimized for multitasking like the Samsung Galaxy Note 3. Switching to apps we had running the previous day was instant as they were still stored in RAM - that counts as a benefit.
datphoneguy
asks: "Can you please comment on the sound quality (with headphones), and if there's been any improvement compared to previous Note devices and/or compared to other smartphones (i.e. HTC One, etc.)"
It sounds great with a pair of quality headphones, but we have yet to test it thoroughly in that respect. It is worth noting that the Note 3 can play back 192kHz/24bit lossless audio.
danwatson
asks: "Is the back material honestly more premium and do you feel good using it without a case? Are there any of the 3 colors where the fake leather stitching just doesn't look good? - yes"
We'd say it is better than the glossy finish on other Samsungs in several ways. For starters, little to no fingerprints stick to the leather-like surface on the Samsung Galaxy Note 3 and it isn't slippery at all. It may be soft-touch plastic, but it does feel similar to leather. The stitching, however, is clearly fake, especially on the white and pink models, but many would need a second look to notice.
ncoder
asks: "The previous Note(s) have the ability to differentiate between sPen and hand, the SNote app and some other similar apps have the option to ignore finger, or use the finger for other functions (i.e. use the pen to draw and the finger to erase)"
The Samsung Galaxy Note 3 can tell the difference between the S Pen and your fingers. In the S Note app, there's an option to have finger input ignored so that only S Pen taps and strokes would register. We couldn't make it recognize our finger as an eraser, however.
mobigeek
asks: "does the flip cover comes free with device"
Nope, not out of the box. If your carrier or retailer is willing to give you one for free, however, that's a different story.
akshat29
asks: "does it have air view like S4 ,i mean without using S Pen can we use air view with out fingers. And does it have a led notification light."
Air View is present on the Note 3. We tried it, but it works only with the S Pen. And yes, the Note 3 does have an RGB notification light, just like the one on the Galaxy S4.
moronman66
asks: "Can you have two windows open with multi-window and then open a third window with pen window"
Yes, and it works like a charm.
TheTruthSquad
asks: "Is there an FM radio and will Vewrizon block it if there is one?"
No FM radio app was present on the Galaxy Note 3 we tested. Carrier-specific models, however, might support the feature, but that's just a guess.
manuel1992
asks: "the S-pen feels good on the hand? I think the button is to high."
We had no troubles using the S Pen comfortably. The button is usually slightly higher than the thumb, but it is easy to reach.
decent4u
asks: "What is the use of S pen tips? why change them?"
The tip of the S Pen is made of soft rubber-like material, which might lose its accuracy over time if used extensively. In case it wears out, the user can replace its tip with a spare one.
MaryAnn
asks: "Can u change colour options for display on Note 2, so they are not so saturated ? :( It looks like a toy with those colours...."
Yes, there are several display modes that affect color saturation. The "Professional Photo" mode is meant to give most realistic results.
shawndog1
asks: "How does it fill in the pocket ?"
Like a giant phone, which the Samsung Galaxy note 3 actually is. It won't get along well with a pair of skinny jeans.
seefo21
asks: "Why the Usb port and cable is diffrent and dose it have an s health app??"
Say hello to the new USB 3.0 connector! That's how it looks, and we know it isn't pretty. But any generic USB 2.0 cable fits in there, too. It is just that you won't be able to get USB 3.0's higher data speeds with it. And yes, S Health is installed.
JoePhoto
asks: "I want to know how loud is the "bottom" speakers ??? I would have prefered FRONT-facing like HTC-One. I am also interested in how bright it is in sunshine ???"
We'd say the speaker is loud enough, just don't expect it to be as good as the HTC One's. The screen is bright enough to be usable outdoors and it easily outshines the Samsung Galaxy S4.