Samsung Galaxy Note 3 becomes official phone of Sochi 2014 Winter Olympics: all athletes will get it
16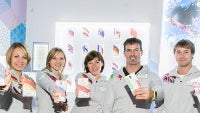 The 2014 Winter Olympics in the Russian city of Sochi will bring together some of the world's finest athletes and while not all of them will be able to go home with a medal, there will be one trophy that they'll all bring - a
Samsung Galaxy Note 3
. Samsung has just announced that its Galaxy Note 3 will become the official phone of the Sochi Olympics, an event that's bound to happen from February 7th to February 23rd.
Along with that bonus for athletes, Samsung will also bring a new Wireless Olympic Works (WOW) Android application tailor made for the Sochi games. The app will allow you to quickly and easily stay up to date with the latest news, scores, medal counts, and other related events.
All of this and more will make up the
"Samsung Smart Olympic Games"
initiative that aims to keep you posted real-time with what's happening in Russia early next year. For those who cannot make it there, it's a nice effort, but we can help but envy the athletes for their brand new Note 3s.