The Galaxy Note 10's chin is still thicker than the iPhone's
71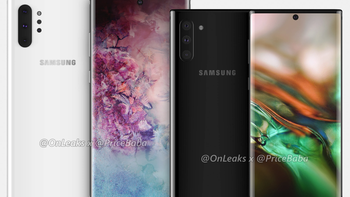 Samsung Galaxy Note 10 & Note 10 Pro CAD-based render
Most smartphone manufacturers these days aim to achieve higher screen-to-body ratios with each release. This has led to minimal bezels on flagships paired with either display cutouts, small notches, or pop-out cameras that remove the need for either.

All of these advancements make the iPhone's large notch look rather dated by 2019 standards, but one area where Apple still reigns supreme is the chin. And, despite the Cupertino giant making no changes to its design since it was introduced almost two years ago, it seems Samsung's upcoming Galaxy Note 10 series won't be stealing the title.
Thinner than the Galaxy S10's but thicker than the iPhone's
Over the course of the past 48 hours, as many of you may have seen, CAD-based renders of both the
Galaxy Note 10
and
Galaxy Note 10 Pro
have emerged online. They depict an all-new design for the lineup that embraces large displays and what appear to be symmetrical upper and lower bezels. These bezels look extremely thin and, because of this, many have been wondering exactly how thin the Galaxy Note 10's chin is. Thankfully, tipster
Steve Hemmerstoffer
has cleared up any speculation.

According to the information he has obtained, the chin on the Galaxy Note 10 series measures in at an impressive 4.1mm. Compared to the Galaxy S10 lineup's chin which comes in a 4.9mm, the thickness represents a reduction of almost 1mm. The number seems even more impressive when compared to the OnePlus 7 Pro, which features a chin that's 5.6mm thick.

While Samsung's efforts are certainly admirable, they unfortunately aren't enough to beat Apple's iPhone XS lineup. The latter sports a chin thickness of 3.9mm, meaning there's a difference of 0.2mm between the two flagships. Naturally, such a minute difference won't be noticeable when comparing the two devices side by side. In fact, if brought up it'll probably only be mentioned by fanboys that claim Apple is the best. But if you were simply curious about how the Galaxy Note 10's chin stacked up to others, you now have your answer.
The Galaxy Note 10/Pro aims to impress

Aside from the impressively small chin, Samsung's Galaxy Note 10 and Note 10 Pro also look set to feature extremely thin side bezels and a small punch hole towards the top of the display for the front-facing camera. Speaking of cameras, over on the rear both premium devices will reportedly include new vertical layouts that are positioned in the top-left corner. Like the Galaxy S10 series that precedes, the Galaxy Note 10 duo are expected to include primary 12-megapixel snappers paired with variable aperture lenses for improved low-light photography.




Like last year's Galaxy Note 9, a secondary 12-megapixel sensor coupled with a 2x optical zoom lens is to be expected. Also, for the first time on a Galaxy Note, Samsung is set to include a super-wide-angle shooter that'll offer a 16-megapixel resolution and support a 123-degree field of view. As an added bonus for the Pro model, today's renders suggest there will also be a dedicated Time-of-Flight sensor that'll help with portrait photos and AR content.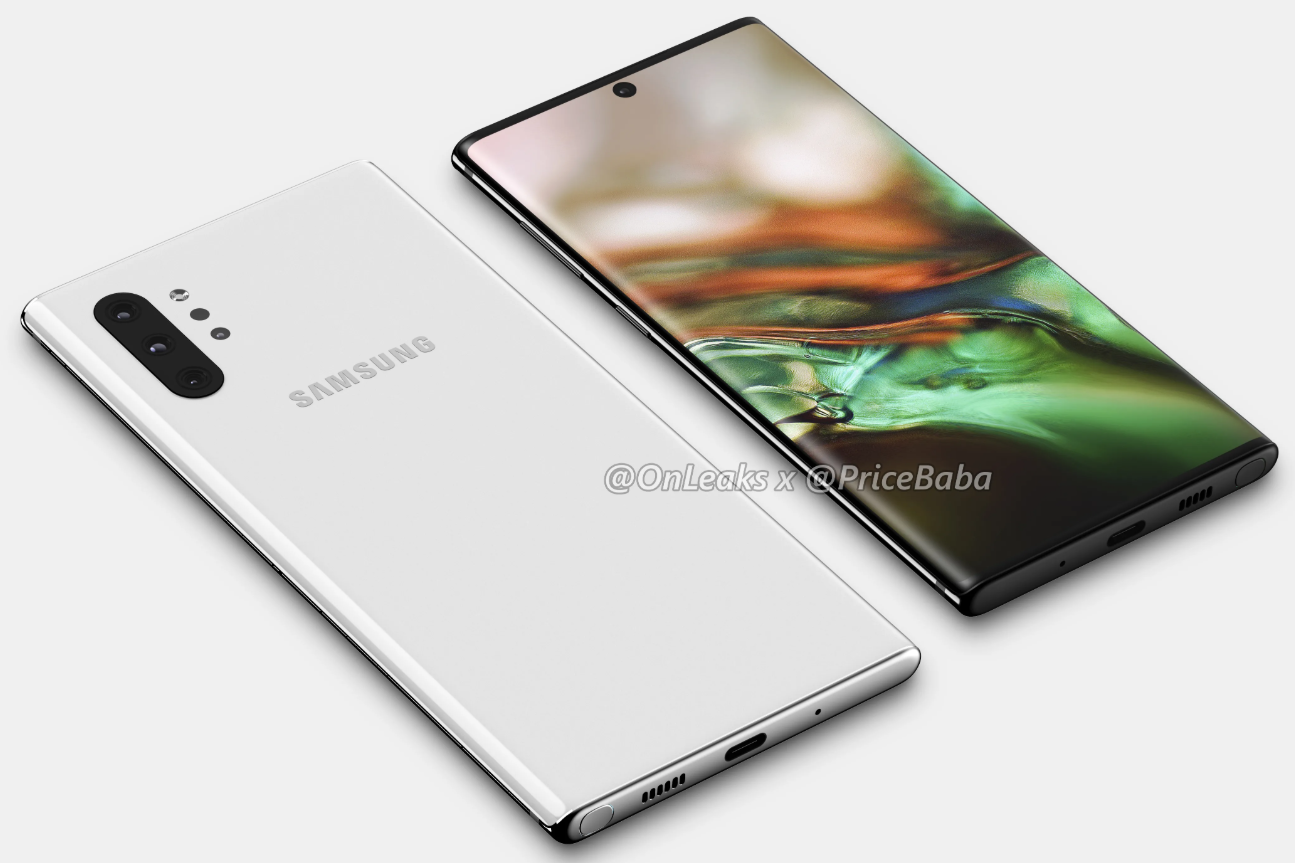 Regarding other external details, both Galaxy Note 10 models are expected to include Samsung's S Pen along the bottom in addition to a USB-C port, an IR Blaster, and a stereo speaker setup made up of a bottom-firing speaker and the in-ear alternative. Also set to be present are the volume rocker and power key which should both side on the left side of the smartphone's frame. However, the dedicated Bixby button appears to have been removed from the external setup, just like the 3.5mm headphone jack which is often a fan favorite.