Samsung Galaxy M revealed: 4-inch Super AMOLED display, slim and pretty
11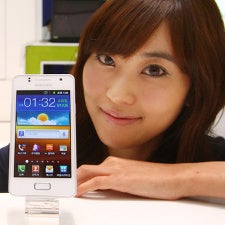 The
Samsung Galaxy M
has just been unveiled filling the empty M category in the company's Galaxy range and it's slim and surprisingly similar to the Galaxy R. But a look back at Samsung's naming scheme, and you'd find out that the M stands for "magical" - devices that the company claims to be in its mid to low-end.
And indeed, the Galaxy M takes a couple of shortcuts to arrive at a more affordable price. First, it has a smaller, 4-inch display but one of the Super AMOLED variety. It also features a
1GHz single-core processor
, not the dual-core monster on the Galaxy R. On the back, there's a modest 3-megapixel camera. There's also 4 gigs of internal memory, Bluetooth 3.0, and a 1650mAh battery.
But what we love about the Galaxy M is its
neat simple design and slim waistline
- the handset is 9.9mm thick and features a metal back cover. It arrives in three colors - the Platinum Silver version from the pictures, but there's also a Blue Black and Lavender Pink variation.
What puzzles us about the Galaxy M, just like the recently unveiled Galaxy Ace Plus, is the fact that it comes with
Android Gingerbread rather than Ice Cream Sandwich
, and Samsung hasn't uttered a word about whether and when an update would be coming. The company also weirdly places this as an "entry-level" smartphone, but the price tag should be around $500 - not exactly an entry-level price, is it?
What you're seeing on the pictures is the
Korean version
of the handset, and it's not yet clear if it will get a global launch, but it's possible and we hope to hear more about the Galaxy M at CES. As you probably already know - we'll be there covering the events as they happen, so stay tuned.
Samsung Releases Affordable Smartphone with 4" Super AMOLED Display: Galaxy M Style
Samsung Electronics has unveiled a new entry-level smartphone with a 4 inch super AMOLED namely Galaxy M Style in Korea. Galaxy M Style runs on Android 2.3 Gingerbread and features 1 GHz single core processor, 3 million pixel camera, Bluetooth 3.0, 4GB memory internal memory, DMB, 1650 mAh battery. It is just 9.9 mm thin and has a refined metal body with slim design giving you a comfortable grip. Galaxy M Style comes in three colors of Platinum Silver, Blue Black and Lavender Pink with a price of more and less 500 US dollars.