Samsung Galaxy Grand 2 vs Galaxy Grand vs Idol X size and specs comparison
5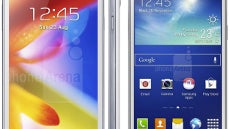 When Samsung lifted the veil from the
Galaxy Grand
late last year, 5"+ phones weren't the norm as they are a year later. At the time the Grand was meant to be a very affordable big-screen phone for those who can't shell out $600 for a flagship outside of a carrier contract. With a dual SIM version, the phone was your only bet for a cheap large screen handset that can support two SIM cards at once - a very sought after option in emerging markets.
The specs were pretty ho-hum, though, even for 2012 standards, especially the 480x800 pixels screen resolution, which ringed in the abysmal 187ppi pixel density, and the basic 1.2 GHz dual-core processor.
This year, however, we have an abundance of big-screen smartphone choices, and some of them sport dual SIM versions, too, so Samsung had to up its game in this market niche with the Grand 2. We don't get a much larger display, as that would encroach on the Mega 5.8 territory, just a small bump from 5" on the original Grand, to 5.25" on the Grand 2.
The resolution, however, is greatly enhanced at 720x1280 pixels, making Grand 2 a very decent choice if you are after a brand name big-screen handset with dual SIM abilities. In addition we get a quad-core 1.2 GHz chipset of unknown make to replace the dual-core one, though the bump in performance will still be a far cry from the flagships out there.
The other more than welcome specs bump is in battery size - the 2600 mAh unit is as big as the one in the
Galaxy S4
, so battery life should be improved in comparison with the first Grand. We also get a slightly higher 1.5 GB of RAM amount, against just a gig in the original.
Designwise the Grand 2 is also in line with the late 2013 crop of Samsung, as it sports a faux leather back with stitching, similar to the
Galaxy Note 3
, indicating that Samsung is trying to break away from the plastic look of its phones, even in the midrange category. With the increase in screen diagonal we get a slightly taller Grand 2, which, however, is thinner and narrower, potentially easing one-handed operation.
The Grand 2 will come in more color choices such as black, white and pink, but we still don't know the make-it-or-break-it information on the price tag. Last year the dual SIM Galaxy Grand wasn't exactly covering the term "affordable" entirely in relation to its specs, but this year the competition scenario is rather different for Samsung.
We are thus curious whether we will see one of the best dual SIM phones out there with the Grand 2, or another overpriced option. As you can see from the specs comparison table above, the dual SIM
Alcatel One Touch Idol X
beats Grand 2 in terms of specs and compact design, and is just around $350 without a contract, flaunting a 1080p display. Anything much above that price point, and Samsung will be relying on brand name, marketing and distribution to move Grand 2 more than its merits. Granted, we do get a removable back cover, extendable memory and larger swappable battery with the Galaxy Grand 2, which counts a lot these days.
Ambient light sensor, Proximity sensor
Ambient light sensor, Proximity sensor, Scratch-resistant glass, Oleophobic coating
Ambient light sensor, Proximity sensor
MediaTek MT6589
Qualcomm Snapdragon 400 8226
Quad-core, 1500 MHz, ARM Cortex-A7
Quad-core, 1200 MHz, ARM Cortex-A7
Yes
PowerVR SGX544
Adreno 305
Android (4.2.2, 4.1.2)
Android (4.4.2, 4.2)
Android (4.4.2, 4.3), Samsung TouchWiz UI
10.16 hours
the

average

is 11 h (660 min)
20.00 hours
the

average

is 11 h (660 min)
17.00 hours
the

average

is 11 h (660 min)
18.3 days (440 hours)
the

average

is 29 days (688 h)
13.3 days (320 hours)
the

average

is 29 days (688 h)
12.00 hours
the

average

is 0 h (0 min)
17.00 hours
the

average

is 0 h (0 min)
10.0 days (240 hours)
the

average

is 0 days (0 h)
15.4 days (370 hours)
the

average

is 0 days (0 h)
Single camera
Single camera
Single camera
8 MP (Autofocus, BSI sensor)
1920x1080 (Full HD)
1920x1080 (Full HD)
1920x1080 (Full HD) (30 fps)
5.65 x 3.03 x 0.38 inches (143.5 x 76.9 x 9.6 mm)
5.53 x 2.66 x 0.27 inches (140.4 x 67.5 x 6.9 mm)
5.78 x 2.96 x 0.35 inches (146.8 x 75.3 x 8.9 mm)
5.71 oz (162.0 g)
the

average

is 5.7 oz (162 g)
4.23 oz (120.0 g)
the

average

is 5.7 oz (162 g)
5.75 oz (163.0 g)
the

average

is 5.7 oz (162 g)